Experts rule out flu vaccines in deaths of 4 recipients: CDC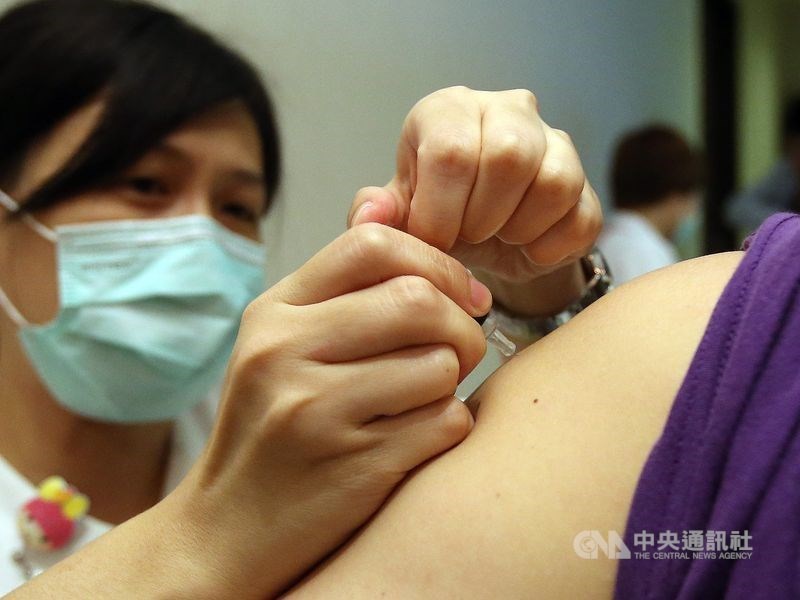 Taipei, Oct. 27 (CNA) Experts have ruled out flu vaccine as the cause of death among four elderly people who died recently after receiving their free flu vaccinations, the Centers for Disease Control (CDC) said Tuesday.
CDC physician Tsou Tsung-pei (鄒宗珮) said the four individuals, who were aged between 62 and 77 years old, had all suffered from chronic illnesses such as heart disease. Medical experts believed that their deaths were related to their existing conditions and were not caused by their flu vaccinations, she said.
Three of them had received flu vaccines produced by the French pharmaceutical maker Sanofi, while the other received a shot made by the Taiwan-based Adimmune Corp., Tsou said, adding that the four people died 3-10 days after receiving the injections.
At a press briefing in Taipei, CDC deputy head Chuang Jen-hsiang (莊人祥) said they were isolated cases and that the government-funded flu prevention program will carry on as usual.
In a late-evening press conference called by Minister of Health and Welfare Chen Shih-chung (陳時中), he clarified that the four people all died from cardiovascular-related diseases and not from their flu vaccinations.
Chen urged the public not to panic, giving his assurance that the vaccines do more good than harm and that there is therefore no reason to call a halt to the program.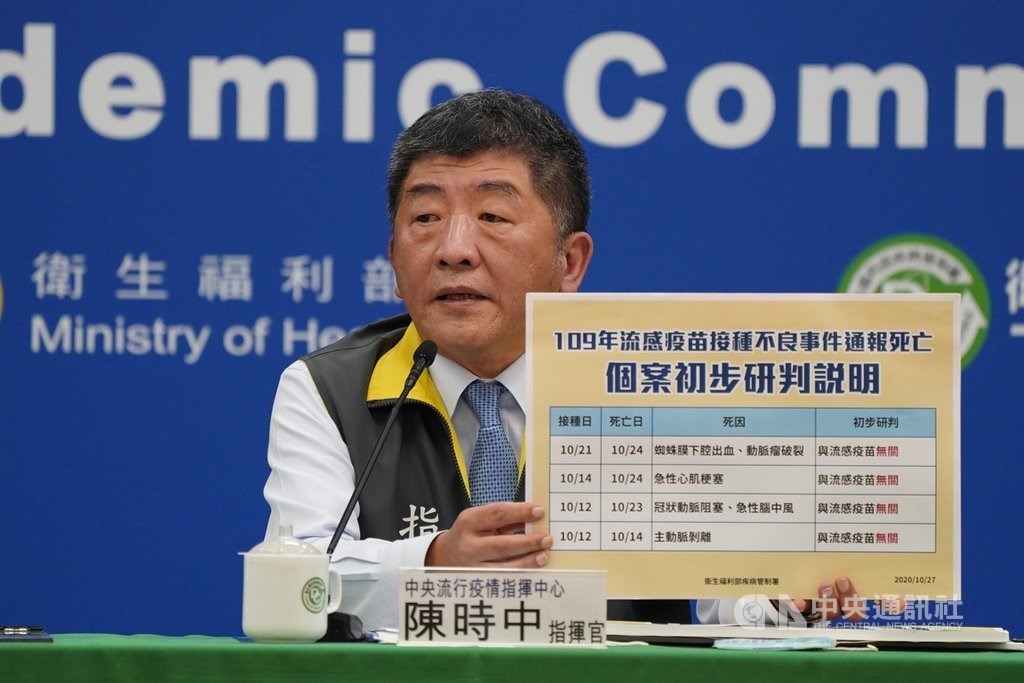 Under the 2020 government funded-program, which kicked off on Oct. 5, a total of 6 million free vaccines are being made available to citizens and legal residents of Taiwan who fall into groups considered to be high-risk.
As of Oct. 26, there had so far been a total of 76 cases in which people reported experiencing discomfort from the side effects of the vaccines, according to CDC statistics.
Among them, 50 cases have been identified as non-adverse reactions, including dizziness, headache, rash and fever, while 25 have been categorized as serious (including death), with symptoms such as difficulty breathing, coma and stroke.
The condition of the other remaining case, meanwhile, had yet to be substantiated, according to the CDC.
Asked if Taiwanese people should be concerned about recently reported deaths in South Korea after flu vaccinations, Chuang assured the public that the government will closely monitor the situation, pointing out that the deaths reported in South Korea have been said to have no links to the vaccines.
According to South Korean media reports, there have so far been 59 deaths in the country among people who had received flu shots, while 1,231 people have reported experiencing discomfort from the side effects of the vaccinations.
Of the 59 deaths, 54 were all elderly people aged over 60 who suffered from chronic illnesses such as diabetes, cirrhosis of the liver and heart disease, the reports said.
The vaccines used in South Korea were either produced by South Korean company SK Bioscience or French company Sanofi.
Also Tuesday, concerning a 51 year-old Taichung resident who recently fell into a coma after receiving a Sanofi-made flu vaccine on Oct. 10, the city's Health Bureau Director Tseng Tzu-chan (曾梓展) said the patient is currently still in intensive care.
The man has since been diagnosed with Guillain-Barre syndrome (GBS), a rare disorder with no known cause, in which the immune system mistakenly attacks the victim's nerves, according to Tseng.
He is currently under therapeutic plasma exchange treatment, which removes and replaces a patient's blood plasma, the health official said, adding that the next treatment step would be immunoglobulin therapy.
On Monday, the CDC said the cause of his coma was unlikely to have been caused by the flu vaccine, with Chuang citing that "most studies" would suggest that GBS is not linked to flu vaccines.