Filipino fishermen call for plight to be seen as human trafficking
Taipei, Sept. 2 (CNA) A group of Taiwan-based Filipino fishermen who have been allegedly exploited with long working hours and excessive deductions from their salaries on Wednesday urged for their cases to be seen as human trafficking.
The six fishermen, formally based in New Taipei City's Shen'ao Fishing Port, made their plea outside the annual International Workshop on Combating Human Trafficking, which is jointly organized in Taipei by the National Immigration Agency and other government agencies.
The fishermen have been fired ever since they accused their labor brokers in July of making excessive monthly deductions of NT$8,000 (US$272.43) from their salaries for up to 14 months.
Filipino-American Priest Joy F. Tajonera, head of the Ugnayan Center shelter in Taichung who provides assistance to the fishermen, told CNA that their case should be viewed as a form of human trafficking due to their accumulation of debts and dismissal should they complain.
"This is an international conference that shows how Taiwan is working hard in combating human trafficking, but now I present to you in the flesh and blood of the six fishermen, the real victims of human trafficking," Tajonera said.
The latest U.S. Trafficking in Persons Report has listed migrant fishermen on Taiwanese deep sea fishing vessels as being subject to forced labor, threats of violence, passport confiscation, debt-based coercion, excessive working hours, and abusive living and working conditions.
Deep-sea fishermen on Taiwanese vessels are not protected by Taiwan's Labor Standards Act, unlike coastal fishermen. Even though the annual U.S. report focuses mostly on the plight of deep sea fishermen, coastal fishermen, such as the six Filipino fishermen, have also complained of long working hours and excessive deductions over the years.
Allison Lee (李麗華), secretary-general of the Yilan Migrant Fishermen's Union, said certain unscrupulous brokers often exploit vulnerable migrant workers by creating large deductions, which are not even supposed to exist.
"For example, brokers will have an item that says something like 'due for deduction' and will add all these debts up against the worker. I think some brokers are actually human traffickers," Lee said.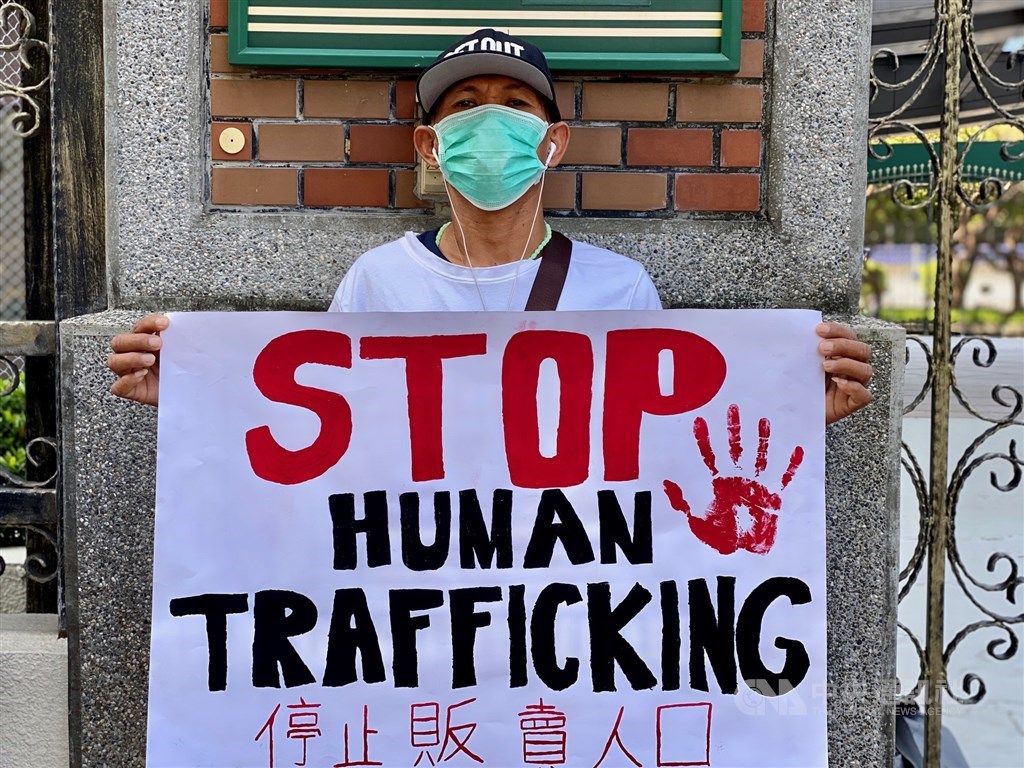 Tajonera argued that the case of the six Filipinos should be seen as a human trafficking case by Taiwanese labor departments, but it has instead been addressed through mediation with the broker.
"I don't understand why (Taiwan) labor departments still have to negotiate. They should right away issue a penalty to the employer and the broker who recruited and hired these people," Tajonera said.
Lennon Ying-dah Wong (汪英達), director of the service center and shelter for migrant workers under the Serve the People Association in Taoyuan, also met with the fishermen after the rally to help them fill out paperwork so they can apply for new jobs.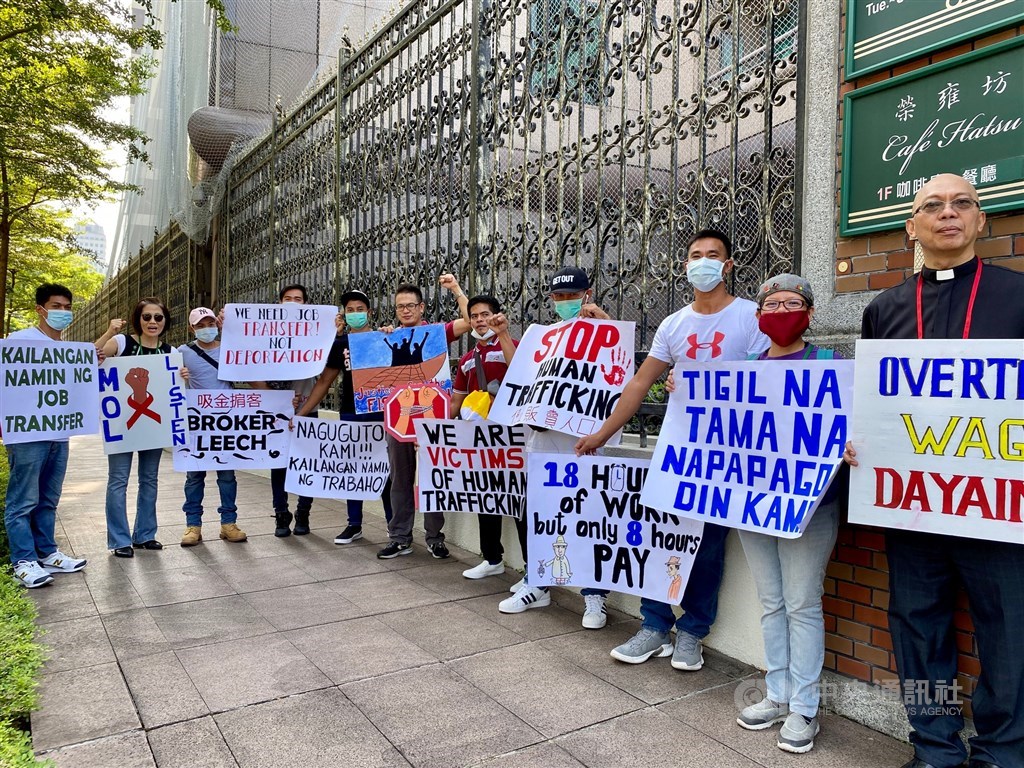 "They are all not working and in the shelter, they're hungry because they have no work. We're asking the labor ministry to give them the right to look for jobs while the investigation is underway, so that they can at least feed themselves and send money to their families," Tajonera said.
The fishermen said they worked for close to 20 hours on a normal day at sea for only eight hours of pay, while at other times, they worked close to 12 hours on land sorting fish and mending nets when their boats were docked.
One of the fishermen, Jessie Tolentin, 30, said that for the vast majority of the month, they only sleep for three to four hours per day after they set sail.
They also lack rest on land because their boat constantly goes in and out of the harbor to catch fish, Tolentin said, adding that there are only seven days per month when they do not set sail because of high tides.
"When we return to port, we quickly sort and place the catch on trucks, before we head back out to sea. We basically lack sleep every day," Tolentin said.
The fishermen also have to purchase their own drinking water to take on their boats because it is not provided by their employer, said 35-year-old Raddy Boy Cabahug, who added that he spends close to NT$1,000 just for water.
The cost of living and other deductions left him with a salary of just NT$9,000 during his first month in Taiwan, Cabahug said.
The case was brought to New Taipei's Labor Affairs Department, but negotiations broke down on July 2 because it was uncertain who was making the deductions, said Chris Wu (吳健寰), a city labor official.
Asked about the deductions and lack of overtime pay, Wu said the case is currently still being investigated, but will need some more time because there are only two investigators assigned to the case, which involves six migrant fishermen on four separate boats.
The 2020 International Workshop on Combating Human Trafficking, which took place at the Chang Yung-Fa Foundation International Convention Center, features conferences and panel speeches on corporate social responsibility, prevention of forced labor and anti-human trafficking measures.