NGOs urge government to improve protection for migrant fishermen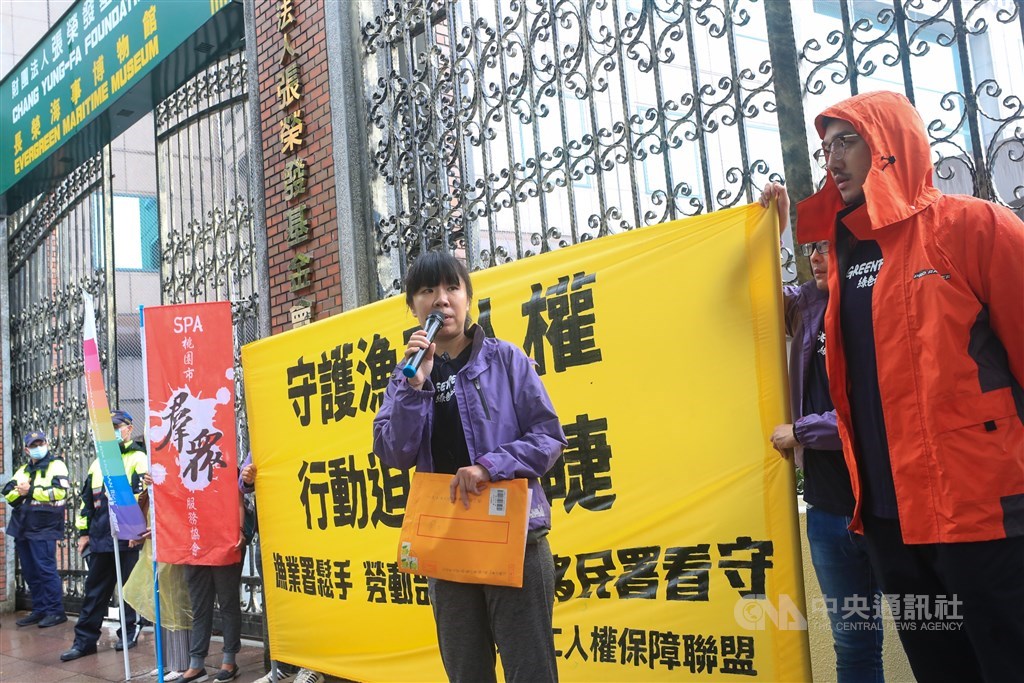 Taipei, Sept. 1 (CNA) A coalition of non-governmental organizations (NGOs) that fight for the rights of migrant workers rallied in Taipei Tuesday outside an annual international workshop on combating human trafficking.
The protesters were demanding that the government improve the rights of migrant fishermen following alleged abuses aboard Taiwanese deep sea fishing vessels.
Representatives from some four NGOs, gathered outside Taipei's Chang Yung-Fa Foundation International Convention Center, where the 2020 International Workshop on Combating Human Trafficking was being held, to urge the government to stop allowing Taiwanese deep sea vessels from sailing under flags of convenience and to include its migrant fishermen into Taiwan's labor laws.
A flag of convenience is a practice in which a vessel registers and flies a flag other than that of the country of the shipowner to save costs on tax and other fiscal incentives.
Lennon Ying-dah Wong (汪英達), director of the service center and shelter for migrant workers under the Serve the People Association in Taoyuan, cited the case of the Taiwan-owned Da Wang, a 637-tonne distant sea tuna longliner that sails under the flag of Vanuatu. The ship is under investigation for abusive conditions and forced labor.
"The Taiwanese captain and first mate on the Da Wang often physically beat their migrant crew members while the vessel is at sea. We have heard from a victim that nearly all of the migrant fishermen on the ship have been beaten," Wong said.
Taiwan's Fisheries Agency also released a statement on Aug. 21 that it had referred the vessel to the Kaohsiung District Prosecutor's Office for investigation, while the agency's Deputy Director-General Lin Kuo-ping (林國平) also noted in an interview that day that his agency had limited oversight powers over the Da Wang because it is registered in a foreign country.
However, Chen Tsung-yan (陳宗彥), political deputy minister of the Ministry of the Interior, said on the sidelines of the workshop that the vessel has already undergone judicial investigation.
Meanwhile, Taiwanese vessels flying under flags of convenience are actually Taiwanese vessels pretending to be foreign ships, Wong said.
"Whenever we talk about a Taiwanese vessel sailing under a flag of convenience, our government and the Fisheries Agency always say the same thing -- it is a foreign boat and nothing to do with Taiwan. I want to say loud and clear, stop that meaningless talk," Wong said.
The concerns were echoed by Greenpeace communications officer Moffy Chen (陳瓊妤), who said that certain unscrupulous Taiwanese ship owners register themselves in foreign countries to avoid Taiwanese laws and regulations.
According to an Environmental Justice Foundation report this year, abuses and exploitation regularly occur on Taiwanese fishing vessels. Of 71 crew members from 62 vessels interviewed, 24 percent said they have experienced physical abuse, while 92 percent said they have had deductions made from their salaries, Moffy Chen said.
In addition, deep sea migrant fishermen should be employed inside Taiwan and included under Taiwan's Labor Standards Act, with their working conditions governed by the country's labor ministry, Wong said.
In response, the Fisheries Agency told CNA that the Ministry of Labor currently considers those employed outside of Taiwan as not working inside the country and hence, the Employment Service Act does not apply to them.
However, the rights and interests of the fishermen are protected by the Act for Distant Water Fisheries, which was promulgated in July 2016, the Fisheries Agency said.
Furthermore, jurisdiction of ships sailing under flags of convenience belong to the country of the flag under which they fly, the Fisheries Agency said.
In addition, the Act to Govern Investment in the Operation of Foreign Flag Fishing Vessels was put in place to prevent illegal, unreported and unregulated fishing, the Fisheries Agency said.