Tropical Storm Jangmi will not affect Taiwan: weather bureau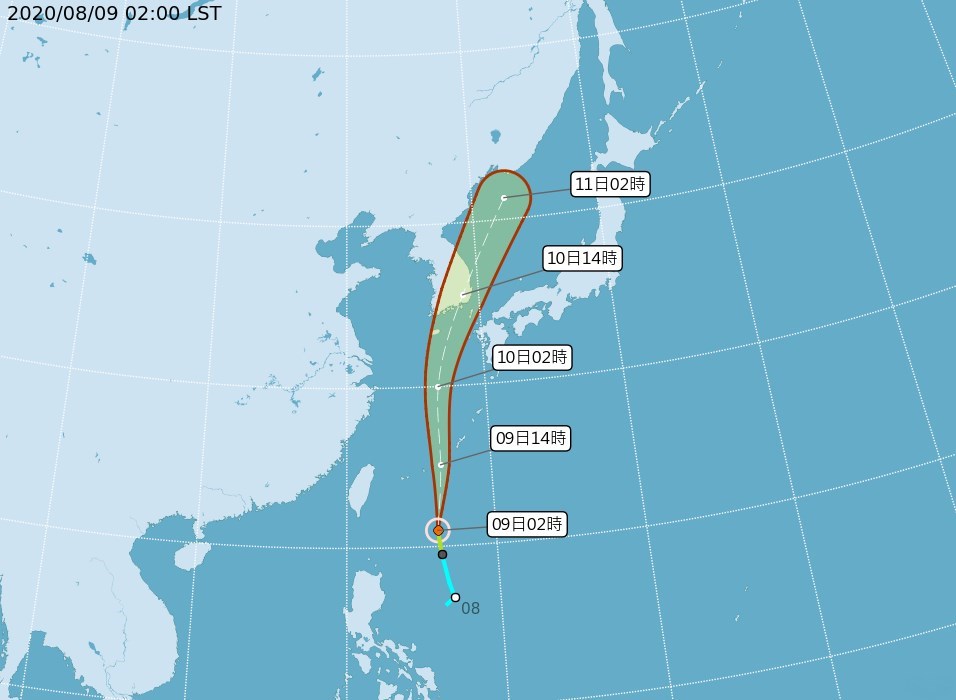 Taipei, Aug. 9 (CNA) A tropical storm formed in the ocean northeast of the Philippines in the early hours of Sunday morning but will not have an impact on Taiwan, the Central Weather Bureau (CWB) said.
Tropical Storm Jangmi, the fifth Pacific storm this year, was located 570 kilometers east of Taiwan's southernmost tip of Eluanbi at 2:00 a.m., moving in a northerly direction at a speed of 38 km per hour, according to CWB data.
With a radius of 80 km, Jangmi was packing maximum sustained winds of 65 kilometers per hour, with gusts (sustained for 1 minute) of up to 90 kph.
The international standard for a typhoon is when maximum sustained winds reach 119 kph.
The weather bureau said that although the storm will not have a direct impact on Taiwan, there will be rough waves on the northern coast of Keelung City and in the coastal areas in eastern Taiwan (including Lanyu and Green Island) as well as Hengchun Peninsula in the south, the CWB forecast.
The bureau reminded people to be cautious while engaging in seaside activities in those areas.
On Sunday, it will be mostly cloudy across Taiwan, with temperatures ranging between 33-35 degrees Celsius in the daytime, except for the greater Taipei area and Yilan County in the northeast where the high could rise to 36 degrees or higher, the CWB forecast.
Mountainous areas around Taiwan and the close-mountain flats in the south are expected to receive afternoon thundershowers during the day, the bureau said, urging hikers to take precaution.
Meanwhile, a magnitude 3.8 earthquake struck southeastern Taiwan at 7:24 a.m. Sunday, with the epicenter located 28.3 km northwest of Taitung County Hall in Haiduan Township at a depth of 6.4 km, the latest CWB data showed.
The intensity, which gauges the actual effect of a quake, was highest in Taitung County and Kaohsiung City, measuring 3 on Taiwan's 0-7 intensity scale, the CWB said.