1st Taiwan-born giant panda Yuan Zai celebrates 7th birthday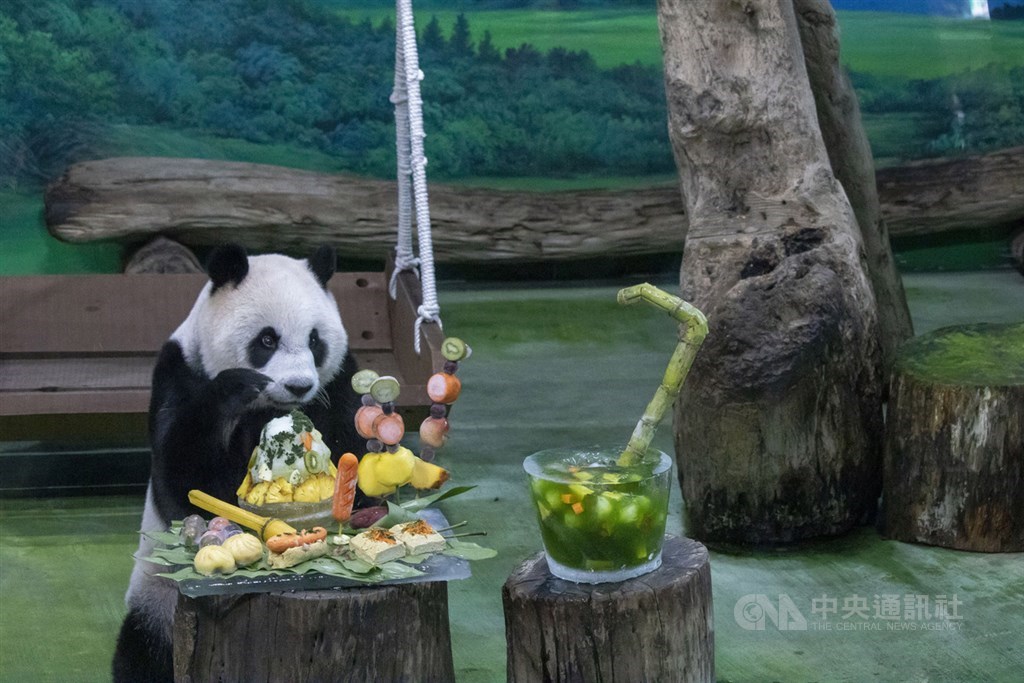 Taipei, July 6 (CNA) A seventh birthday celebration for Yuan Zai, the first giant panda born in Taiwan, was held at Taipei Zoo on Monday but the pseudopregnant panda was not in the mood to feast on the seven special cakes prepared for the occasion.
The seven cakes all had Taiwanese food themes -- grilled stinky tofu, sausage with glutinous rice, pearl milk tea, buns, sugar coated fruit on a stick, shaved ice, and cold sweet balls -- but were made from the female panda's favorite foods.
The "sausage with glutinous rice," for example, was made using steamed corn bread and carrots, according to Taipei Zoo spokesman Eric Tsao (曹先紹).
The sugar coated fruit on a stick was made with carrots, pineapple, grapes and kiwifruit, while the pearl milk tea cake featured a glass made of ice, fruit balls and a straw made of sugar cane, he said.
The cakes failed to interest Yuan Zai, however, as she is still in a pseudopregnancy period and is picky about food, Tsao said, adding that she smelled the cakes and picked out her favorite food, the carrots, but then put them down and stepped aside to take a rest.
Although the zoo was closed Monday as it normally is on the first Monday of every month, 100 visitors from camps were invited to attend the birthday party for Yuan Zai, according to Tsao.
Yuan Zai is the first cub born to Yuan Yuan and Tuan Tuan, two giant pandas gifted to Taiwan by China in 2008.
Yuan Yuan on June 28 gave birth to her second female cub after years of artificial insemination efforts.