Record 200,000 people march in Taipei LGBT pride parade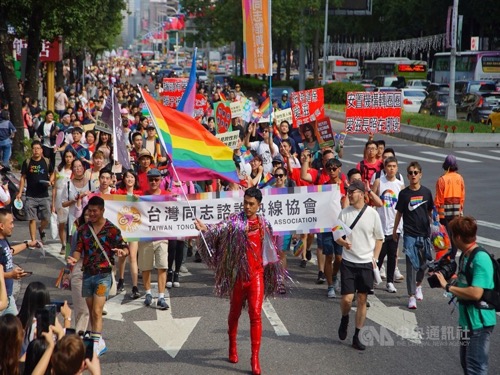 Taipei, Oct. 26 (CNA) A record-breaking 200,000 people marched through Taipei Saturday in a vivid and exciting annual lesbian, gay, bisexual and transgender (LGBT) pride parade, calling for the public to embrace the LGBT community, especially now that same-sex marriage has been legalized in Taiwan.
Video taken from Taiwan LGBT Pride Facebook
The marchers brandished rainbow flags and sported flamboyant costumes as the 17th Taiwan LGBT Pride Parade, one of the largest in Asia, was launched from Taipei City Hall Plaza to Ketagalan Boulevard in front of the Presidential Office.
As of 5:30 p.m., organizers said the number of people attending the march had exceeded 200,000, setting a record for the march that was first held in 2003 and attracted only a few hundred participants.
Among the marchers were personnel from several foreign representative offices in Taiwan, including the United States, Australia, the European Union, the United Kingdom, France and Belgium.
Joyce Teng (鄧筑媛), deputy coordinator of the Marriage Equality Coalition Taiwan, one of the organizers of the parade, told CNA that the theme of this year's parade "Together, Make Taiwan Better" called for the public to understand and accept LGBT people, as more and more people have come out of the closet following the legalization of same-sex marriage in Taiwan in May.
"LGBT people might be your neighbors or someone that interacts with you on a daily basis, so we are calling for a more tolerant and understanding Taiwan," she said.
At the parade this year, many couples say Taiwan's legalization of same-sex marriage has made their lives with their partners easier.
Xiao Gui (小龜), a research assistant who has been in a relationship with her partner Xiao Xiao (小小) for 22 years, said after the couple registered their marriage in July this year, they are now finally able to name each other as beneficiaries in their insurance policies, and do simple things such as pick up mail at the post office or collect official documents at government agencies for each other.
Another couple, identified only as Louis and Aaron, said they have registered to get married after being in a relationship for over 10 years. As a married couple, they can give their 4-year-old son Jeremy better protection, Louis said.
Many of the participants praised Taiwan for being the first country in Asia to legalize same-sex marriage and said they feel comfortable and safe marching in a LGBT parade in the country.
"I face very little discrimination in Taiwan and when I dress like this, I hear people telling me that they support the way I express myself," said 27-year-old Taiwan university student Morris Lee (李俊毅), who joined the parade in a women's sports bra.
Bob Decesare, who is visiting from the United States, praised Taiwanese people as "very loving and welcoming" and said he is planning to tie the knot in Taiwan this week.
"The person I have been with for the last 20 years is Taiwanese, and we were legally married in the U.S. five years ago. The reason why we are here specifically this week is to have our marriage recognized in Taiwan," Decesare said.
Meanwhile, 29-year-old Filipino tourist "John" from Manila, who is visiting Taiwan for the first time, expressed hope that the Philippines will also legalize same-sex marriage one day.
"I believe love wins, no matter who you love. But for us in the Philippines, because we are a Catholic country, it is a little bit shaky," he said.
John (left)
Taiwan's Legislative Yuan passed the Enforcement Act of Judicial Yuan Interpretation No. 748 May 17 to allow two people of the same gender aged 18 or older to register a marriage. The act took effect May 24, making Taiwan the first country in Asia to legalize same-sex marriage.
But Cheng Chi-wei (鄭智偉), a representative of one of the parade organizers, the Taiwan Tongzhi Hotline Association, said Taiwan still needs to move forward on the issue of transnational same-sex marriage because at the moment, Taiwan's law does not permit same-sex marriage if at least one partner is from a country where such unions are not legal.
"That means we Taiwanese can't have same-sex marriages with people from Japan, Korea, Thailand, Singapore, Malaysia, India, and other areas of Asia," pioneering gay rights activist Chi Chia-wei (祁家威) said.
Chi, who attended the parade, told CNA that allowing same-sex marriage with people from those countries is the "last mile" on the road to marriage equality in Taiwan.
Chi Chia-wei (祁家威)
The Taiwan LGBT Pride Parade was first launched in 2003 and has grown from only a few hundred participants to over 130,000 last year. The event carries a new theme every year, ranging from anti-discrimination to calling for legalization of same-sex marriage.
According to Ministry of the Interior statistics, a total of 2,155 same-sex marriages were registered in Taiwan as of the end of September, of which 1,461 pairs were women and 694 were men.