KFC in Taiwan stops providing plastic straws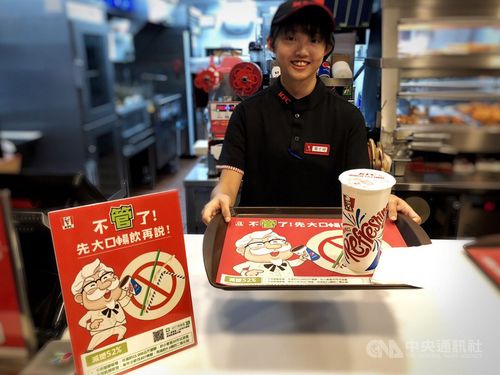 Taipei, June 11 (CNA) American fast food chain Kentucky Fried Chicken said Tuesday that it has stopped offering plastic straws at its restaurants in Taiwan, with immediate effect, in compliance with a government initiative to reduce the use of plastic.
In a press release, the company said customers are encouraged drink directly from the cup, but those with special needs will be given paper straws upon request.
Stainless steel straws will also be available at an additional cost at KFC's estimated 150 outlets across Taiwan, the company said.
KFC said its decision to stop providing plastic straws will result in a 52 percent reduction in its plastic use in Taiwan.
The decision was made in compliance with a plan by the Environmental Protection Administration to ban the use of plastic straws in the government sector and at all public and private schools, department stores, shopping malls and fast food stores, with effect from July 1.
On April 22 Earth Day, another American fast food chain McDonald's got off the mark with a ban on plastic straws at its outlets in Taipei and said all its restaurants nationwide would comply with the ban by end of June.