High temperature warning issued for Taipei, New Taipei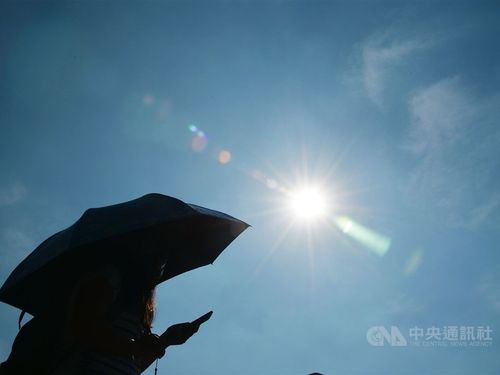 Taipei, June 7 (CNA) Sunny skies are forecast to prevail Friday, with the mercury in Taipei and New Taipei soaring to a level that triggered a high temperature warning, according to the Central Weather Bureau (CWB).
The CWB issued a "yellow" temperature alert for the two cities, which indicates temperatures of over 36 degrees Celsius on a single day based on the bureau's color-coded warning system.
The high temperatures, which will peak around noon, are caused by a lingering Pacific high pressure system, the CWB said.
In central and southern Taiwan, daytime highs of 34-35 degrees can be expected Friday, with a possibility of 36 degrees or higher in Dawu Township in Taitung County, the CWB said.
The bureau also forecast sporadic afternoon showers, particularly in the mountainous areas around Taiwan.
In outlying islands of Kinmen and Matsu, foggy conditions may cause low visibility, which could lead to disruptions in transportation schedules, the CWB said.
The weather pattern is expected to continue for the rest of the week, with even higher temperatures on Saturday, before a weather front arrives next week, bringing rain and somewhat cooler temperatures, the CWB said.
Meanwhile, the Environmental Protection Administration (EPA) said the air quality on Friday was good in Hsinchu, Miaoli, Yunlin, Chiayi, Kaohsiung, Pingtung, Yilan, Hualien, Taitung, Kinmen and Penghu.
Fair air quality was seen in some parts of northern Taiwan and outlaying Matsu in the day, according to the EPA's Air Quality Index (AQI).