Migrant workers protest brokerage system, call for direct hiring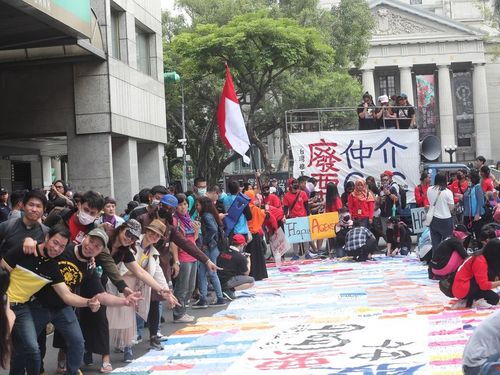 Taipei, April 28 (CNA) Hundreds of migrant workers took to the streets of Taipei Sunday, calling on the central government to abolish the private foreign worker brokerage system and replace it with a direct government-to-government hiring system.
The 200-plus migrant workers, led by the Migrant Empowerment Network in Taiwan (MENT), staged the demonstration in front of the Ministry of Labor (MOL), ahead of May 1, International Workers' Day.
Traffic in Taipei's main administrative area was diverted as the workers spread a large quilt on the road, while their demands for the abolition of the private brokerage system were blared from loudspeakers on a truck.
"Government-to-government direct hiring," was the call on the loudspeakers, a demand that accompanied the call for the abolishment of broker fees written on the quilt.
At the rally, MENT said the Taiwan government for many years has been bringing in migrant workers but has not provided them with proper services and protections.
As a result, what started as a public service has become a profit-making business for private brokers, charged MENT, which is a coalition of organizations that advocate for migrant worker rights.
MENT cited the example of a migrant worker who was defrauded of NT$55,000 (US$1,778) by brokers who promised to find him a new job when his contract ended last September.
At his new job, he later discovered that he was listed as an "unaccounted migrant worker," MENT said, adding that it was an example of how brokers control the fate of migrant workers because of their monopoly of the market.
There have been many similar cases over the years, which is why it is imperative that the current brokerage system be abolished, MENT said.
If the Taiwan government does not take responsibility to provide the necessary employment services and replace the brokerage system, migrant workers will constantly find themselves in trouble, MENT said.
In response, the labor ministry said private brokers are not the only option for the hiring of migrant workers. It said employers can also refer its Direct Hiring Service Center (DHSC) for assistance.
According to the DHSC website, the DHSC was set up in December 2007 to "provide employers with multiple employment methods for hiring foreign workers and to alleviate the burden of foreign workers coming to Taiwan."