Exhibition held by Chinese student captures cross-strait dilemma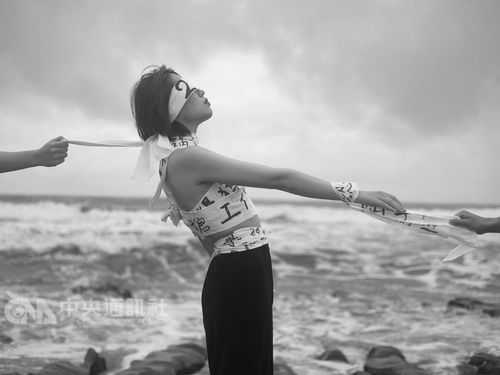 Taipei, Jan. 8 (CNA) A photo exhibition being held in Taipei by Chinese student Wang Jiaxin (汪家欣) has given her the chance to express her positive view of Taiwan but also the helplessness she feels caught in the middle of sensitive cross-Taiwan Strait ties.
During a tour of the exhibition in an old apartment in Zhongshan District, messages such as "Taipei is my second hometown" and "I dream of going back there" are immediately apparent as are her strong feelings about the problems faced by Chinese students here.
One of her photos shows a woman standing on the beach wrapped in a piece of cloth reading "three limits, six noes" and surrounded by placards saying "it serves you right, why go to (Taiwan)" and "dhebazi degree."
The word dhebazi (台巴子) is a discriminatory term in the Shanghai dialect for Taiwanese that means silly or foolish.
Wang, a former president of the Hubei Student Association who has been in Taiwan for five years and is soon heading to New York for further studies, said the work illustrates the obstacles Chinese students in Taiwan face on either side of the strait.
Those who get a Taiwanese degree have to go through a process at home to have their academic qualifications recognized, while here in Taiwan, they abide by the "three limits, six noes," Wang said.
The "three limits" refer to restrictions on the number of Chinese universities that the government can recognize and the total number of Chinese college students who can enter Taiwan, and a limit on the accreditation of Chinese diplomas related to medical personnel certification exams.
The "six noes" mean that Chinese students are not allowed to receive scholarships or professional licenses, work in Taiwan before or after graduation, receive extra points in examinations or take civil service exams.
Born in 1996, Wang came to Taiwan to study after graduating from high school. Her five years in Taiwan has left her Mandarin tinged with a heavy Taiwanese accent.
It is hard to tell she is originally from Hubei, a landlocked province in central China, unless she introduces herself first.
But Taiwan has had affected her in ways that go far beyond language.
When asked what about Taiwan impressed her the most, Wang told Central News Agency: "Instead of asking what's next if you fail, people here encourage you to go after your dreams."
"There are all kinds of accessible facilities for people with disabilities, and discussions and bills on same-sex marriage, showing that this land respects each individual -- something mainland China does not do."
Wang believes that most of the Chinese students who have come to Taiwan for college degrees are deeply attached to Taiwan.
"A lot of them may not come here ever again, but their feelings toward this place will never dampen," which is why Wang said she would love to see more Chinese students spend time in Taiwan, studying or otherwise.
"Perhaps we (Chinese students in Taiwan) will not have any impact on the mainland of 1.4 billion people, but we will still apply the values of diversity and tolerance we learned in Taiwan in our lives."
The exhibition is being held at Uumouth (樂悠悠之口) in Zhongshan District until Jan. 9.