Government 'obliged to counter disinformation': foreign minister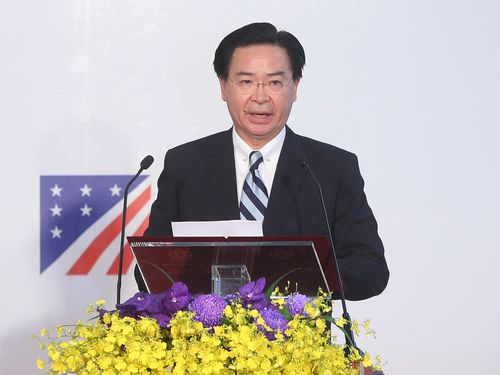 Taipei, Oct. 18 (CNA) The government has full respect for freedom of speech but is obliged to counter criticism that is based on fake information spread by foreign agents to disrupt Taiwan's democratic system, Foreign Minister Joseph Wu (吳釗燮) said Thursday.
During an address in Taipei at a Taiwan-U.S. workshop on defending democracy through media literacy, Wu admitted that there has been criticism of the government's efforts to fight disinformation, and accusations that such attempts are meant to discredit criticism laid upon the ruling administration.
According to Wu, however, there is a clear difference between the two.
Wu said criticism of the government can take many shapes and forms and it is the government's duty to ensure that this "freedom is not only respected, but also enshrined as part of our society."
"But when this criticism is based on fake information and falsehoods, when it is based on unsourced and anonymous material, and when it comes coordinated from foreign actors that hold a vested interest in degrading our political system, that is when it becomes our responsibility to counter it," Wu said.
The fight of disinformation is a challenge shared by many democracies around the globe and Taiwan is "on the frontline" when it comes to coordinated attacks of disinformation to cause division in Taiwanese society and disrupt the way of life, according to the minister.
Wu said his ministry has been a constant target of disinformation, taking a previous example in late May when local media reports that the foreign minister of one of Taiwan's diplomatic allies was in Beijing to establish diplomatic ties, which was later clarified as false information.
The ministry later found that the rumor originated from a social media account based in China's Hebei Province, he added. The country in question was Honduras, one of Taiwan's Central America allies.
The Taipei workshop is being held under the Taiwan-U.S. Global Cooperation and Training Framework (GCTF), according to the American Institute in Taiwan (AIT), which represents U.S. interests in Taiwan in the absence of official diplomatic ties.
United States Deputy Assistant Secretary of State Scott Busby delivered a speech to open the two-day workshop.
Established in June 2015, the GCTF was set up to support bilateral cooperation in international public health, humanitarian assistance and other global issues.
The workshop includes participants from 12 countries spanning two continents, who will share lessons and practices to deepen international cooperation on promoting media literacy.
This is the 13th workshop since the GCTF's inception in 2015, AIT said.