Taipei fire department launches video chat app for emergency calls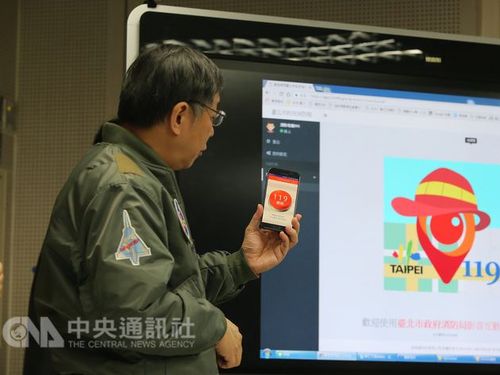 Taipei, Dec. 23 (CNA) The Taipei City Fire Department recently launched a video chat app that allows people reporting an emergency to send videos, photos and even GPS coordinates to the Taipei City 119 command center in order to expedite the rescue process.
Taipei Mayor Ko Wen-je (柯文哲) said at the launch that the app, called "視訊119" (video chat 119), allows people to better convey information about an emergency that may be difficult to do via words.
With its video chat function and GPS location information, the app can better relay all the information the command center needs to dispatch personnel to the scene, Ko said.
According to the fire department, the GPS function is extremely helpful because under current regulations, they are unable to track the exact location of emergency calls made via cellphones.
The app also provides a level of interaction that allows the command center to instruct the caller on certain first responder procedures, such as CPR, which can increase the chances of the victim's survival.