Engineered power shortage said linked to nuke plant reopening plan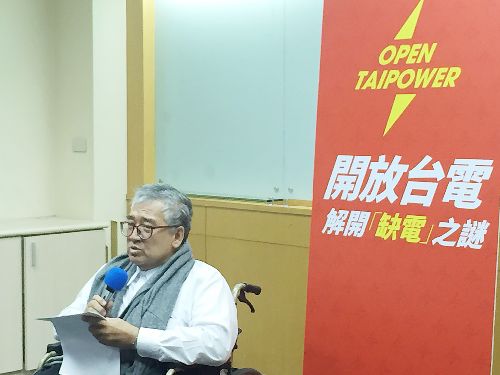 Taipei, Aug. 28 (CNA) Premier Lin Chuan's (林全) plan to reactivate the No. 1 generator at the First Nuclear Power Plant in June was prompted mainly by a power shortage "crisis" engineered by Taiwan Power Company (Taipower), according to former Presidential Advisor Rex How (郝明義).
In a Facebook post on Saturday, How suspected that Taipower deliberately put 10 percent of the nation's aging electricity generators on an annual repair schedule on May 31, when the temperature hit 37.3 degrees Celsius, creating a near-shortage of power supply.
As the nation was on the brink of power rationing, Lin ordered Taipower to reactivate the No. 1 reactor at the First Nuclear Power Plant which had already been idled for 18 months, How said.
The decision triggered protests from anti-nuclear power groups which have been calling for a nuclear-free Taiwan, a proposal that has become the policy of President Tsai Ing-wen's administration.
How cited Taipower data as saying that on May 31, Taipower's peak supply was 34.99 GW, just 0.57 GW above the peak consumption of power that day.
How then quoted Taipower Chairman Chu Wen-cheng (朱文成) as saying his company was able to get by that day because business clients were encouraged to save 0.4 GW in consumption under a program offering incentives to industrial users who are able to cut down on electricity use during peak hours.
However, 3.14 GW of electricity output -- 9 percent of peak supply on May 31 -- was taken away because of the scheduled repair and maintenance of many old generators at various power plants, How said.
"With nearly 10 percent of the nation's power generators being repaired, on an annual schedule, how could it not cause a tight supply of power?" he asked.
He said Taipower certainly knew that the country's hot season begins in May. "So why had it arranged an annual repair schedule for 10 percent of the power generators on a late May day?
"If it had not done that, would it have to 'borrow' 0.4 GW of electricity from the business clients? Doesn't this mean Taipower itself was deliberately creating a crisis of power shortage?"
His accusation of Taipower drew mixed responses from netizens looking at his "Open Taipower" campaign. One called his attention to the fact that most of Taiwan's power generators need an average one to two months of repair a year, which means between 8.3 percent and 16.6 percent of them are constantly under repair.
"Mr. How would do better to understand the 'industrial traits' of these numbers indicate a good performance rather than something to blame on the part of Taipower," said this netizen.
Another on-line commentator said, if May is not a good time for repairing Taipower's old generators, when is it? "Will Mr. How give Taipower a good advice as to which months are good for the annual repair of the generators?"
A 20-something young man lauded How for his efforts to "open up Taiwan Power Company" -- forcing it to release data that it used to keep as confidential.