Taiwanese student pilot injured in crash near Orlando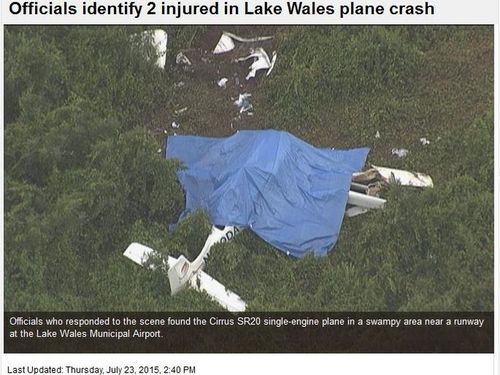 Taipei, July 24 (CNA) One of Taiwan's major international airlines on Friday confirmed that one of its student pilots has been injured in a plane crash in central Florida.
China Airlines said its representatives will accompany relatives of the student pilot to the United States and the company will do its best to help provide medical care for the young man.
News reports in Florida identified the man as Chen Sheng-yen, 26, a would-be pilot receiving a year-long training at Aerosim Flight Academy based in Sanford near Orlando.
He was flying with instructor pilot Anthony Arzave, 32, when their single-engine Cirrus SR20 crashed Wednesday morning (local time) near a runway at the Lake Wales Municipal Airport to the south of Orlando, Bay News 9 reported on its website.
An emergency parachute on the Cirrus SR20 was activated although investigators said they don't know if the parachute had been deployed by the pilots or deployed on impact, the report said.
The two were taken to a local hospital, the report said, adding Chen was in critical condition while Arzave's condition was listed as stable.
The cause of the crash remains under investigation by the Federal Aviation Administration and the National Transportation Safety Bureau, Bay News 9 said in its report.
According to Aerosim Academy Inc., the company that runs the flight school, Arzave, a certified flight instructor, and the student experienced difficulty at the Lake Wales Municipal Airport during a routine training flight before the crash.
China Airlines said Chen is one of around 50 student pilots being trained at Aerosim Flight Academy, which was founded in 1989. Chen began his training late in 2014 and was scheduled to receive more training after returning to Taiwan late this year.