Over 160 injured after fire breaks out at water park (update 1)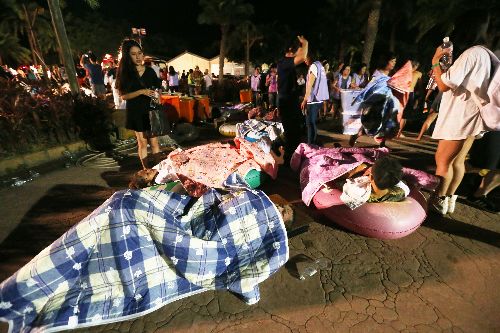 Taipei, June 27 (CNA) More than 160 people were injured, including 75 seriously, at a recreational water park in New Taipei after suspected flammable powder exploded in the air, firefighters said Saturday. According to the latest statistics, 167 people were sent to hospitals in Taipei and New Taipei for emergency treatment.
The Formosa Water Park (八仙樂園) in Bali District was having a "Color Play Asia" party at around 8:30 p.m. when the powder exploded over the stage, causing burns to a lot of people.
The cause of the explosion was still to be determined and the head of the park was being questioned at Bali police station.
Faced with the "worst incident of mass injury in New Taipei," Mayor Eric Chu (朱立倫) arrived at the scene at 10:20 p.m. Due to the large number of injured, Chu asked for ambulance support from the neighboring cities of Taipei, Taoyuan and Keelung.
The New Taipei city government also used Line to notify people to circumvent the park and not to converge there to avoid further incidents.
The New Taipei city government's Fire Department activated a mechanism for dealing with large numbers of injured dispached large ambulances.
Visitors were using large swimming rings to serve as stretchers for the injured until rescuers arrived. Luo Shao-he (羅紹和), a spokesman for the Ministry of National Defense, said that all military hospitals in northern Taiwan are prepared to take in injured people, while military personnel had also arrived at the park to help with the rescue efforts.
Meanwhile, President Ma Ying-jeou (馬英九) instructed Premier Mao Chi-kuo (毛治國) and Mayor Chu to make every effort to provide necessary assistance.
(By Hsiao Po-yang, Wang Hung-kuo and Lilian Wu)ENDITEM/J
Update:●On-site first aid stations set up, casualties up to 205