Labor ministry pledges to review minimum wage, working hours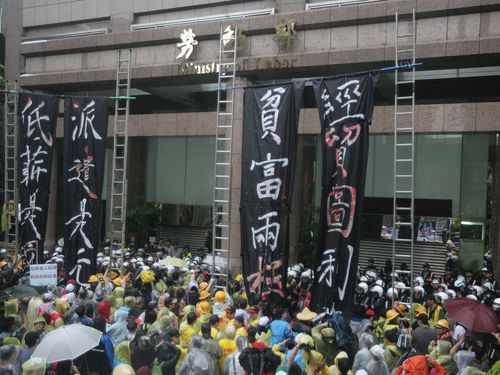 Taipei, May 1 (CNA) The Ministry of Labor (MOL) said Thursday it will review its policies over minimum wages and working hours, its response to a Labor Day rally that brought thousands to the ministry's gates to demand better working conditions.
The MOL issued a statement that said it will "continue to carefully review" minimum wage levels and propose a plan by the end of this year to adjust the maximum weekly working hours.
Demonstrators have called for the maximum working time to be shortened to 40 hours per week from the current 84 hours every two weeks.
They are also calling for workers to be granted at least two regular days off every seven days, instead of the current requirement of a minimum of one day off per week.
The MOL said it will seek a "consensus" on the issues among different sectors of society.
It said that it passed a draft proposal for protecting dispatched temporary workers amid calls for a ban on the practice.
The draft bill stipulates that dispatch workers should receive the same wages as full-time employees, and it limits the number of dispatch workers to no more than 3 percent of a company or government agency's workforce.
According to a 2013 survey by the Directorate General of Budget, Accounting and Statistics, the number of temporary and dispatch workers hit 590,000 in May that year.
The ministry was however resistant to protesters' calls against trade liberalization, arguing that Taiwan's economy is highly dependent on international trade and will need to open to ensure job opportunities.
Members of dozens of trade unions, labor rights groups and student groups on Thursday marched from Ketagalan Boulevard in front of the Presidential Office to the MOL headquarters in a Labor Day protest.
The thousands of demonstrators also voiced opposition to trade liberalization, privatization of state enterprises and bank mergers, and demanded better protection of the rights and retirement benefits of workers.
(By Christie Chen)ENDITEM/WH
Related stories:●May 1: Workers brave rain to march against low pay on Labor Day●May 1: Premier seeks to make assurances on Labor Day