Taipei mayor refuses police chief's offer to resign (update)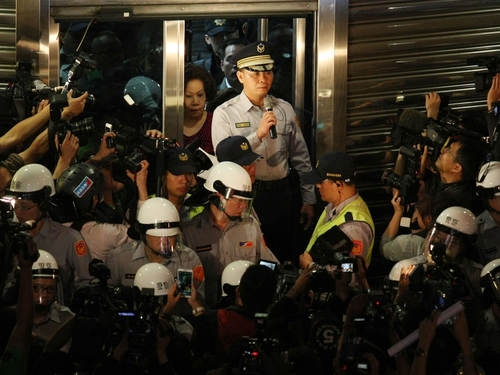 Taipei, April 11 (CNA) Taipei Mayor Hau Lung-bin has refused a demand by protesters besieging a police precinct in Taipei to accept the resignation of the precinct's chief, and he urged the demonstrators to be rational.
Hau issued the call at a press conference after protesters demanded that Fang Yang-ning, the chief of Zhongzheng First Police Precinct apologize and step down for reneging on his pledge to not forcibly disperse protesters from the square outside the Legislative Yuan.
The mayor said he will not allow any low enforcement officers to step down before an investigation is completed.
Fang offered to resign and made a public apology in front of the estimated 1,000 protesters, but to no avail. Many of his remarks were drowned out by chants and heckling from the crowd, which insisted that Hau accept the resignation offer.
The incident was triggered when police from the precinct began at around 7 a.m. Friday to pick up and remove protesters from the square outside the Legislature after Fang had said hours earlier that he would use "soft" means to get the protesters to leave.
The Legislature's main chamber had been occupied by student-led protesters for 24 days until Thursday in protest against a trade-in-services agreement with China. The protesters left the building on Thursday evening, but a group of people remain camped outside overnight.
Fang defended the police decision to clear the area Friday morning, saying it was necessary to allow the Legislature to resume normal operations.
Late Friday night, Hau expressed support for Fang's actions and said he will not ask the precinct chief to resign.
Hau argued that the police officers were executing their duties to allow the parliament to return to normal operations and to maintain orderly traffic and public safety near the Legislative Yuan.
He added that Fang had done nothing wrong.
Hau also promised to provide room for the public to express their views, while urging protesters before the Zhongzheng First Police Precinct to leave the site and return the right of way to the general public.
The Taipei mayor also called on the demonstrators to refrain from barging into government offices. Otherwise, police will act in accordance with the law against any unlawful activities, he warned.
Hau also denied reports that he attempted to order police to forcefully disperse protesters from the site.
The mayor said that Taipei citizens need peace and quiet, particularly after student protesters had occupied the Legislative Yuan's main chamber for 24 days to protest against a trade-in-services agreement with China.
Update:●April 12: Protesters moving to legislative square after demands met●April 12: Hau tells precinct chief to stay on job through investigation
Related stories:●April 11: Face-to-face with protesters, precinct chief offers resignation●April 11: Protesters demonstrate outside police precinct in Taipei●April 11: Police disperse holdouts as legislature gets back to business
Locations of the Zhongzheng First Precinct building (left) and the Legislative Yuan (right):