Major defendants in military abuse case found guilty (update)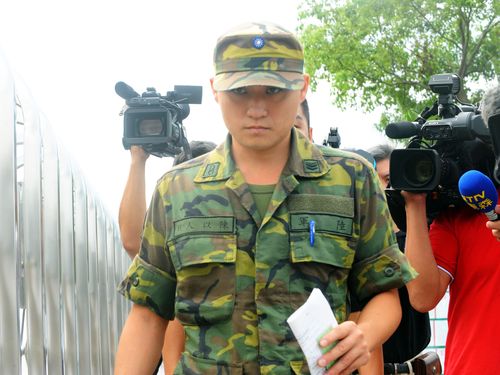 Taipei, March 7 (CNA) The major defendants in the high-profile death of a detained Army corporal were found guilty of abusing their power and sentenced to between six and eight months in prison, the Taoyuan District Court ruled Friday.
The highest ranking officers among the 18 defendants -- former 542 Armored Brigade Commander Maj. Gen. Shen Wei-chih and Deputy Commander Col. Ho Chiang-chung -- were convicted of offenses against personal freedom in the death of Army corporal Hung Chung-chiu.
The court ruled that they abused their power in restricting Hung's freedom and were sentenced to six months in prison.
Shen said he would appeal the verdict.
The only defendant to receive a slightly harsher sentence was Hsu Hsin-cheng, a company commander in the brigade, who got eight months in jail for offenses against Hung's personal freedom.
Of the 18 defendants, a total of 13 were found guilty by the Taoyuan court for offenses that also included negligent homicide and abusing the victim to death.
They were given sentences ranging from three to eight months in jail but will most likely not have to serve time because they will be allowed to pay a NT$1,000 fine per day of their sentences.
Echoing the immediate media reaction to the verdicts, Hung's family members condemned the sentences for being too light.
The 24-year-old Hung died of heatstroke on July 4, 2013, after being forced to do strenuous exercise in sweltering heat in a confinement facility that he should not have been in in the first place.
Hung was sent there for using a mobile phone on an army base, an offense that should have drawn only a reprimand.
The death sparked major protests in Taiwan, especially as the military seemed to drag its feet in investigating Hung's death.
Public pressure eventually led to new legislation that put civilian courts and prosecutors in charge of military criminal cases.
Related stories:●March 7, 2014: Defense Ministry 'respects' verdicts in military abuse case●March 7, 2014: Dead Army conscript's family finds court ruling unacceptable●Jan. 13, 2014: Rights group urges Taiwan to reform military as promised●Dec. 12, 2013: Corporal's death tops 2013 Taiwan news events: Yahoo Kimo●Aug. 15, 2013: Talk of the Day -- Military prison becomes a thing of the past●Aug. 7, 2013: Talk of the Day -- Another changing of the guard at the MND●Aug. 3, 2013: Tens of thousands rally to demand human rights in military●July 9, 2013: MND apologizes for army corporal's death, admits negligence