Hon Hai signs MOU with Canadian firm on EV battery development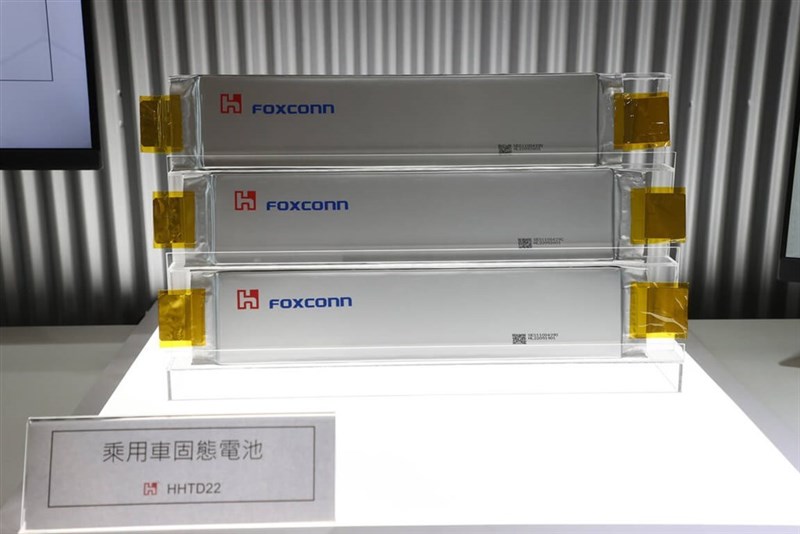 Taipei, Oct. 3 (CNA) Taiwan-based manufacturing giant Hon Hai Precision Industry Co. on Tuesday signed a memorandum of understanding (MOU) with Canadian solid-state battery supplier Blue Solutions to develop solid-state batteries and build an electric vehicle (EV) battery ecosystem.
In a statement, iPhone assembler Hon Hai, also known as Foxconn on global markets, said its wholly-owned subsidiary SolidEdge Solution Inc. will work with Blue Solutions by integrating their expertise, technologies and resources to develop and produce batteries for two-wheeled vehicles.
According to Hon Hai, SolidEdge Solution specializes in material design in Taiwan for battery use.
Hon Hai said the two partners have aimed to co-develop batteries using Blue Solutions' exclusive solid-state cell technology.
Hon Hai said that the two companies will use Blue Solutions' innovative Gen4 technology and SolidEdge Solution's materials to equip two-wheeled vehicles and serve the target markets.
According to the terms of the agreement, variants of these battery systems may also be adapted for other electric vehicles in addition to two-wheeled ones.
Hon Hai said the two partners have initially targeted the Indonesian market.
Citing an estimate made by McKinsey, Hon Hai said the global two-wheeled vehicle market will be worth about US$218 billion by 2029, with a compound annual growth rate expected to hit 8.7 percent, and the main growth momentum will come from electric motorcycles.
Hon Hai said Indonesia has set an ultimate goal to boost the number of electric motorcycles to 13 million by 2030 from a fraction of what it is now.
Blue Solutions, a subsidiary of France-based Bolloré Group, is a global designer and manufacturer of solid-state batteries and has an extensive background in solid-state batteries with research going back to the 1980s, according to Hon Hai.
In addition, the Canadian company currently runs solid-state cell, module and pack production lines located both in France and in Canada, Hon Hai said.
So far, Bolloré group has already invested 3 billion euros (US$93.17 million) in Blue Solutions and its activities, with more than 1 million cells having shipped to the market, Hon Hai added.
In recent years, Hon Hai has intensified its efforts in penetrating the EV market in Indonesia.
In late August, Indika, an Indonesian energy group, announced that its two-wheeled vehicle subsidiary completed a fundraising deal to allow a fund jointly set up by Hon Hai and Taiwan's CTBC Financial Holding Co. to become an investor.
A U.S. brokerage said in a recent research report that Hon Hai's EV battery plant in Kaohsiung will start mass production with a capacity of 1Gwh in 2024 as scheduled, targeting the electric bus market.
In the U.S. state of Ohio, Hon Hai has built a battery management system (BMS) production site. The brokerage said the Taiwanese company is seeking partners in the U.S. market in EV battery and component development by taking advantage of tax incentives under the Inflation Reduction Act, which was signed into law by President Joe Biden in August 2022 to take on climate change.
In order to transform itself from simply being a contract electronics manufacturer into a company that is fully able to combine its hardware and software capabilities, Hon Hai has outlined a so-called "3 plus 3" initiative.
The name refers to three emerging industries -- EVs, robots and digital health care -- that are being developed through the application of artificial intelligence, semiconductor and communication technologies.