Taiwan, Canada mark 25th anniversary of tech cooperation, renew MOU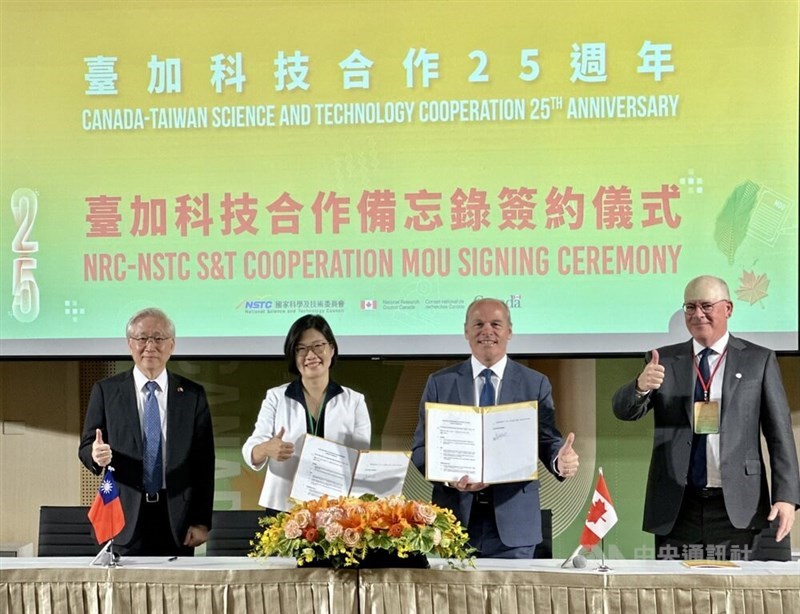 Taipei, Sept. 25 (CNA) Taiwan and Canada renewed a memorandum of understanding (MOU) on science and technology cooperation Monday at a ceremony celebrating the 25th anniversary of the partnership, Taiwan's National Science and Technology Council (NSTC) said.
A delegation of over 40 people from Canada attended the MOU signing ceremony in Taipei at which representatives of the NSTC and National Research Council Canada inked the pact to show their will to continue working together.
NSTC chief Wu Tsung-tsong (吳政忠) described Canada as one of Taiwan's earliest partners in sci-tech development, and said partnerships between the countries since 1997 have blossomed in areas such as nanotechnology, biophotonics and vaccine development.
Taiwan and Canada also need in the future to take the impact of generative artificial intelligence seriously, Wu said.
Meanwhile, Iain Stewart, head of the Canadian council, said many top Canadian sci-tech scholars attended the ceremony Monday, and their presence served as evidence of the strength of the collaboration between the two sides.
On the same occasion, Jim Nickel, executive director of the Canadian Trade Office in Taipei, said many new MOUs are being drafted that could also strengthen the two countries' partnership on science, technology and innovation.