Digital Minister Tang attends New York internet forum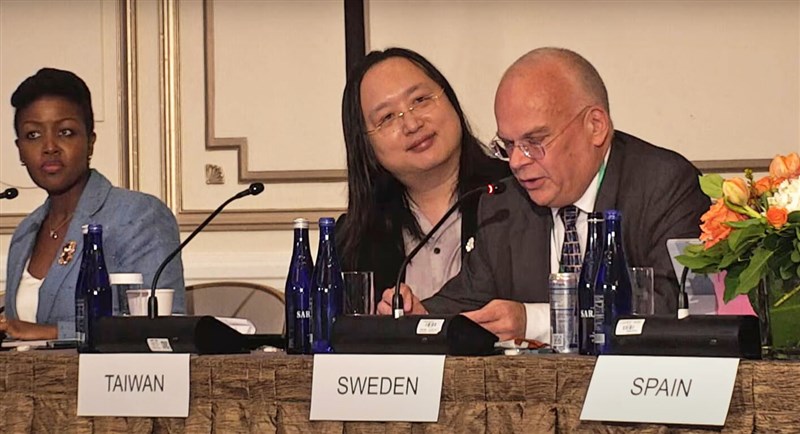 Taipei, Sept. 21 (CNA) Taiwan's Minister of Digital Affairs Audrey Tang (唐鳳) attended the Freedom Online Coalition (FOC) ministerial meeting on Sep. 20 in New York, and participated in roundtable discussions on inclusive and rights-respecting digital policies, according to the Ministry of Digital Affairs (MODA).
According to the FOC website, the meeting, titled "Advancing the 2030 Agenda through Inclusive and Rights-Respecting Digital Policy," is a convention of "high-level representatives of FOC member states, key G77 partners on technology policy, and other relevant stakeholders in New York held on the fringe of the 78th Session of the United Nations General Assembly."
In attendance included U.S. Secretary of State Antony Blinken, U.S. Under Secretary for Civilian Security, Democracy, and Human Rights Uzra Zeya, U.S. Ambassador at Large for Cyberspace and Digital Policy Nathaniel Fick, and ministers of 38 countries.
Tang said Taiwan signed "A Declaration for the Future of the Internet" in 2022, which affirmed the country's devotion to making the internet a space of human rights, freedom, and mutual trust, adding that she is honored to work with allies for further cooperation in protecting human rights in cyberspace and freedom and democracy.
Tang also mentioned that Taiwan's Ministry of Digital Affairs continues to work on promoting open-source code, and has conducted tests of the open-source messaging app Element in Taiwan's outlying Matsu Islands.
It was later confirmed that calling service could still be provided through satellites even when submarine communication cables are not working, which is helpful for fostering a resilient digital communication environment, Tang said.
According to a MODA press release, Tang was later invited by the International Strategy Forum to participate in a discussion on global governance and emerging technologies.
Tang said artificial intelligence (AI) regulations should be jointly promoted by the international community to protect human rights, and as part of the Collective Intelligence Project, MODA has initiated the Alignment Assemblies project, aiming to make Taiwan the first in the world to align with AI values through deliberative decision.
She added that Taiwan's goal is to allow all citizens to have a chance to contribute to AI safety and sustainability, as well as being able to detect and reduce the accompanying risks of this emerging technology.