Domestically made weather satellite leaves Taiwan for French Guiana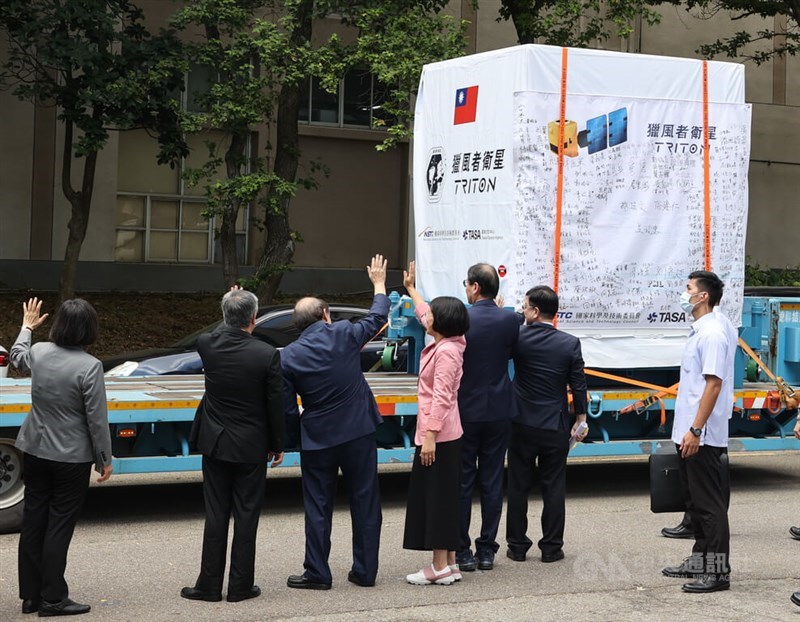 Taipei, July 14 (CNA) The domestically made Triton weather satellite, which is expected to improve the accuracy of forecasts of extreme weather events, left Taiwan on Friday for French Guiana, where it will be launched into space in September.
Once in French Guiana, the weather satellite will be launched into a circular low earth orbit around 550-650 kilometers above the earth on an Arianespace Vega C rideshare mission, according to the Taiwan Space Agency (TASA) website.
At a ceremony at TASA on Friday before the satellite departed, President Tsai Ing-wen (蔡英文) called the development of Triton a milestone for Taiwan's space development.
She said the Triton satellite will observe and collect sea surface wind speeds to provide more accurate predictions of extreme weather events, and described it as a breakthrough for global weather observation.
Premier Chen Chien-jen (陳建仁), who also attended the ceremony, said the Triton satellite had a local content rate of 83 percent, well above the standard 35 percent that he said many countries used as the standard for whether a satellite is "domestically made."
Tsai added that with more than 80 percent of the Triton's components designed and manufactured in Taiwan, it proved that Taiwan has the ability to participate in the global space industry.
The Triton project was initiated in 2014 and finally reached the launch phrase after eight years of development, said TASA Director-General Wu Jong-shinn (吳宗信).
He said the new weather satellite has lighter, smaller, and more efficient components compared to TASA's first-generation home-grown remote sensing satellite, the FORMOSAT-5, that was launched into space in 2017.
Wu hoped that the satellite will be able to provide around 70,000 piece of data a day to further support and strengthen scientific research and weather forecasting, including by being able to observe typhoons in their early stages.
Triton, Taiwan's first domestically engineered weather satellite, was built with many domestic components, including Taiwan's own global navigation satellite system-reflectometry (GNSS-R), according to Wu.
The GNSS-R is a data processing module developed by TASA and the Central Weather Bureau along with other technology and meteorology experts to collect sea surface wind data that will be combined with ground radar wind field data to more accurately predict typhoon paths and heavy rainfall.
Triton is scheduled to arrive in French Guiana on July 17.