Taiwan, U.S. groups sign 3 MOUs in EV development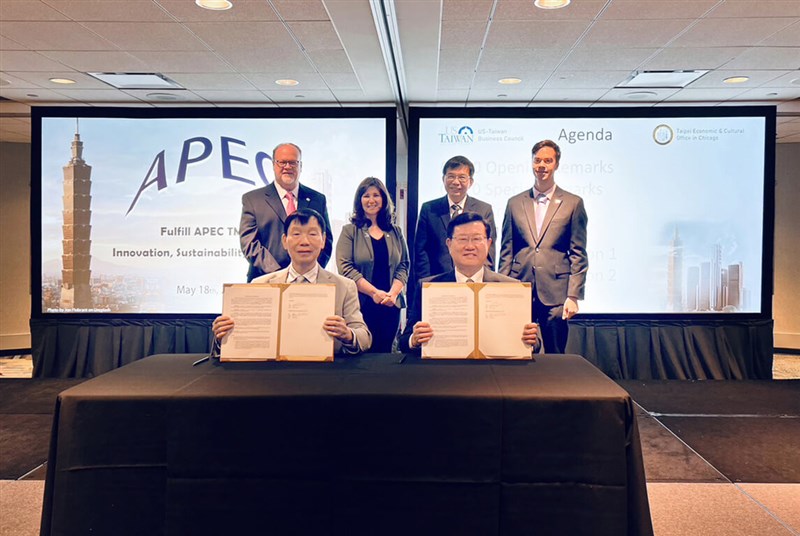 Taipei, May 19 (CNA) Groups from Taiwan and the United States have signed three memorandums of understanding (MOUs) on cooperation in electric vehicle development, the Ministry of Transportation and Communications (MOTC) said Friday.
In a statement, the MOTC said the three MOUs were signed on Thursday (U.S. time) by Taiwanese electric bus maker RAC Electric Vehicles Inc. and U.S. company OPTIMAL Intelligent Mobility; Michigan Economic Development Corp. and the Taipei Economic and Cultural Office in Chicago; Taiwan's National Cheng Kung University and Michigan State University.
Witnessed by Taiwan's Transportation Minister Wang Kwo-tsai (王國材), the six groups set up EV partnerships by signing the accords in a business forum organized by the Taipei Economic and Cultural Office in Chicago and the US-Taiwan Business Council on Thursday, the MOTC said.
Wang is currently on a trip to the United States where he attended the 2023 APEC Transportation Ministerial Meeting, held in Detroit of Michigan from Tuesday to Wednesday (local time).
The Thursday's business forum focused on how to achieve a goal set by this year's APEC Transportation Ministerial Meeting in innovations, sustainability and mobility, the MOTC said.
During the 2023 APEC Transportation Ministerial Meeting, the MOTC said, Wang shared with his peers Taiwan's experience of maintaining smooth air, maritime and land transportation and sustaining the resilience of Taiwan's infrastructure operations despite the impact from the COVID-19 pandemic in the past three years.
Talking about the role played by the transportation sector in climate change, Wang said in the ministerial meeting that as Taiwan has embraced a goal of achieving net zero emissions by 2050, it has kept developing green ports, and pushing for offshore wind energy development.
Wang also placed a great emphasis on how Taiwan takes care of people with disabilities and how it develops its transportation system in rural and remote areas, which reflected the 2023 meeting's theme: "Creating a Resilient and Sustainable Future for All."
In the APEC meeting, the MOTC said, Wang exchanges views with U.S. transportation authorities in a wide range of topics such as green maritime cooperation, EV supply chain cooperation, unmanned aerial vehicle (UAV) management and railway safety.
In addition, Wang held bilateral meetings with his counterparts from Australia, Japan, South Korea, Singapore and Vietnam on the sidelines of the ministerial meeting, the MOTC said.
Before the ministerial meeting, Wang attended the side event -- the APEC Green Maritime Collaboration Launch -- on Monday (local time) to detail Taiwan's efforts in green maritime development.
In the event, Wang said as Taiwan plays a critical role in the global container cargo shipping industry, its shipping firms have been keen to push for green maritime initiatives.
According to Wang, Evergreen Marine Corp., Yang Ming Marine Transport Corp., and Wan Hai Lines Ltd. -- the three largest container cargo shipping firms in Taiwan -- accounted for more than 10 percent of total global container cargo shipping capacity.