Hon Hai, Gogoro sign MOU on EV development in Indonesia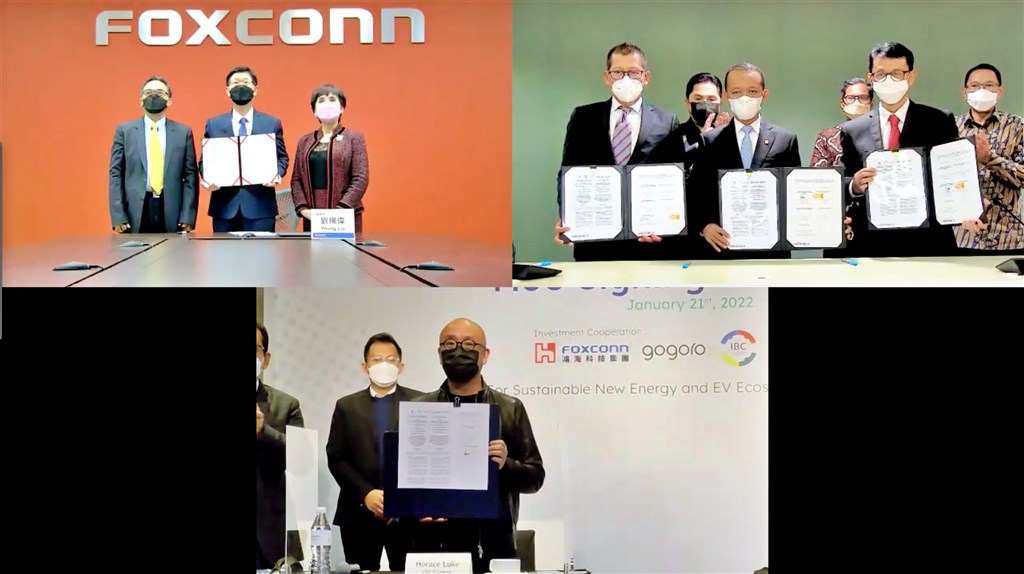 Taipei, Jan. 21 (CNA) Taiwan-based Hon Hai Precision Industry Co. and Taiwanese e-scooter brand Gogoro Inc. have signed a memorandum of understanding with three Indonesian entities on developing electric vehicles in the Southeast Asian country.
The two companies signed the deal with Indonesia's Ministry of Investment, battery supplier PT Industri Beterai Indonesia (IBC), and energy developer BT Indika Energy in an online signing ceremony Friday presided over by Indonesian Investment Minister Bahlil Lahadalia.
Beyond cooperation on electric vehicle development, the MOU was also aimed at forging a battery supply chain in Indonesia that could help support a sustainable energy ecosystem, Hon Hai said in a statement.
"Hon Hai is excited to embark on the journey to transform the new energy ecosystem in Indonesia in cooperation with the local government, Gogoro, IBC and Indika," Hon Hai Chairman Liu Young-way (劉揚偉) said in the statement.
"I believe the implementation of the MIH platform, alongside our Build-Operate-Localize (BOL) strategy and manufacturing expertise will allow us to meet market demand and create a sustainable new EV ecosystem in Indonesia," he said.
Hon Hai, also known as Foxconn internationally, has been eager to break into the global EV market, initiating an MIH Open Platform to promote open standards and new technologies for electric vehicles that it hopes will one day become the "Android of the EV industry."
The company said the MOU was targeted specifically at exploring opportunities in electric battery manufacturing, including battery cells, battery modules, and battery packs, and developing four-wheel and two-wheel EV ecosystems.
There will also be an emphasis on developing systems that support the EV industry, such as energy storage systems (ESS), battery exchange stations, and battery recycling, Hon Hai said.
Initially, the MOU will prioritize the development of platforms in Indonesia for the production of lithium iron phosphate (LPF) EV batteries and solid state premium quality EV batteries.
The concept of the deal first took root in October 2021, when Lahadalia invited Hon Hai and Gogoro to develop Indonesia's EV industry after Hon Hai announced a partnership with Gogoro to develop a global EV battery-exchange system in June.
In September 2021, Hon Hai participated in a private placement by Gogoro, which is planning to go public on the Nasdaq stock exchange in the first quarter of 2022 through a merger with special purpose acquisition company (SPAC) Poema Global Holdings Corp.
After spending US$20 million in the private placement, Hon Hai holds a 0.76 percent in Gogoro amid optimism toward the e-scooter's business development in the Chinese and Indonesian markets.