Hon Hai, Gogoro team up on global electric vehicle battery exchange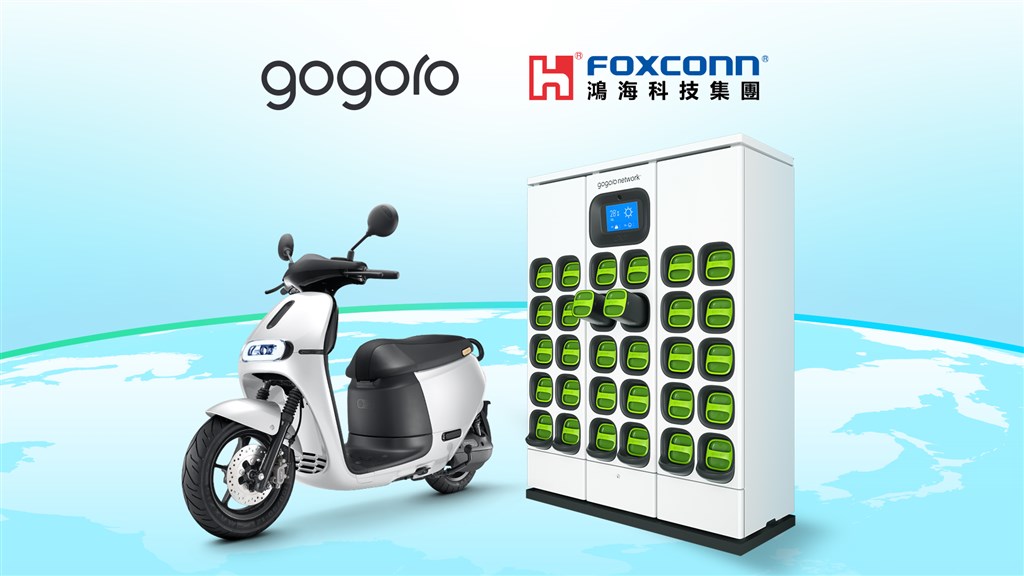 Taipei, June 23 (CNA) Taiwanese electronics manufacturing giant Hon Hai Precision Industry Co. and electric scooter maker Gogoro Inc. signed an agreement Wednesday to develop a global exchange system for electric vehicle batteries.
Under the memorandum of understanding (MOU), the two companies will draw on Hon Hai's manufacturing strength to extend their reach into the global e-scooter market, Hon Hai Chairman Liu Young-way (劉揚偉) said.
Backed by of Hon Hai's broad production capacity worldwide, Gogoro will focus on e-scooter research and development, product design, brand promotion, distribution network expansion, and customer services, Liu said.
Through the partnership, he said, Gogoro will devise a plan to build a worldwide battery exchange system.
Hon Hai, the world's largest contract electronics maker, has been working to transition beyond pure manufacturing into an integration of hardware and software development.
Also known globally as Foxconn, the company has invested in the development of solid state batteries and lithium iron phosphate (LPF) batteries for electric vehicles, Liu said. It has set a goal of developing a sample solid state battery and starting commercial production by 2024, he added.
Under its cooperation with Gogoro, Hon Hai's EV development will extend from four-wheeled to two-wheeled vehicles and from battery production to battery exchange systems, according to market analysts.
Meanwhile, Gogoro founder and chief executive Horace Luke (陸學森) said that through the partnership with Hon Hai, the two companies are aiming to bring their products to the major cities in the world.
Apart from Hon Hai, Gogoro has also been working with start-ups in Europe to launch e-scooter sharing services, Luke said. A source close to the deal said Hon Hai is looking to using its sprawling global production base to help Gogoro set up e-scooter production lines in China and India, where Hon Hai manufactures iPhones for Apple Inc. and tech gadgets for other international brands.
The source said Gogoro is likely to entrust the management of its plant in Linkou, New Taipei, to Hon Hai and focus instead on R&D, product design and marketing, with cooperation in China and India likely to follow.
In recent years, Hon Hai has been promoting a "3 plus 3" initiative to diversify its product mix and boost its profit margins.
The "3 plus 3" initiative refers to three emerging industries -- EVs, robots and digital healthcare -- that are being developed through the application of artificial intelligence, semiconductor and communication technologies. The development of electric vehicles is central to that initiative, as it is building an EV supply chain.
Hon Hai has also been promoting an MIH Open Platform to provide solutions to EV developers, which it said will serve as the "Android of the EV car industry."
So far, more than 1,600 firms worldwide have joined the platform, according to Hon Hai.