Hon Hai, Yageo to set up semiconductor joint venture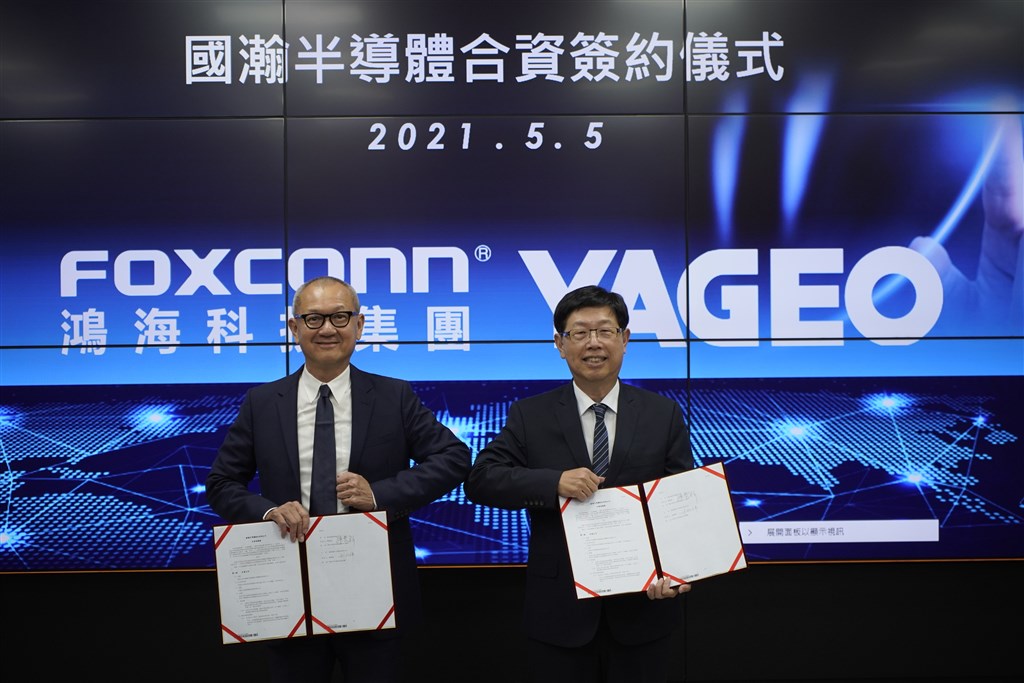 Taipei, May 5 (CNA) Hon Hai Precision Industry Co. and Yageo Corp. announced on Wednesday that they will set up a joint semiconductor company for product development and sales.
Hon Hai Chairman Liu Young-way (劉揚偉) and Yageo Chairman Pierre Chen (陳泰銘) signed an agreement for the establishment of the joint venture named XSemi Corp., which will be based in Hsinchu, northern Taiwan.
Hon Hai said in a statement that the joint venture is expected to help the two partners with resource integration to facilitate the development of product design, technology processes and product distribution.
The statement added that the new company is also expected to "create a complete semiconductor supply chain and provide customers total solution services with high-quality products and stable supplies."
Neither side disclosed the financial terms of the joint venture.
Hon Hai is the world's largest contract electronics maker, while Yageo is the world's third-largest multi-layer ceramic capacitor (MLCC) supplier.
In the initial stage, the joint venture will focus on the development of semiconductor products such as analogy ICs, which carry a unit price tag of less than US$2, Hon Hai said, referring to the so-called "small IC."
Hon Hai, known as Foxconn globally, said the two partners have entered discussions with several major semiconductor firms around the world for possible cooperation, with deals expected to be announced shortly.
Liu said the global semiconductor industry is faced with the largest-ever changes in three decades, which is expected to result in industrial restructuring and is therefore good timing for a partnership.
Chen said that through the partnership, Yageo is expected to extend its reach to the semiconductor arena from the passive electronic component industry.
The semiconductor industry has been part of Hon Hai's long term development strategy as it has promoted the "3 plus 3" initiative to expand from its contract manufacturing business into hardware and software integration.
The "3 plus 3" initiative refers to three emerging industries -- electric cars, robots and digital healthcare -- that are being developed through the application of artificial intelligence, semiconductor and communication technologies.
For its part, Yageo has sought growth through acquisitions, with the focus on high-end passive component development.
In 2020, Yageo acquired U.S.-based Kemet Corp. for US$1.64 billion after buying another U.S. company, Pulse Electronics Corp., for NT$22 billion in 2018.