Micron's IC packaging, testing facility inaugurated in Taichung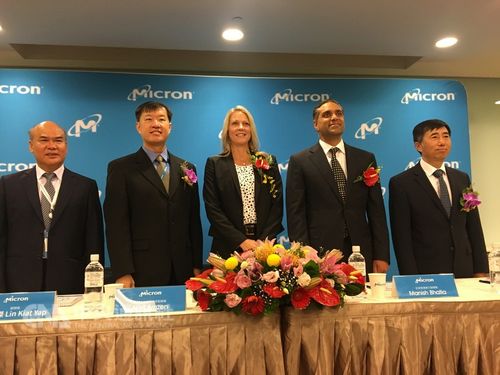 Taipei, Oct. 26 (CNA) U.S.-based dynamic random-access memory (DRAM) Micron Technology Inc. opened an IC packaging and testing plant in the Central Taiwan Science Park in Taichung on Friday as part of its plan to build a comprehensive production base in Taiwan.
Manish Bhatia, executive vice president of Global Operations at Micron, said at the opening ceremony that the new facility will help the company vertically integrate its resources in Taiwan and move closer to setting up a semiconductor ecosystem in Taiwan.
Micron's technology is expected to be used as a foundation to develop artificial intelligence, and its products will focus on data storage and transmission, Bhatia said.
The executive said Micron's DRAM chips will be applied to a wide range of applications related to AI technology, such as machine learning and self-driving cars.
The new backend IC packaging and testing plant is expected to complement Micron's two DRAM factories in Taoyuan and Taichung and give the company more than 7,000 employees in Taiwan.
Mike Liang (梁明成), backend vice president for Micron Taiwan, said the Taichung IC packaging and testing plant will feature high-end backend technology, but Micron will continue its cooperation with other IC packaging and testing firms to meet its needs.
While Micron did not disclose how much it invested in the new plant, local media has estimated the amount to be at least NT$50 billion (US$1.61 billion).
Several high profile guests such as Deputy Economic Affairs Minister Kung Ming-hsin (龔明鑫), AIT Director Brent Christensen, and Taichung Mayor Lin Chia-lung (林佳龍) attended the new facility's opening ceremony.
Kung said Taiwan has strong industrial clusters, a great pool of tech talent, a solid portfolio of intellectual property, and deep ties with multinational firms, and he hoped Micron will develop more of its technologies at its production base in Taiwan.
He said he has faith that Taiwan's semiconductor industry will continue to grow at a fast pace over the next 5-10 years.