LG's G Flex 2 curved phone lands in Taiwan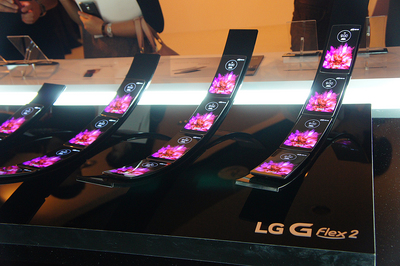 Taipei, March 19 (CNA) South Korea's LG Electronics Inc. launched its G Flex 2 device in Taiwan on Thursday, entering its third market with its curved screen flagship smartphone.
Unveiled at the Consumer Electronics Show in January, the G Flex 2 is the successor to the 6-inch G Flex that was launched in October 2013.
The G Flex 2 features a scratch-resistant and self-healing plastic design, which includes a flexible 5.5-inch plastic OLED full-HD display.
The curved smartphone is equipped with Qualcomm Inc.'s latest Snapdragon 810 octa-core chip, 2GB of RAM, a 13-megapixel rear camera with laser auto-focus technology and a 3000mAh battery. It will hit Taiwan store shelves on April 1 at NT$21,900 (US$696) for the 16GB model and NT$22,900 for the 32GB model.
With its latest sales launch, the device is now being sold in three markets – Taiwan, South Korea and the United States.
Jee Hyung Lee (李址炯), CEO and president of LG Taiwan, said sales of the G Flex 2 is expected to total 20,000 units in Taiwan this year, mainly among business users 30-45 years old.
Approximately 6,000 to 7,000 units of the G Flex were sold in Taiwan last year, according to Lee.
He forecast that LG's smartphone revenues in Taiwan will grow 30 percent this year from about US$120 million in 2014, and said the company has set a sales target of over 300,000 smartphones in Taiwan for 2015.
(By Jeffrey Wu)ENDITEM/pc