Acer developing fingerprint technology similar to Apple Pay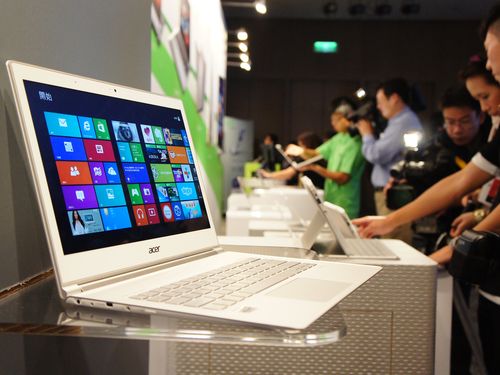 Taipei, Oct. 15 (CNA) Taiwanese computer maker Acer Inc. said Wednesday it is partnering with a fingerprint sensor provider to develop a cloud-based payment system that will allow users to make purchases on Acer mobile phones or wearable devices.
Maverick Shih, president of Acer's Build Your Own Cloud (BYOC) and tablet business group, told the press that his company's partnership with Egis Technology Inc. will propel Acer into the payment business.
The fingerprint recognition technology will be available either on Acer's smartphones or its wearable devices, via the company's open cloud platform, he said at the press briefing at an Acer BYOC forum.
"It is a critical part of authentication and making payments," Shih said.
Egis, a leading Taiwanese provider of fingerprint biometrics and data encryption, said on its website that fingerprint solutions allow users to launch programs and documents with a simple swipe of the finger, thus eliminating the need for multiple account passwords.
The company, which has offices in China, Japan, and the United States, said its solutions have been bundled with over 30 million PC and mobile products worldwide and are distributed in more than 20 languages.
The partnership with Egis is Acer's latest venture into the payment business after it purchased 7 million shares in the third-party online payment gateway PChomePay in January this year, in an apparent shift away from its hardware-centric business model.
The development of a cloud-based payment system, however, might force Acer to compete directly with a similar service from Apple Inc., dubbed Apple Pay, which combines a fingerprint scanner with the Passbook iOS app to allow for online payments on iPhones.
Regarding other members of Acer's BYOC alliance, Shih said his company is working with Apex Medical Corp., a Taiwanese manufacturer of respiratory therapy products, and EBM Technologies Inc., a local provider of systems that automate patients' images and information for diagnosis, to develop cloud-based healthcare applications.
BYOC is an Acer system that allows users to put together cloud services to manage digital files like music and photos across Acer PCs and mobile devices.
Acer presented its BYOC solutions in May this year at the opening of its BYOC Experience Center, which showcased cloud solutions for individuals and businesses. The range of applications include e-books, e-auctions, e-ticketing, smart vehicles and connected home appliances.
(By Jeffrey Wu)ENDITEM/pc