HTC expanding partnerships with chipmakers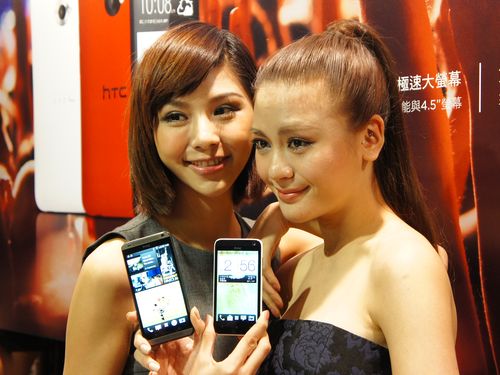 Taipei, Nov. 27 (CNA) Taiwan's HTC Corp. is thinking of making more smartphones with chips other than those of its long-time partner Qualcomm Inc., in an effort to tackle the stiff competition from low-cost phone manufacturers.
The strategy was backed by the announcement Wednesday of four mid-range HTC Desire phones in Taiwan, which will go on sale at between NT$7,900 (US$267) and NT$13,900 via the country's three major telecom operators.
Among the four new models, only the 4.3-inch Desire 300 carries a Qualcomm MSM8225 dual-core 1GHz processor.
The Desire 501, also a 4.3-inch model, is powered by an ST-Ericsson U8520 dual-core 1.15GHz processor, while the dual-SIM Desire 601 sports a Broadcom Java quad-core 1.2GHz processor, and the Desire 700 carries a Spreadtrum Shark quad-core 1.2GHz processor, according to HTC.
The Taiwanese firm is mulling a similar strategy for its high-end or flagship products in light of an industry trend of launching more low-cost phones with premium specifications, said Jack Tong, head of China and North Asia President at HTC.
"From the perspective of Qualcomm, MediaTek Inc. and other chipmakers, they should be thinking about how to take advantage of the overall trend to secure and expand their ground in the market. So there's likely to be a restructuring," Tong told CNA at a press conference to announce the new Desire phones.
"HTC will evaluate the situation," he said. "If most players in the industry are seeking high performance to cost, then we would not be able to ignore such a trend despite good design and applications."
HTC, which reported its first-ever loss in the third quarter since going public in 2002, is shifting its focus to mid-range phones while aiming to stay competitive in the high-end segment.
The Taoyuan-based company forecast sales of between NT$40 billion and NT$45 billion for the fourth quarter, a figure that represents a decline of about 15 percent from the previous quarter.
Morgan Stanley forecast recently that HTC will ship 3.5 million smartphones in the fourth quarter, a 34 percent drop from the previous quarter. It also forecast that the company's 2014 shipments will drop by an annual 33 percent to 14.5 million units.
The U.S. brokerage said it sees little opportunity for HTC to benefit from the growth in emerging markets, which will be the drivers of the global smartphone market in 2014.
Despite HTC's latest strategy to penetrate the mid-range segment, it will be hard for the company to compete in China, where the competition is intense and smartphone pricing has been under pressure, according to Morgan Stanley.
(By Jeffrey Wu) ENDITEM /pc