Guatemala defense minister meets with President Tsai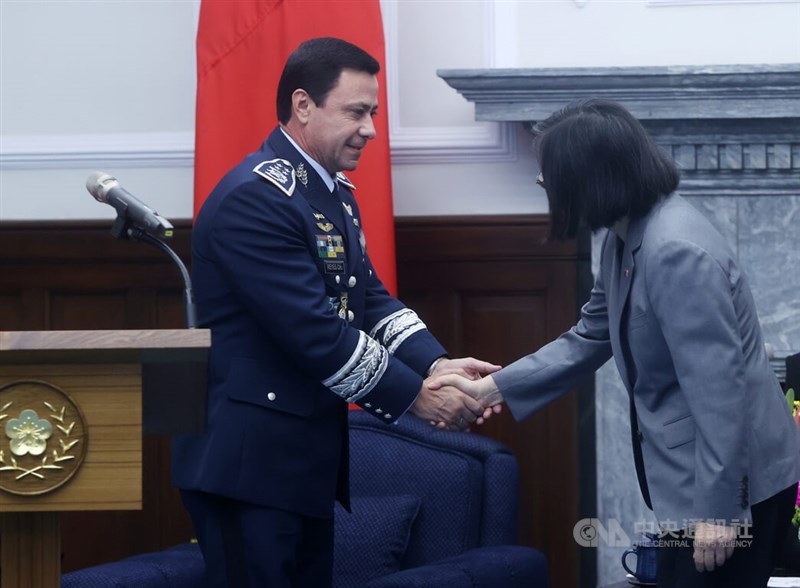 Taipei, Sept. 27 (CNA) Visiting Guatemalan Defense Minister Henry Yovani Reyes Chigua met with President Tsai Ing-wen (蔡英文) on Wednesday and said he looked forward to bilateral ties between the two countries continuing to deepen.
The minister made the comment during the meeting at the Presidential Office, noting that Guatemala and Taiwan had enjoyed "a friendly and close relationship" over the years, according to a press release issued by the Presidential Office after the meeting.
The Central American nation is one of 13 states in the world that formally recognize the Republic of China, Taiwan's official name. The two countries established diplomatic relations in 1933.
It remains unclear, however, when Reyes, along with his wife, arrived in Taiwan and what the main purpose of the trip is.
The Guatemalan official was welcomed by Taiwan's Defense Minister Chiu Kuo-cheng (邱國正) on Monday with a military salute in Taipei, according to Taiwan's Military News Agency.
The two ministers also presented each other with medals in recognition of their respective contributions to the promotion of bilateral military exchanges, the agency said.
During her remarks, Tsai said military cooperation had played an important role in deepening bilateral relations, in particular the joint effort to train military personnel, while also expressing hope that the two countries could further their partnership in other areas.
Source: Presidential Office