ELECTION 2024
/
KMT nominee vows to increase farmers' monthly pension to NT$10,000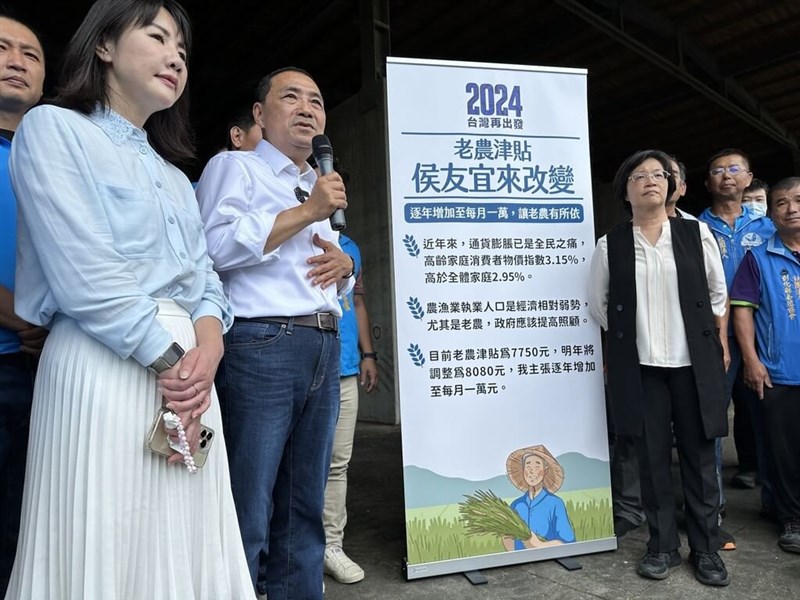 Taipei, Sept. 26 (CNA) Hou Yu-ih (侯友宜), the presidential nominee of Taiwan's main opposition Kuomintang (KMT), pledged on Tuesday to raise the monthly pension for farmers aged 65 and older to NT$10,000 (US$310), up from the current NT$7,550.
Hou, the incumbent Mayor of New Taipei, introduced this proposal during a visit to the agricultural county of Changhua in central Taiwan. He said the pension would be adjusted to NT$10,000 but provided no specifics about the financing.
This announcement came just one day after he introduced plans to promote childbirth and as the three other presidential contenders are stepping up their efforts in preparation for the 2024 election.
Hou pointed out that the current subsidy for elderly farmers is adjusted every four years. Next year, it will be raised to NT$8,080, representing only a NT$530 monthly increase over the course of four years.
This support for elderly farmers is "really low, really low," he said.
While inflation has been a grave concern for everyone in recent years, people working in the agriculture and fisheries industries, especially elderly farmers, tend to be economically disadvantaged in comparison to others, Hou said, stressing that the government should provide them with better support.
Chen Shih-kai (陳世凱), spokesman for the ruling Democratic Progressive Party (DPP) presidential nominee Lai Ching-te's (賴清德) campaign, criticized Hou's proposal as "a political ploy" and an "empty promise" in a press release on Tuesday.
Chen said that Hou did not specify a timeline for his proposal, and only stated that the pension would be increased each year, "leaving people wondering if it will be implemented in four years, eight years, or ten years."
Currently in Taiwan, individuals who have been enrolled in the farmers' health insurance program for 15 years or more and are 65 years old and above are entitled to receive a monthly pension of NT$7,550.
On Sept. 14, the Cabinet announced that the monthly pension payout for elderly farmers will be raised to NT$8,080, starting from Jan. 1 next year.
In addition to the DPP's Lai, Hou will also face Taiwan People's Party (TPP) Chairman Ko Wen-je (柯文哲) in the presidential election on Jan.13, 2024. Tech billionaire Terry Gou (郭台銘), founder of iPhone assembler Hon Hai Precision Industry (Foxconn), could also be on the ballot if he manages to gather the necessary number of signatures of qualified voters by Nov 2.
View All