DEFENSE
/
Air Force to assess extending service life of Mirage fighter jets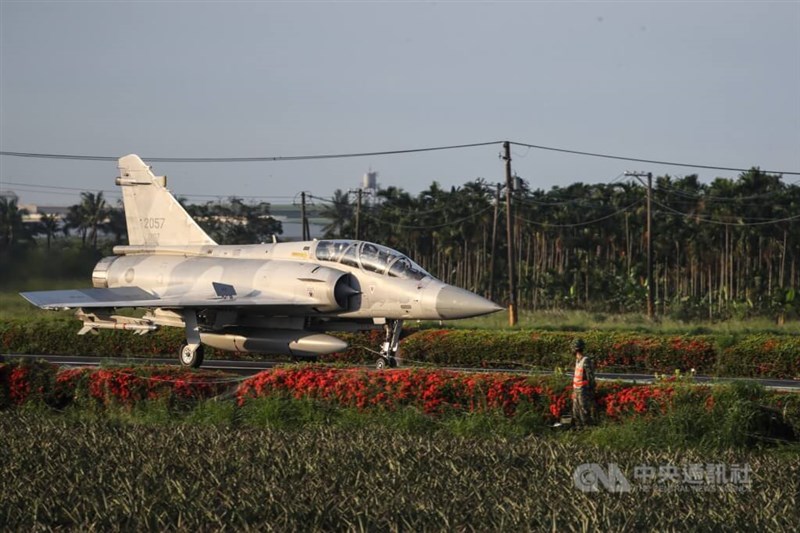 Taipei, July 31 (CNA) Taiwan wants to assess whether the service life of a number of its Mirage fighter jets can be extended for both strategic and risk-hedging reasons, the Air Force Command Headquarters said in a statement Monday.
Taiwan's Air Force said it has enlisted the help of French aircraft manufacturer Dassault Aviation to help Taiwan evaluate the possibility of extending the life of nine of the nation's Dassault Mirage 2000 Two Seat Fighters.
Taiwan acquired a fleet of 60 of the Mirage fighters starting in 1997, and they are now entering a later stage of their life cycle, with the cost of maintaining and repairing the planes exceeding that of the other aircraft used in the Air Force.
The Air Force said it has budgeted NT$150 million (US$4.77 million) to commission Dassault to evaluate whether or not nine of its two-seater Mirage planes could continue serving Taiwan for another 20 years, with the assessment scheduled to be completed by July 2026.
According to a military source, Taiwan wants to extend the service life of some of the two seaters in part because they can be used for both regular mission deployments and training sessions for new recruits, giving the Air Force strategic flexibility.
At the same time, the source said, Taiwan has purchased 66 new F-16Vs fighter jets from the United States, but there remain questions whether they can be delivered on time given that there have already been delays.
The first two of the 66 fighters ordered were to be delivered by the end of 2023, but that has since been postponed until the third quarter of 2024.
If Taiwan were to retire all of its Mirage-2000 fleet without the security of the U.S. F-16Vs, it could potentially leave a personnel and military power vacuum, and keeping the French fighters would protect the Air Force against that risk, the source said.
Of the 60 Mirage-2000 fighters that began to be delivered in 1997, six have been destroyed over the years due to various accidents, but they still remain one of the three main fighter models in Taiwan's fleet, deployed mainly to protect Taiwan's northern airspace.
The Mirage 2000 have also been deployed to Taitung County many times to safeguard the airspace in the southeastern part of the island.
View All