TRADE DEALS
/
President Tsai urges support for Taiwan-U.S. tax agreement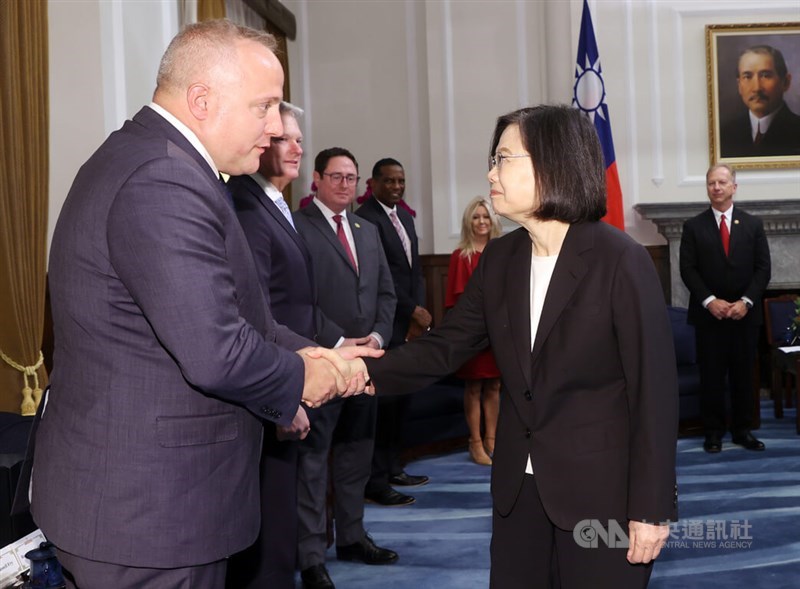 Taipei, July 4 (CNA) A bilateral agreement on the avoidance of double taxation will facilitate more two-way investment and trade, President Tsai Ing-wen (蔡英文) said Tuesday at a meeting with a visiting American delegation of conservative Republican lawmakers.
Taiwan hopes to negotiate an agreement on avoiding double taxation with the United States, Tsai said, arguing that such a deal would encourage bilateral investment and trade cooperation and create more opportunities for businesses from both sides.
She urged the delegation, which consists of six members of the Republican Study Committee (RSC) in the U.S. House of Representatives, to "lend its support" on the issue.
Taiwan and the U.S. have inked taxation-related deals, such as a transportation income tax agreement in 1988.
But they have never entered into a comprehensive and reciprocal tax treaty that eliminates or reduces double taxation on individuals and businesses with operations in each other's country.
May 19: Taiwan, U.S. finalize first agreement under trade initiative
Tsai also mentioned that Taiwan looked forward to working with the U.S. and other democratic partners in the Indo-Pacific to build "more secure and resilient supply chains" in the face of authoritarian expansion.
RSC Chairman Kevin Hern said his delegation's current five-day visit July 3-7 was meant to boost the bilateral relationship between Taiwan and the U.S.
"The relationship and the partnership between the United States and Taiwan is integral to both our nations," Hern said, "We both share the same values of freedom and opportunity."
Hern went on to voice his support for Taiwan as an independent and sovereign nation, saying it would be "an honor" to "one day soon see Taiwan experience the same independence that our original 13 colonies enjoyed in the early days."
The RSC delegation, which includes House representatives Burgess Owens, Mike Flood, Mike Collins, Russell Fry and Keith Self, also met with Vice President Lai Ching-te (賴清德) earlier on Tuesday.
Founded in 1973, the RSC is a study group comprising 175 conservative members of the Republican Party in the U.S. House of Representatives, the largest ideological caucus in the Congress.
View All