ELECTION 2024
/
Hou supports restarting No. 1 nuclear plant if no safety concerns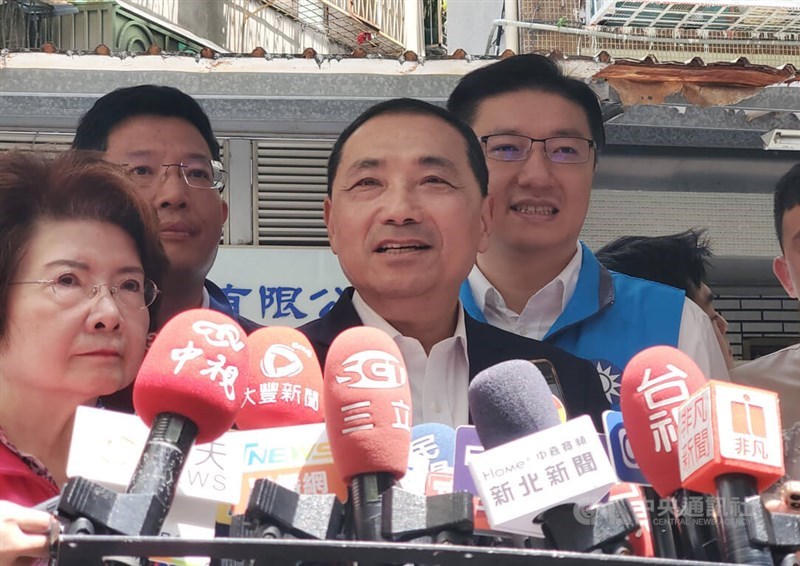 Taipei, July 3 (CNA) Kuomintang (KMT) presidential candidate Hou Yu-ih (侯友宜) on Monday reiterated his support for reactivating Taiwan's first nuclear plant in Jinshan in New Taipei to ensure a stable power supply as long as experts determine restarting the plant is safe.
Hou said that if elected, one of his most important policies would be to ensure that households and industrial users would not experience electricity shortages.
As long as expert assessments find that reopening the first nuclear plant would be safe, "I will reopen it," Hou said, adding this has been his attitude toward energy policy.
The first nuclear plant was Taiwan's oldest. The 40-year operating licenses of the plant's two reactors expired on Dec. 5, 2017 and July 15, 2018, respectively, and under existing law they are no longer allowed to operate.
The decommissioning of the two units took effect on July 16, 2019.
Hou reaffirmed his energy policy stance after he criticized the ruling Democratic Progressive Party's (DPP) energy policy as being completely wrong a day before.
When it took power in May 2016, the DPP administration prioritized the phasing out of nuclear power and a nuclear-free homeland by 2025, when the license of Taiwan's final active nuclear reactor was to expire.
It expected to achieve an electricity mix of 50 percent natural gas, 30 percent coal and 20 percent renewable energy, but it is behind schedule on its renewable energy development, and has run into setbacks in building its natural gas capacity and infrastructure.
These delays have led to concerns that Taiwan will face energy shortfalls in 2025 and 2026 and a major lack of low-carbon energy in the second half of the decade, leading to growing calls for reactivating or extending the service lives of nuclear power plants.
On Sunday, Hou said his energy policy would be based on three major principles: safety, stability and carbon emission reduction, and that nuclear power was absolutely an option if safety concerns were addressed and nuclear waste properly handled.
Hou also proposed that the Maanshan (third) Nuclear Power Plant in Pingtung County, which has one reactor set to be shut down in 2024 and the other in 2025, not be decommissioned, and that the Kuosheng (second) Nuclear Power Plant in New Taipei, which entered the decommissioning stage earlier this year, continue to be operated.
The DPP questioned Hou's interest in reactivating nuclear facilities at a press conference Monday, saying he seemed to be against doing so as New Taipei deputy mayor between 2010 and 2018.
Citing media reports, DPP lawmaker Chuang Jui-hsiung (莊瑞雄) said Hou as deputy mayor called for the decommissioning of the first and second nuclear plants on time and has often said there is no nuclear power without nuclear safety or a way to dispose of the waste.
On Sunday, state-run utility Taiwan Power Co. (Taipower) also questioned Hou's policy on nuclear power.
It said the first nuclear plant was forced to shut down before its 40-year license ran out because it lacked the space to store new spent fuel, and Hou has refused to issue a license for a dry-cask storage facility as an interim solution for storing the spent fuel.
New Taipei has argued, however, that it has rejected the soil and water conservation plan proposed by Taipower for the dry-cask storage site and that Taipower has never revised it to get the city's approval, leaving the project in limbo.
View All