EXCLUSIVE
/
Remarks about blowing up TSMC 'selectively clipped': U.S. Rep. Moulton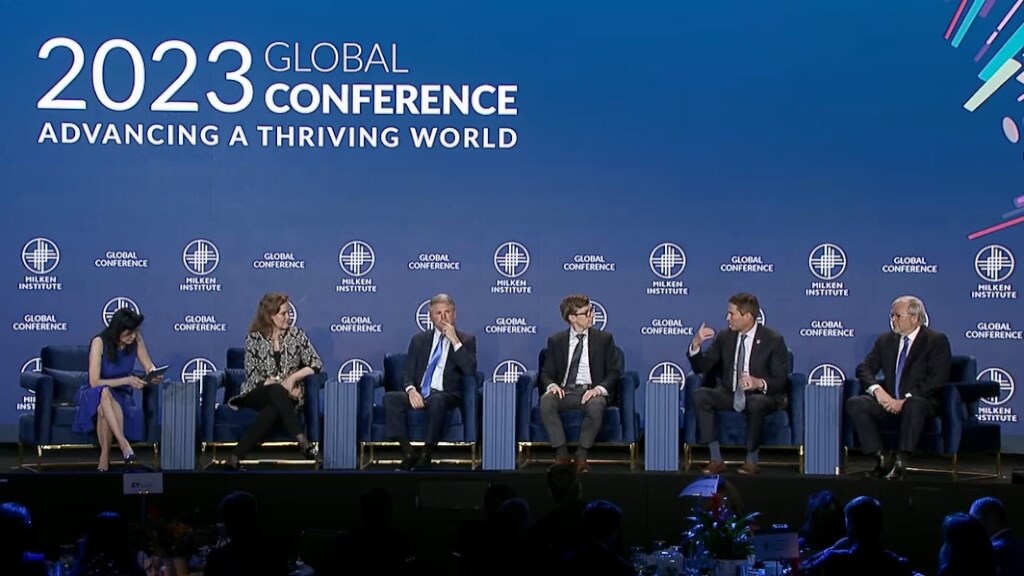 Taipei, May 11 (CNA) U.S. Representative Seth Moulton on Thursday said the Chinese Communist Party (CCP) "selectively clipped" a video in which he suggested "blow[ing] up" Taiwan Semiconductor Manufacturing Co.'s (TSMC) facilities in Taiwan.
"The CCP selectively clipped my comments, spread them on social media, and attempted to undermine the U.S.-Taiwan partnership," Moulton said in response to CNA's request for clarification on his remarks.
Moulton was most likely alluding to a video clip shared on the Chinese social media network Douyin on May 6, in which he was seen saying at a think tank event "… very clear to the Chinese that if you invade Taiwan, we are gonna blow up TSMC."
"I just throw that out not because that's necessarily the best strategy, but because it's an example," the Democratic lawmaker added, according to the clip put up by the official account of a current affairs program under China's local government-supported Southeast Television.
The clip was spread on Twitter later the same day, and since then, several Taiwanese media outlets have reported on Moulton's remarks made at a panel discussion on May 2 (California time), prompting Taiwan government officials to weigh in on the matter.
"The CCP has once again tried to divide the U.S. and Taiwan using disinformation by deliberately taking a comment of mine out of context," Moulton told CNA.
According to Moulton, he was discussing ideas as to "how to convey to the CCP the enormous costs they would incur if they choose to invade Taiwan," during the panel discussion hosted by the California-headquartered Milken Institute.
Moulton, who was part of a bipartisan Congressional delegation to visit Taiwan last October, said he was proud to support Taiwan's vibrant democracy and economy.
"I am committed to ensuring that Taiwan is prepared to defend itself against any effort to change the status quo by force" and "preserving peace and stability in the Taiwan Strait and the Indo-Pacific," he added.
Speaking to reporters in Taipei on Wednesday, Foreign Minister Joseph Wu (吳釗燮) said, without elaborating, that some media outlets had put Moulton's comments in their reports to convey the idea that many in the U.S. support the bombing of TSMC.
However, Wu went on, a careful examination of the U.S. lawmaker's comments would point to the fact that those reports had fallen prey to "China's cognitive warfare" against Taiwan.
Defense Minister Chiu Kuo-cheng (邱國正), meanwhile, said earlier this week the military would not tolerate any acts by any party to destroy a facility in Taiwan.
According to the full video of the May 2 panel on strategic competition between the U.S. and China, Moulton brought up TSMC when asked by the host about how the U.S. could use its semiconductor policy to deter China.
In response, Moulton said that "one of the interesting ideas that's floated out there for deterrence is just making it very clear to the Chinese, that if you invade Taiwan, we're gonna blow up TSMC."
"I just throw that out, not because that's necessarily the best strategy, but because it's an example," he said, adding, "Of course, the Taiwanese really don't like this idea, right?"
Another panelist, Michèle Flournoy, responded to Moulton by saying: "This is a terrible idea."
Flournoy, who served as U.S. under-secretary of defense for policy from 2009 to 2012, said that such a move would lead to a US$2 trillion-worth impact on the global economy within the first year and put manufacturing around the world at a standstill.
"I'm not promoting the idea. I'm not promoting the idea," Moulton continued. "What I'm saying is these are some of the things that are actually actively being debated amongst U.S. policymakers," he said.
Moulton went on to say that if China took over Taiwan, by force or not, and seized TSMC, the U.S. could "face the same level of economic consequences."
TSMC, the world's largest contract chipmaker, has kept most of its fabs in Taiwan, producing some of the most advanced chips for global fabless chip designers, such as Apple Inc. and Nvidia Co.
View All