President Tsai embarks on 10-day trip to Central America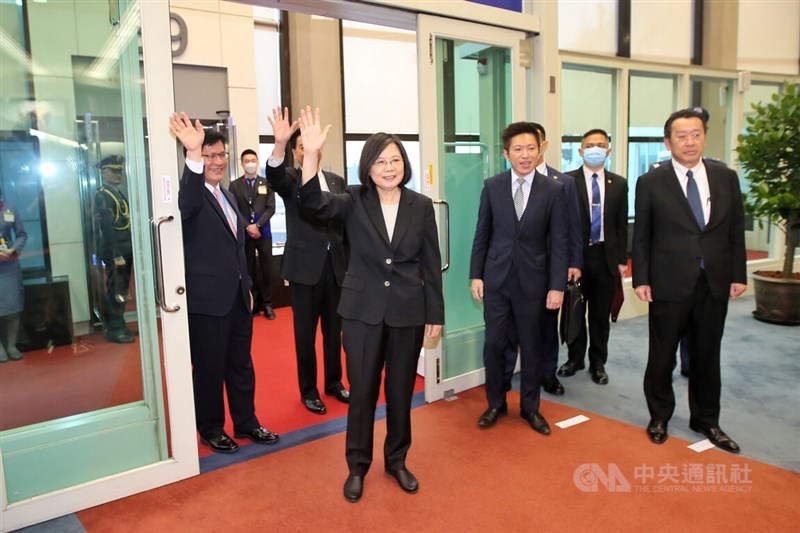 Taipei, March 29 (CNA) President Tsai Ing-wen (蔡英文) on Wednesday afternoon left Taiwan for a 10-day trip to Central America that will include stops in New York and Los Angeles in the United States as layovers.
"Through this visit, I will express my gratitude to diplomatic partners for their support of Taiwan," Tsai said at Taoyuan International Airport shortly before boarding the plane.
The trip to Guatemala and Belize from March 29 to April 7 -- her first overseas visit since COVID-19 swept the world in early 2020 -- aims to "demonstrate Taiwan's determination to deepen exchanges" with its Central American allies, she said.
Tsai said she and her delegation would also explore possibilities for further cooperation with Taiwan's allies and partners in the areas of agriculture, public health, women's empowerment, the digital economy, and supply chain security.
Describing Taiwan as playing "an indispensable role" in the restructuring of global supply chains, the president said Taiwan must seize the opportunity to work with other countries and contribute to the economic recovery of the post-COVID era.
According to Taiwan's Ministry of Foreign Affairs (MOFA), the presidential delegation will make transits in New York en route to Guatemala and Los Angeles after visiting Belize.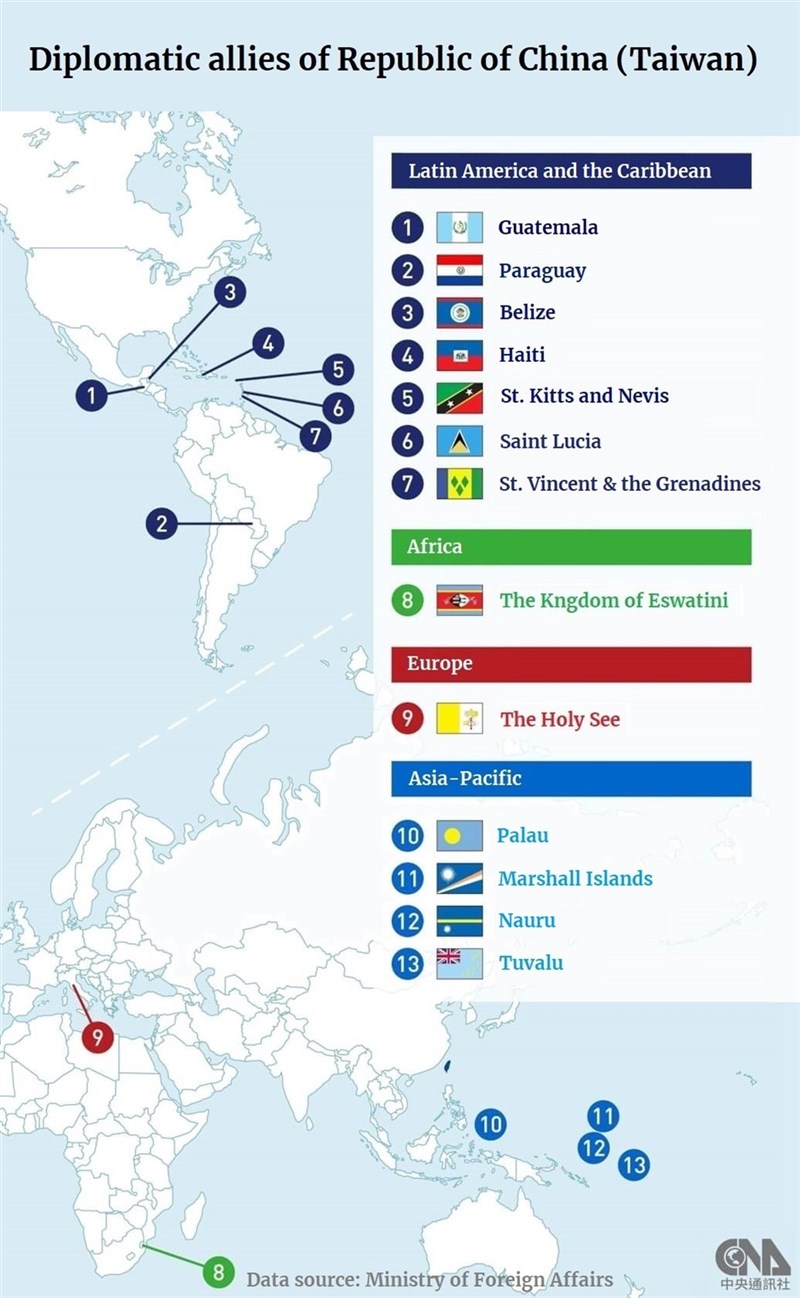 The president will arrive in New York at 3 a.m. Thursday and spend nearly two days in the city, where she is expected to address an event hosted by the Hudson Institute and receive a "global leadership award" from the think tank.
On her return trip, Tsai will touch down in Los Angeles on the morning of April 5 for a transit. While in the city, she is expected to meet with U.S. House Speaker Kevin McCarthy and deliver a speech at the Reagan Library.
According to MOFA, Tsai will visit Guatemala from April 1-3 and Belize from April 3-5.
She will meet with Guatemalan President Alejandro Giammattei and Belizean Prime Minister John Briceño, respectively, as well as Taiwan's technical missions and expatriates in both countries.
Tsai will land in Taiwan on April 7, although MOFA has yet to announce the expected arrival time of her flight.
Despite a lack of diplomatic relations between Taiwan and the U.S., Washington has over the years allowed Republic of China (Taiwan) presidents to make stopovers on American soil during their trips to Latin American and Caribbean nations.
Vedant Patel, a spokesperson for the U.S. Department of State, said earlier this week that Tsai's transits in the U.S. are "consistent with longstanding U.S. practice, the unofficial nature of our relations with Taiwan, and U.S. policy, which remains unchanged."
However, Zhu Fenglian (朱鳳蓮), a spokesperson for China's Taiwan Affairs Office, told a press briefing in Beijing on Wednesday that Tsai's layovers in the U.S. constitute an act of "provocation."
Zhu also warned against a meeting between Tsai and McCarthy, saying Beijing would "resolutely fight back" with certain measures should the two meet.
Tsai's delegation consists of Secretary-General to the President Lin Chia-lung (林佳龍), Foreign Minister Joseph Wu (吳釗燮) and Deputy Economics Minister Chen Chern-chyi (陳正祺), among other officials.
The delegation also includes four legislators, namely Chen Ou-po (陳歐珀) and Chen Ming-wen (陳明文) of the ruling Democratic Progressive Party, Chiu Chen-yuan (邱臣遠) of the Taiwan People's Party, and Claire Wang (王婉諭) of the New Power Party.
Related News
March 29: No plan for U.S. officials to meet Tsai during transit: White House
March 27: Ex-President Ma Ying-jeou embarks on 12-day China trip
March 26: Taiwan FM suspects timing of Honduran ties cut linked to president's US trip
March 21: Tsai to depart for tour of Guatemala, Belize on March 29
March 15: VP Lai runs in DPP primary, vows to safeguard Taiwan amid China threat
March 6: Taiwan People's Party outlines itinerary of chairman's U.S. trip