Taiwan, Germany ink mutual legal assistance pact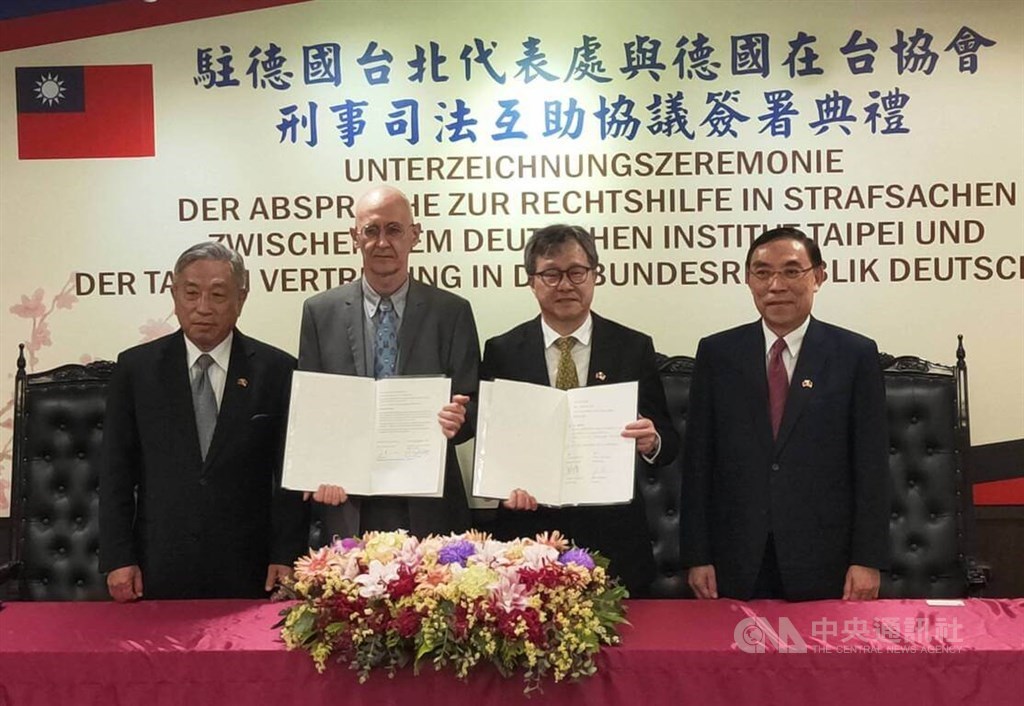 Taipei, March 23 (CNA) Taiwan and Germany have signed an agreement relating to mutual legal assistance on criminal matters that will strengthen bilateral cooperation in judicial investigations and extradition proceedings, the Ministry of Justice said Thursday.
The agreement was signed by Taipei's representative office in Germany and the German Institute Taipei during a ceremony Thursday, according to the ministry in a statement.
Minister of Justice Tsai Ching-hsiang (蔡清祥), who witnessed the pact's signing, said during the ceremony that Taiwan and Germany are like-minded countries that both pursue democracy, freedom and the rule of law.
Since the two countries signed the Agreement on the Transfer of Sentenced Persons and Cooperation in the Enforcement of Penal Sentences in November 2013, seven prisoners have been transferred, he noted.
The prisoner transfer treaty guarantees the rights and interests of their nationals and has laid a solid legal foundation for the two countries, Tsai said.
The mutual legal assistance agreement signed Thursday also marks a joint effort by Taiwan and Germany to upgrade bilateral cooperation in judicial matters building on the original agreement, he added.
This agreement is the seventh of its kind signed between Taiwan and European countries, marking a further step toward the development of enhanced international judicial collaboration, according to the statement.
Taiwan previously signed a treaty, agreement or memorandum for the same purpose with Poland, Slovakia, the United Kingdom, Denmark and Switzerland.
The agreement was signed after consultations and negotiations that started in 2017.
Under the agreement, requests for mutual legal assistance from Taiwan's Ministry of Justice and the German Federal Office of Justice can be made in writing or by way of electronic transmission. These requests include forming joint investigation teams, asset freezing, information sharing, and video interrogation etc., according to the statement.