DPP's Tsai Pei-hui narrowly wins Nantou legislative by-election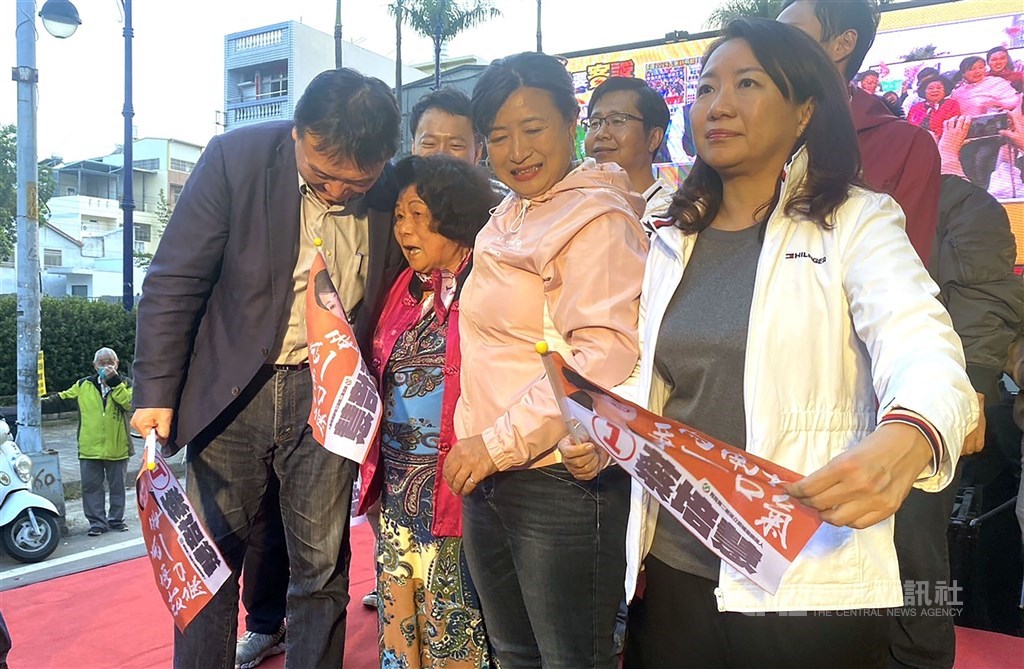 Taipei, March. 4 (CNA) Democratic Progressive Party (DPP) candidate Tsai Pei-hui (蔡培慧) on Saturday defeated the Kuomintang's (KMT) Lin Ming-chen (林明溱) in a legislative by-election in Nantou County, widely considered a much-needed boost for the ruling party.
With all ballots cast counted at 5:41 p.m., Tsai received 45,218 votes and Lin 43,293, a razor-thin difference of 1,925 votes, according to the Central Election Commission (CEC).
Voter turnout for the election was about 46.35 percent, according to the CEC. 
Saturday's election ended the KMT's winning streak in the past three elections, including the nationwide local elections on Nov. 26, the delayed Chiayi mayoral election on Dec. 18, and the legislative by-election in Taipei on Jan. 8.
It also marked the DPP's first win of a legislative seat in the traditional KMT stronghold of Nantou County since Taiwan's legislative elections were first held under a single-seat district system in 2008.
Since becoming DPP chairperson in January, Lai Ching-te (賴清德), who is the republic of China (Taiwan) Vice President, has led an all-out effort by the party to win the election, dispatching his close aids at party headquarters in Taipei to run the campaign.
During the race, the DPP took aim at the lack of waste disposal solutions in Nantou, such as incineration or other facilities, that has left the county's landfills piled up with 200,000 tons of garbage, a longstanding issue unaddressed during Lin's eight-year tenure as magistrate.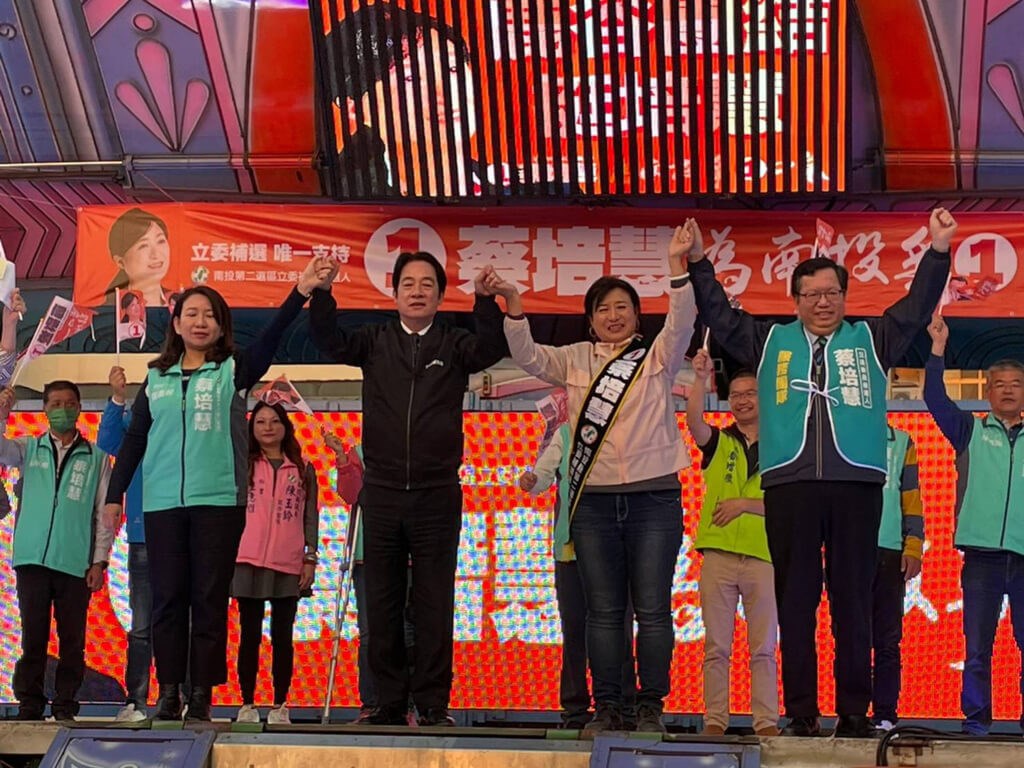 Lin also came under fierce attack from the DPP for corruption allegations surrounding his team and for creating an illegal "special assistant" position for his son Lin Ru-bin (林儒彬) in order to groom the younger Lin for politics when he was county magistrate.
Lin is a veteran politician in the county. He started his political career in 1994 as head of Jiji Township and worked his way up to become a two-term legislator before being elected county magistrate in 2014 and won reelection in 2018.
The 72-year-old originally planned to retire from politics after serving the maximum two-term as a magistrate in December and intended to have Lin Ru-bin run in the by-election.
However, the KMT decided in January to nominate the senior Lin after its polls showed that he was the only candidate with a good chance at beating the DPP's Tsai.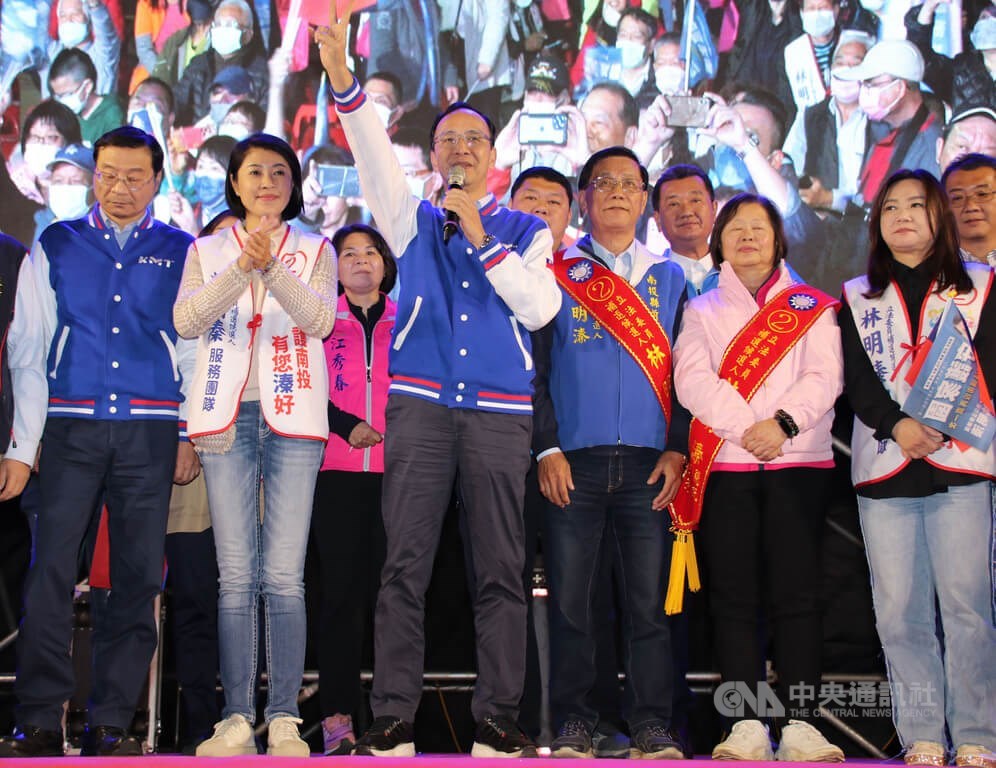 The 51-year-old Tsai is an activist-turned-politician. Before serving as a DPP-nominated at-large legislator from 2016-2020, she was an associate professor of sociology and a co-founder of Taiwan Rural Front, a civil group focusing on challenges faced by villages in rural areas.
She lost to Ma Wen-chun (馬文君) of the KMT in the 2020 legislative election in Nantou by 7.14 percent, the best ever performance for a DPP candidate in the district.
In the election for Nantou county magistrate on Nov. 26, Tsai received 117,993 votes and the KMT's Hsu Shu-hua (許淑華) 154,256.
The seat, which represents the second constituency in Nantou, was left vacant by Hsu. Tsai will hold the seat until the election for a new Legislature slated for January 2024.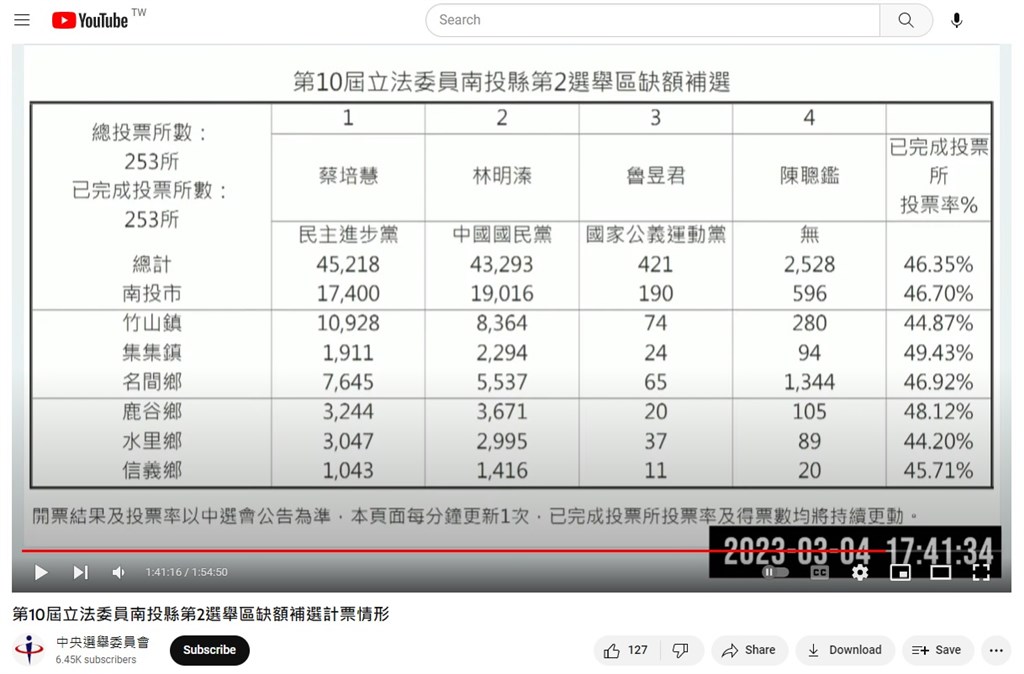 In the four-way Nantou race, two fringe candidates Lu Yu-chun (魯昱君) and Chen Tsung-chien (陳聰鑑) received 421 and 2,528 votes respectively.
Related News
March 4: 3 investigated in Nantou for allegedly breaking election rules
March 3: DPP, KMT hold rallies on Nantou legislative by-election eve
Jan. 8: KMT's Wang beats DPP's Wu in Taipei legislative by-election
Dec. 18: Incumbent KMT Chiayi mayor wins reelection in delayed vote
Nov. 27: After election losses, DPP vows to engage in introspection
Nov. 27: Taiwan's local elections not a barometer for 2024 presidential race: Experts
Nov. 26: KMT's Hsu Shu-hua claims victory in Nantou County magistrate race