CORONAVIRUS
/
Cabinet approves proposed spending for post-COVID economic recovery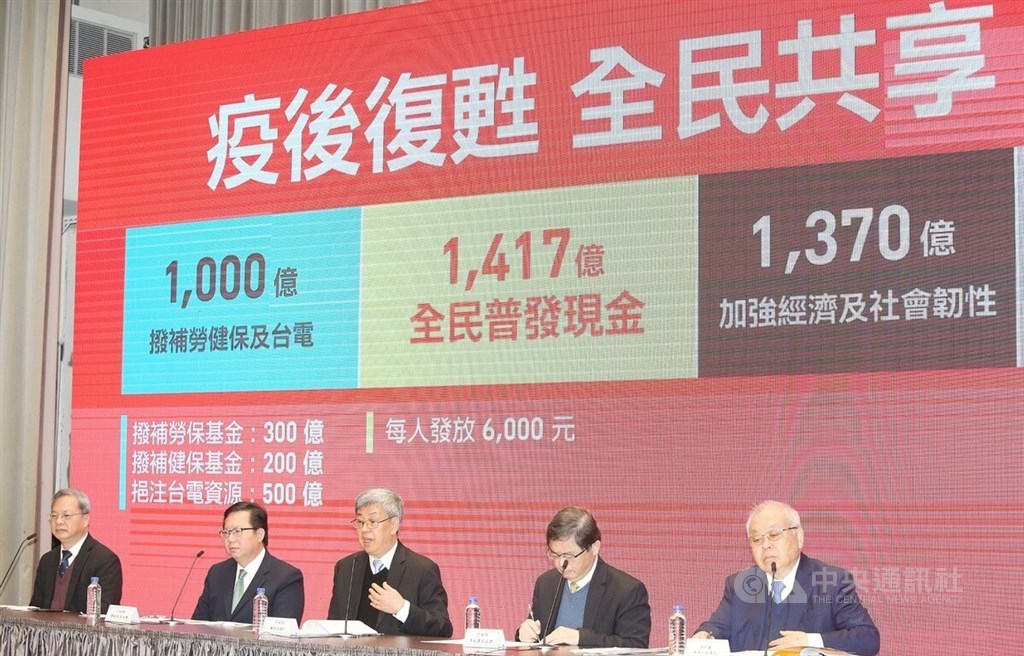 Taipei, Feb. 23 (CNA) The Cabinet on Thursday approved a proposal for the disbursement of NT$380 billion (US$12.5 billion) in tax surplus to boost the economy, which will include a cash subsidy of NT$6,000 to Taiwanese citizens and eligible foreign nationals.
The proposal, which will now be sent to the Legislature for approval, was put forth in line with a special bill that was signed into law by President Tsai Ing-wen (蔡英文) on Wednesday, hours after it cleared the Legislature.
According to the proposal, the NT$380 billion in 2022 tax surplus could used by the government from 2023 to 2025 to provide incentives that would help boost the economy.
One such incentive is an allocation of NT$141.7 billion -- more than one third of the total -- for disbursement to all Taiwanese and eligible foreign nationals, who will each receive NT$6,000 in cash, according to the Cabinet-level Directorate-General of Budget, Accounting and Statistics (DGBAS).
Feb. 23: Finance ministry details ways of claiming NT$6,000 cash subsidy
Other proposed allocations include NT$30 billion to the Labor Insurance fund, NT$20 billion to the National Health Insurance fund, and NT$50 billion to the state-run Taiwan Power Co. (Taipower), which have all been operating at a loss, Hsu Yung-yi (許永議), a senior DGBAS official, said at a press conference Thursday.
In addition, the Ministry of Economic Affairs (MOEA) will receive NT$31.7 billion to help fund its subsidies to small and medium enterprises (SMEs) and the manufacturing sector, Hsu said, citing the proposal.
Another NT$10.3 billion will be allocated to the Ministry of Health and Welfare (MOHW) to be used for financial assistance to low-income and lower-middle income households, the handicapped and other disadvantaged groups, Hsu said.
The Ministry of Transportation and Communications (MOTC) will receive NT$27.4 billion to subsidize public transportation fares and to provide incentives for foreign tourists to visit Taiwan, he added.
Feb. 23: Taiwan plans public transport pass, NT$5,000 vouchers for tourists
Except for NT$1.3 billion that will be held in reserve, the remaining tax surplus revenues will go to the education, culture and interior ministries for various subsidies and programs, according to Hsu.
At the press conference, head of the National Development Council Kung Ming-hsin (龔明鑫) said that pending legislative approval, the proposed budget will provide "timely" resources, amid "serious challenges" in Taiwan's economy and projected headwinds in the global economy.
In light of such factors, the government has lowered its 2023 gross domestic product (GDP) growth forecast for Taiwan by 0.63 percentage points to 2.12 percent, Kung said, citing DGBAS figures released Wednesday.
He said the aim of the cash subsidies and other programs proposed by various agencies is to boost domestic spending and eventually contribute at least 0.45 percentage points to this year's domestic economic growth.
Feb. 22: Taiwan cuts 2023 GDP growth forecast to 2.12%
Meanwhile, Vice Premier Cheng Wen-tsan (鄭文燦) said he hoped that lawmakers across party lines would approve the spending plans swiftly, so that the funds could be disbursed soon.
Regarding the NT$6,000 cash subsidy, Cheng said the government will create different channels for Taiwan citizens, including diplomats posted overseas, and eligible foreign nationals -- those with permanent residency and resident spouses of Taiwanese nationals -- to receive the payments.
In particular, the government is working on an online system that will allow direct transfer of the funds to people's bank accounts, once they register on the site, he said, adding that the platform will enter the final test phase in March.
Cheng also said that the proposed NT$50 billion to Taipower will help cover some of its losses, in addition to an amount of NT$150 billion that has been allocated from the central government's 2023 budget for that purpose.
Taipower's accumulated losses as of the end of last year were NT$267.5 billion, the company has reported, citing the rising cost of international energy prices and the Taiwan government's reluctance to increase electricity prices. Taipower has estimated that it will lose another NT$278.5 billion this year.
Cheng said, however, that the government's cap on electricity and fuel prices is part of its efforts to stabilize cost of living in the country.
Dec. 19: Taipower to issue corporate bonds in January amid heavy losses
Similarly, the government is committed to pouring resources into the labor insurance fund in the hope of keeping it "financially sustainable," he said.
In addition to the proposed NT$30 billion in tax surplus funds, the labor insurance fund has also been allocated NT$45 billion from the central government's 2023 budget, he said.
Related News
Feb. 1: Premier Chen visits Legislature, lobbies for plans to allocate tax surplus
Jan. 19: Legislature cuts 2023 government budget by 1.1 percent
Jan. 18: Taiwan GDP growth hits 2.43% in 2022, shy of forecast
Jan. 10: Tax revenue hits record high in 2022, exceeds budget by NT$495 billion
Jan. 3: In policy reversal, Tsai pledges cash rebate of surplus tax revenues
View All