No need to declare Taiwan independence: New DPP chair Lai Ching-te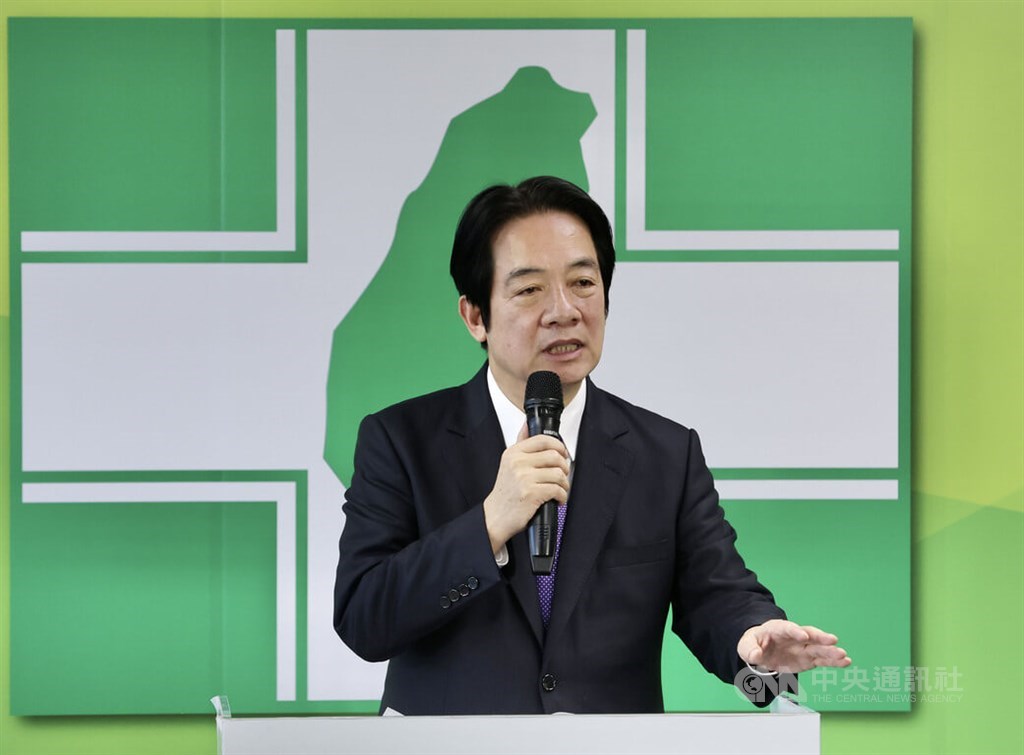 Taipei, Jan. 18 (CNA) Vice President Lai Ching-te (賴清德) said Wednesday that Taiwan is already an independent and sovereign nation and therefore there is no need to declare independence, after assuming his position as chairperson of the ruling Democratic Progressive Party (DPP).
Lai made the remarks in response to questions from reporters who asked him to elaborate on how he identifies as a "pragmatic worker for Taiwan independence" at a press conference following the swearing-in ceremony on Wednesday.
"I would like to reiterate that Taiwan is already an independent and sovereign nation and thus we do not have a need to further declare Taiwan independence," Lai said.
The sovereignty of the Republic of China (ROC, the formal name of Taiwan) and that of the People's Republic of China (PRC) are not subordinate to each other, and "the future of the ROC Taiwan can only be decided by the 23 million people (of Taiwan)," said Lai, who is expected to run for president in 2024.
Lai vowed that the DPP under his leadership will continue to uphold the commitments made by President Tsai Ing-wen (蔡英文) to safeguard the nation's free and democratic constitutional system, national sovereignty, and the rights of all Taiwanese to determine the future of the nation.
He also pledged to lead the DPP in following Tsai's approach on cross-strait issues and to do his utmost to maintain the status quo of regional peace and stability.
Lai, 63, won the party's uncontested chairmanship election on Jan. 15, which was called after Tsai resigned the position following the party's bruising defeat in last November's local government elections to take responsibility for the lackluster performance.
It is believed that being chairperson of the party could work to Lai's advantage as he prepares for a widely rumored presidential bid in 2024. However, concerns have been raised as to what his oft-stated pro-independence views could mean for cross-strait relations should he become president.
On Wednesday, Kuomintang (KMT) Chairman Eric Chu (朱立倫) challenged Lai to give a definitive answer to questions about his previous characterization of himself as a "pragmatic worker for Taiwan independence."
One thing the public, international media, and the many foreign guests he had discussions with recently were eager to know more about was what Lai meant when he described himself as a pragmatic worker for Taiwan independence, Chu said.
The DPP is without doubt a party that advocates Taiwan independence, whereas the KMT, the party that founded the ROC, is firmly opposed to Taiwan independence, Chu said.
Separately, representatives from over 40 pro-independence groups called a press conference to express their support for Lai to lead the DPP and run for president in 2024.
Lai will unite people in Taiwan to defend the country in the face of China's aggressive threats to subdue Taiwan by military force, according to Cheng Wen-lung (鄭文龍), chairman of Taiwan Jury Association.
Lai's tenure as DPP head will run until May 20, 2024, when the Republic of China (Taiwan) inaugurates its next president.