Visiting European Parliament group calls for EU-Taiwan BIA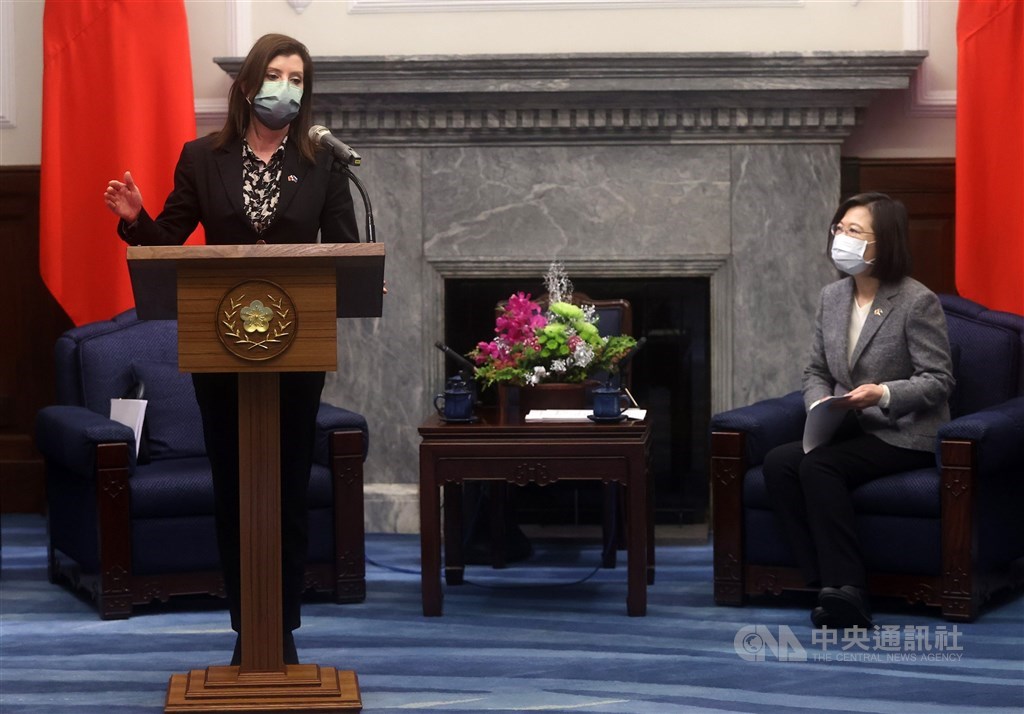 Taipei, Dec. 20 (CNA) A member of a visiting European Parliament delegation has expressed the group's support for taking steps toward a bilateral investment agreement (BIA) between the European Union (EU) and Taiwan.
In a meeting with President Tsai Ing-wen (蔡英文) at the Presidential Office on Tuesday, Greek parliamentarian and vice chair of the Parliament's International Trade Committee Anna-Michelle Asimakopoulou said the EU recognized its trade and investment partnership with Taiwan as a "strategic relationship with geopolitical implications."
She also believed that further bilateral cooperation on global supply chains would be mutually beneficial in light of the leading role that Taiwan has played with respect to semiconductors.
Given those circumstances, she reiterated the European Parliament's call to the EU to soon launch "an impact assessment, a public consultation, and a scoping exercise" related to a bilateral investment agreement with Taiwan.
Those assessments and consultations are part of the preparations needed before the two sides can officially begin BIA negotiations.
On the political side, Asimakopoulou said the EU and Taiwan are like-minded partners, with their friendship built on the common values of democracy, rule of law, and respect for human rights.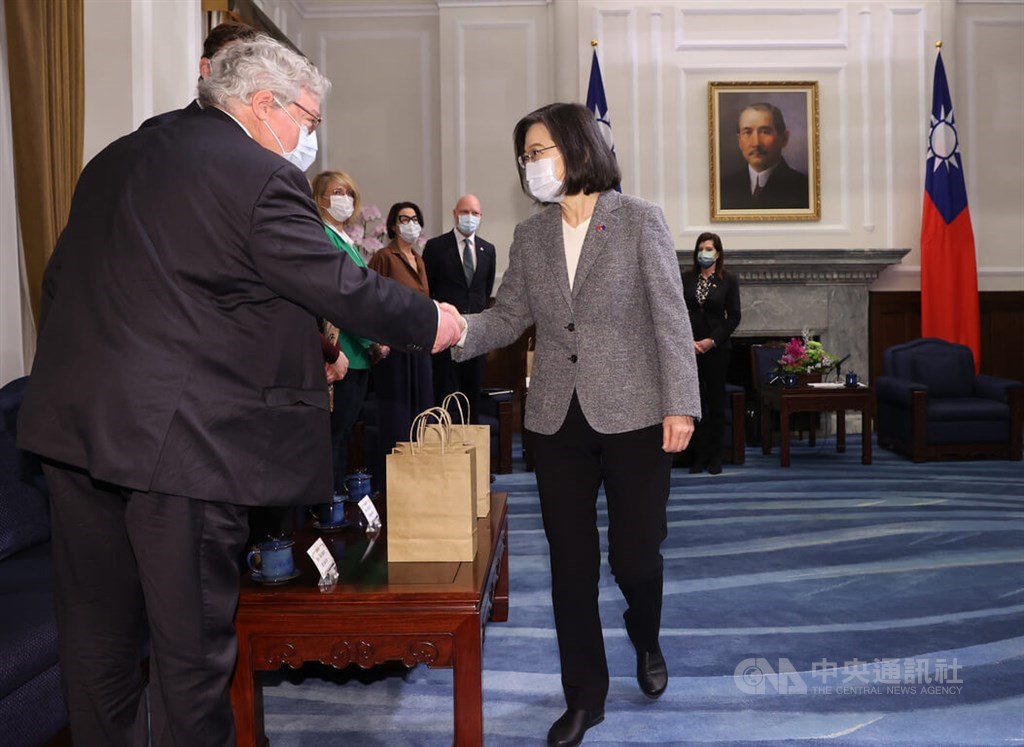 It is in that spirit that her delegation expressed its gratitude to Taiwan for being "on the right side of history" in supporting the EU's ongoing efforts to help Ukraine defend itself in response to "the unconscionable war of Putin," she said.
She also praised Taiwan for its "measured and responsible reaction to unprovoked and increasing aggression and provocation from China," referring to live military drills launched by Beijing in retaliation to U.S. House Speaker Nancy Pelosi's visit to Taiwan in early August.
She reiterated the EU's stance that even though it diplomatically recognizes Beijing instead of Taipei, it believes that the status quo in the Strait "cannot be changed unilaterally" as it opposes "the use or threat of force or economic coercion against Taiwan from China."
Tsai, meanwhile, welcomed the delegation, the first official visit to Taiwan by a delegation representing the Parliament's International Trade Committee.
She also thanked the European Parliament and its various committees for passing more than 10 resolutions in support of Taiwan this year, including measures backing Taiwan's international participation and calling for peace and security across the Taiwan Strait.
The 13-member delegation has also met with Premier Su Tseng-chang (蘇貞昌) and other senior Taiwanese officials from the National Development Council, the Ministry of Economic Affairs, the Office of Trade Negotiations, and the Ministry of Foreign Affairs (MOFA) during their stay, which began Sunday and ends Wednesday.
Source: Presidential Office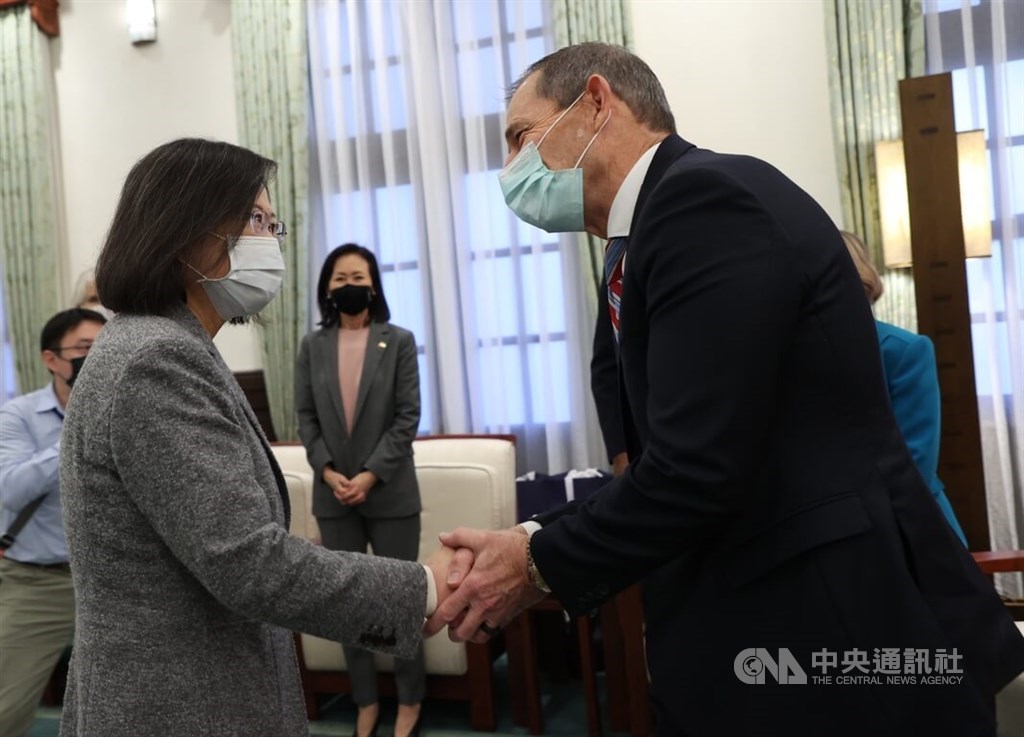 Also Tuesday, Tsai welcomed a group of visiting American lawmakers at the Presidential Office.
The all-Republican congressional group led by Congressman John Curtis from Utah and joined by Mariannette Miller-Meeks, Burgess Owens, and Michelle Steel is visiting Taiwan from Saturday through Thursday.
The group's visit meant that 36 American representatives and senators have visited Taiwan this year, reflecting strong bipartisan support for Taiwan, according to MOFA.
During their meeting with Tsai, Curtis, who lived in Taiwan in 1979 and 1980 as a missionary, told the president that he has witnessed Taiwan's dramatic change into a vibrant democracy since then.
"I arrived just after the end of the defense treaty and the switch of diplomatic recognition and the passage of the Taiwan Relations Act," he said.
Though it was a very difficult time for Taiwan, Curtis said he appreciated how warmly he was welcomed by the people of Taiwan during those years when he lived in Taichung, Miaoli and Neihu.
He said the delegation's visit was to serve as a testament of the strong support for Taiwan in the U.S. Congress.
Source: Presidential Office