ELECTIONS 2022
/
Chiang Wan-an resigns as legislator to focus on Taipei mayor race
Taipei, Nov. 10 (CNA) Legislator and the opposition Kuomintang's (KMT) candidate for Taipei mayoral race Chiang Wan-an (蔣萬安) said Thursday morning he would stand down as a member of the Legislature to focus on his election campaign.
Speaking to reporters at a wet market in Beitou District, where he planned to canvass for votes, Chiang said his decision to resign, after serving six years as a legislator, less than three weeks before election day on Nov. 26, showed his "determination" to make every effort to win the election.
"Taipei City has stagnated for eight years, while the world continues to evolve quickly," the 43-year-old lawmaker said, pledging to change the situation and bring about the city's development.
It was unclear whether he had tendered his resignation to the Legislature as of press time.
Selected at the end of May as the KMT's candidate for Taipei mayor, Chiang has been ahead of his two main rivals -- former Health Minister Chen Shih-chung (陳時中) from the Democratic Progressive Party and former Deputy Taipei Mayor Huang Shan-shan (黃珊珊) -- in polls over the past few months.
● Taiwan's local elections may come down to battles in three northern cities
● Neihu traffic, power supply issues highlighted in Taipei mayoral debate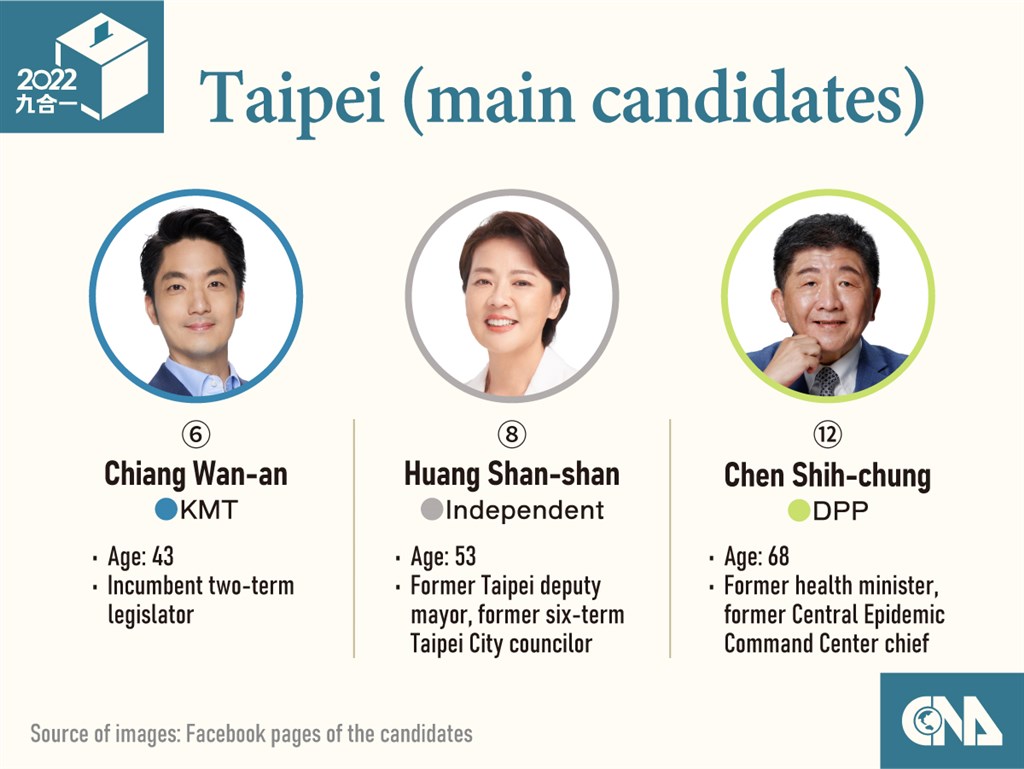 The most recent poll by online media My Formosa, released on Nov. 4, showed Chiang leading with 34.3 percent support, followed by 27.7 percent for Chen and 22.4 percent for Huang.
Similarly, a poll by cable television station TVBS, released on Oct. 30, also showed Chiang ahead with 37 percent support, compared to 27 percent for Chen and 21 percent for Huang.
Chiang, the purported great-grandson of former President Chiang Kai-shek (蔣介石), had worked as a corporate lawyer in the United States for several years before returning to Taiwan in 2013. His father, Taiwanese politician John Chiang (蔣孝嚴), is believed to be the illegitimate son of Chiang Kai-shek's son, former President Chiang Ching-kuo (蔣經國).
Chiang Wan-an was first elected as legislator in 2016 and his second stint, which began in early 2020, was due to end in January 2024.
According to the Civil Servants Election and Recall Act, the election authorities should hold a by-election within three months after it confirms the resignation of a legislator.
Related News
Nov. 9: Taipei, Taoyuan mayoral nominees score best on youth policies: NGOs
Oct. 24: Taipei mayor candidates to make policy presentations on Nov. 12, 15
Oct. 19: Taipei mayoral candidates outline climate policy platforms at expo
Oct. 4: Not just kissing babies: Taipei mayor candidates lay out pet platforms
Oct. 1: Taipei mayoral candidates focus on preschools in education platforms
CNA's special election series
● Local election results could shape expectations of 2024 presidential poll
● Upstart party hoping to make impact in elections with eye on 2024
View All