Biden's vow to defend Taiwan in line with U.S. policy: AIT chairman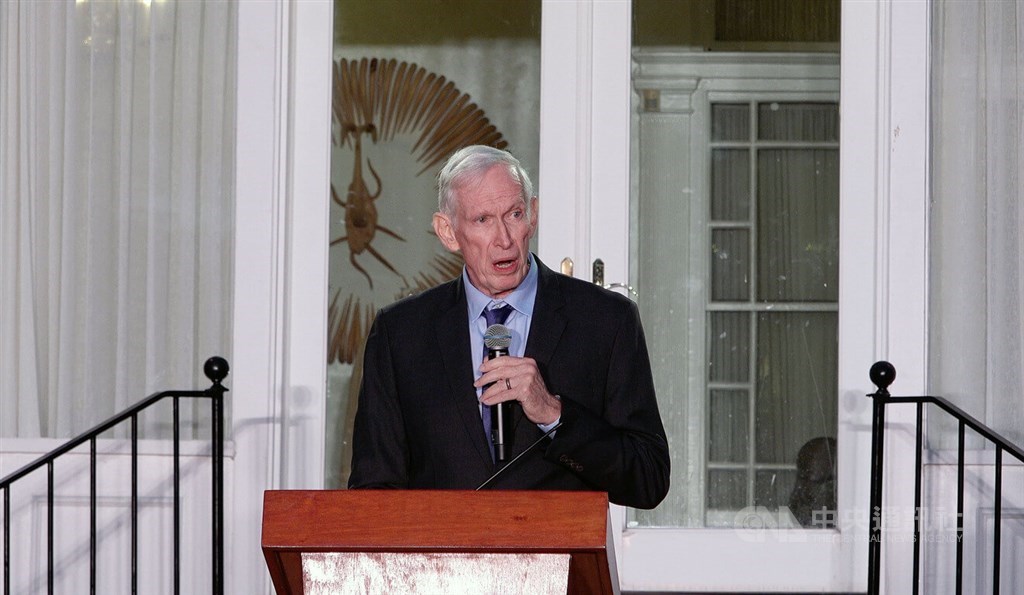 Washington, Oct. 5 (CNA) U.S. President Joe Biden's recent remarks that the U.S. would defend Taiwan in the event of a Chinese invasion are consistent with U.S. policy toward Taiwan, American Institute in Taiwan (AIT) Chairman James Moriarty said in Washington on Wednesday.
The original documents that guide the relationship between the U.S. and Taiwan, including the Taiwan Relations Act, the three U.S.-China Joint Communiques, and the Six Assurances, "make it clear that we have to do something if there is an attempt to change Taiwan's status by force," Moriarty said.
"That is in a nutshell what the president was saying," he said at the symposium titled "U.S.-Taiwan Relations: Advancing a Rules-Based International Order" hosted by the Washington-based Global Taiwan Institute on Wednesday.
Moriarty was asked to interpret the pledge Biden has made on four occasions in recent months that the U.S. would come to Taiwan's defense if China invaded, which was seen by some as a deviation from the U.S.' longstanding policy of remaining vague on its response if Taiwan were to come under attack by China, known as "strategic ambiguity."
Responding to the question, Moriarty suggested everybody "read the three communiques and the Taiwan Relations Act," saying that "there is a fairly strong commitment" made by the U.S. to defend Taiwan contained in those documents.
There is nothing in those documents that say that the U.S. has a policy of strategic ambiguity toward Taiwan, said Moriarty.
"It's never been a policy. It's a description of what we do with respect to Taiwan," he added.
During his speech delivered at the symposium, Moriarty said that the U.S. was opposed to any unilateral changes to the Taiwan Strait status quo from either side and expected cross-strait differences to be resolved by peaceful means, as Biden reiterated at the U.N. General Assembly last month.
"While our policy has not changed, what has changed is Beijing's growing coercion and its increasing military, economic, diplomatic and technological power to engage in such coercion (against Taiwan)," Moriarty noted.
Under the leadership of People's Republic of China (PRC) President Xi Jinping (習近平), the ruling Chinese Communist Party has become "more repressive at home and more aggressive abroad," he said.
The PRC's military actions in the Taiwan Strait a few months ago, including launching missiles into the waters around Taiwan, sending warships to surround Taiwan, and warplanes crossing the median line, an imaginary line that served as an informal boundary for the two sides, in the Taiwan Strait, "underscore the fact that kinetic options are not unthinkable for Beijing," Moriarty said.
The AIT chairman also noted that China has used economic coercion to cut off Taiwan's relations with countries around the world and has been intensifying its pressure campaign to "misrepresent and misuse" United Nations Resolution 2758 to preclude Taiwan's meaningful participation in the U.N. system.
"In short, the PRC words and actions are deeply destabilizing. They risk miscalculation and threaten the peace and stability in the Taiwan Strait," said Moriarty.
Maintaining Taiwan Strait peace and stability is not just a U.S. interest but a matter of international concern and critical to regional and global security and prosperity, he said, citing the importance of the strait being a key trade route as an example.
About 48 percent of the global container fleet and 88 percent of the world's largest ships by tonnage pass through the Taiwan Strait this year," Moriarty said. "Imagine what a blockage of the Taiwan Strait would mean for global commerce."
The U.S. will continue to fulfill its commitment under the TRA to ensure that Taiwan has the deterrent capability it needs to defend itself and to maintain its own capacity to resist any resort to force or other forms of coercion that would jeopardize Taiwan's security, economy, or society, Moriarty said.
Looking forwards, Moriarty said the U.S. will proceed with efforts to increase the economic benefits of the bilateral trading relationship with Taiwan, to deepen engagement with its partners in support of Taiwan internationally, and to maintain peace and stability in the Taiwan Strait and the Indo-Pacific region.