Taiwanese Ph.D. student enjoys a brief connection with Pope Francis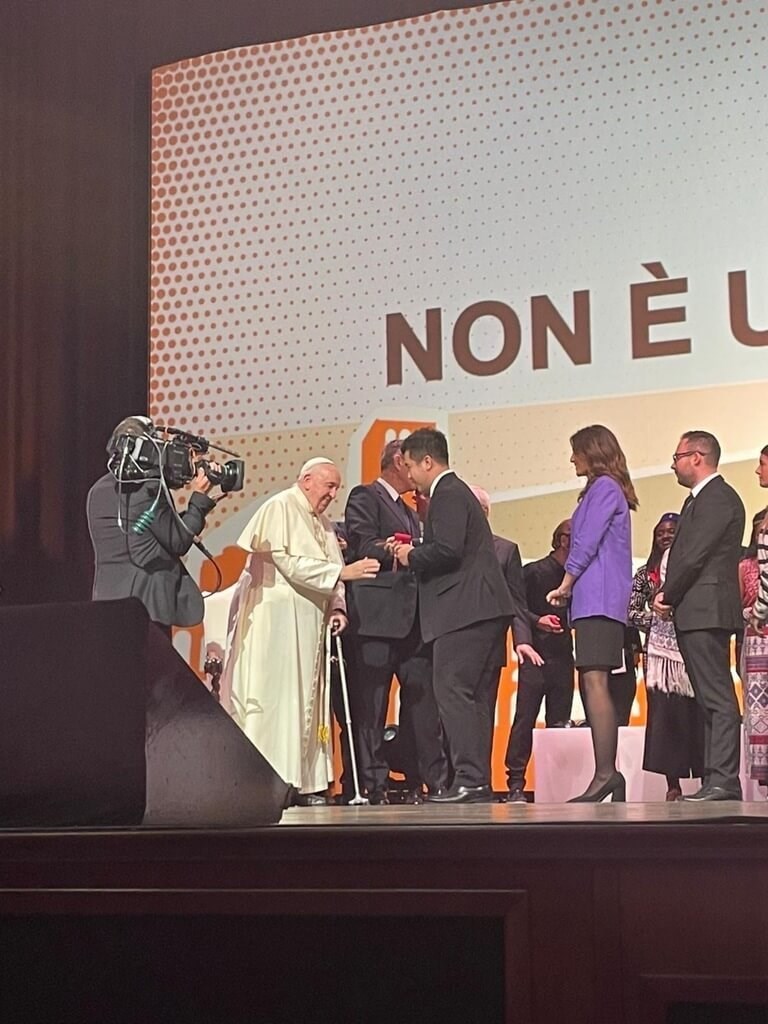 Taipei, Sept. 25 (CNA) A Taiwanese man studying for a Ph.D. in economics had the opportunity to interact briefly with Pope Francis on Saturday, giving him a key ring in the shape of Taiwan and asking him to pray for Taiwan and peace.
Thomas Ching-wei Tu (凃京威) was among 30 of 1,000 participants chosen to sit on the stage with the pope at the closing ceremony of the three-day Economy of Francesco (EoF) Global Event 2022, a meeting of young scholars and activists in the field of economics.
Speaking to CNA by phone after the meeting, the 31-year-old Tu said he was honored to have had the opportunity to personally greet Pope Francis, and told the pope in Spanish he had just learned that he was from Taiwan and that he hoped the pope would pray for Taiwan and peace.
Pope Francis had a big smile when he heard the word "peace," according to Tu.
He said he also presented the pope with a Taiwan-shaped wooden key ring bearing the words "Light up Taiwan and reconstruct the soul." The Pope looked at it and asking "This is for me?" before happily accepting it, Tu said.
During the meeting, Tu said members of the clergy of the Holy See and representatives from around the world expressed concern about the situation in the Taiwan Strait and China's military maneuvers in he region and expressed their support for peace.
A Catholic himself, Tu is currently enrolled in a doctoral program at the Graduate Institute of East Asian Studies at National Chengchi University.
His master's thesis focused on the diplomacy of the Holy See, and he often publishes articles on relations involving Taiwan, the Vatican and China in local media.
The EoF movement was initiated by the pope in 2019 to promote a new way of thinking about the global economic system to ensure that it benefited the lives of all people, but its annual meeting was held online in 2020 and 2021 due to the COVID-19 pandemic.
This year, the conference was held in Italy, attracting up to 1,000 young entrepreneurs from 120 countries around the world.
On the final day of the meeting Saturday, Pope Francis joined young people from around the world in signing a Covenant that supports an "economy of peace and not of war," opposes the proliferation of arms, and serves human persons, family, and life.
In an interview with the English channel of Vatican News on Saturday, Tu said that as a doctoral student in economics and as a researcher on trade issues for Taiwan's government, he was looking for inspiration at the event to set up a hub in Taiwan to promote the EoF idea in East Asia.