INTERVIEW
/
Italy's PM hopeful has concerns over China, vows closer ties with Taiwan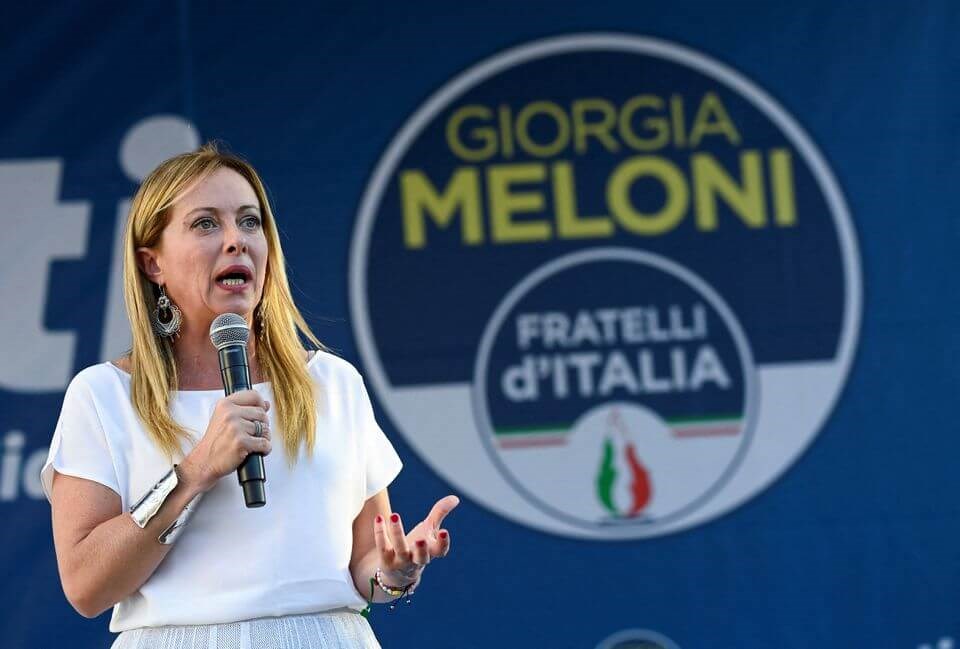 Paris, Sept. 23 (CNA) The politician favored to be Italy's next prime minister would reverse course on her country's support for China's Belt and Road Initiative and strengthen ties with Taiwan if a coalition headed by her party wins the country's general election on Sunday.
"Without any doubt, if there is a center-right government, it is sure that Taiwan will be an essential concern for Italy," said Giorgia Meloni in a recent interview with CNA.
Italians will vote on in a snap election triggered by the resignation of former Prime Minister Mario Draghi following a failed attempt to get his coalition partners to support him in a confidence vote on July 20.
As the leader of the far-right Fratelli d'Italia (FdI, or the Brothers of Italy), which recent polls show will head a coalition government after the election, the 45-year-old Meloni would become Italy's first far-right prime minister since World War II and first ever female prime minister.
The Brothers of Italy traces its origins to the post-fascist Italian Social Movement (MSI) and retains its logo, but Meloni has tried to distance the party, which she co-founded in 2012, from its past. She has described the FdI as a mainstream conservative party similar to the Conservative Party of Britain and the Republican Party of the United States.
Unlike most far-right parties in Europe, including some of her potential coalition partners, Meloni has been tough on Russia's invasion of Ukraine and Russian President Vladimir Putin and has not opposed European integration.
In a written response to questions from CNA, she voiced support for Taiwan and criticized China's assertive actions across the globe and their implications for Italy and the EU.
Referring to the relationship between her country and Taiwan as a "sincere friendship," Meloni said she has been "following closely with unease" what is happening around Taiwan as a result of the intensified Chinese threats.
"This is an unacceptable conduct by Beijing, a conduct that we strongly condemn, together with all the democracies of the free world," Meloni said, when asked about recent tensions in the Taiwan Strait.
The EU must "deploy all the political and diplomatic weapons at its disposal" and "put pressure as hard as possible" to prevent China from causing any military conflict in the Taiwan Strait, said Meloni, who has been president of the European Conservatives and Reformists Party (ECR) in the European Parliament since 2020.
Taiwan is a strategic trade partner for Italy and Europe, Meloni said.
"Let us not forget that the EU is also a key outlet market for China, which risks being closed if they decide to attack Taiwan," she said.
In 2019, Italy became the only G7 country to sign on to China's Belt and Road Initiative (BRI), a global infrastructure plan created by Chinese President Xi Jinping (習近平) in 2013 to develop trade routes connecting China and the rest of the world.
Three years after joining the BRI, however, Italy seems ready to change tack.
Draghi vowed to re-assess the country's involvement in the BRI at the G7 summit last year, during which the group agreed to finance infrastructure projects in developing countries as a counterbalance to the BRI.
"It's an autocracy that does not adhere to multilateral rules and does not share the same vision of the world that the democracies have," Draghi said of China after the summit.
Asked by CNA if she would approve the renewal of the Memorandum of Understanding (MoU) Italy signed with China on the BRI, scheduled for 2024, Meloni described Italy's embrace of the BRI as "a big mistake."
She cited many events since the signing of the MoU, including China's repression of Hong Kong activists, discrimination against Uyghurs and other minorities, ambiguous stance on Russia's invasion of Ukraine, and repeated shows of force targeting Taiwan, in support of her position.
"If I were to sign the renewal of that memorandum tomorrow morning, I would hardly see the political conditions," she said.
"I hope time will serve Beijing to soften its tone and do something concrete toward respect for democracy, human rights and international legality," she said.
If she becomes prime minister, Meloni said, her government will work to ensure that the EU's "Global gateway" -- aimed at pushing infrastructure development investments worldwide from 2021 to 2027 -- helps countries that see no alternative to "Chinese penetration."
Countering the influence of the authoritarian leaders of Russia and China in the Western Balkans and in parts of Africa, the Indo-Pacific, and Latin America would also be a top priority of her administration, she said.
"Sovereignty is defended militarily, as well as in the area of cyber security and in terms of freedom of information against Russian and Chinese attempts of meddling," she said.
Meloni also called for more support for Ukraine amid fears that the consequences of the sanctions imposed on Russia and the high price of gasoline might risk undermining the West's solidarity against Moscow.
"We need to make a political and cultural effort to explain to everyone that the aggression against Ukraine is only the beginning of an attempt to create a new world order against the West," Meloni said.
"And if Ukraine loses, the consequences will be very serious for all of us."
On the prospective relationship between Italy and Taiwan under her watch, Meloni said Taiwan will be "an essential concern for Italy," adding that she has also brought forward issues of concern to Taiwan for discussion in the ECR group.
"We like to think of a new and more intense season of cooperation: cultural exchanges, tourism, prevention and management of health crises, scientific research and projects in the key sector of microchips where Taiwan is a world leader," she said.
View All