Biden reaffirms opposition to changing cross-strait status quo in U.N. address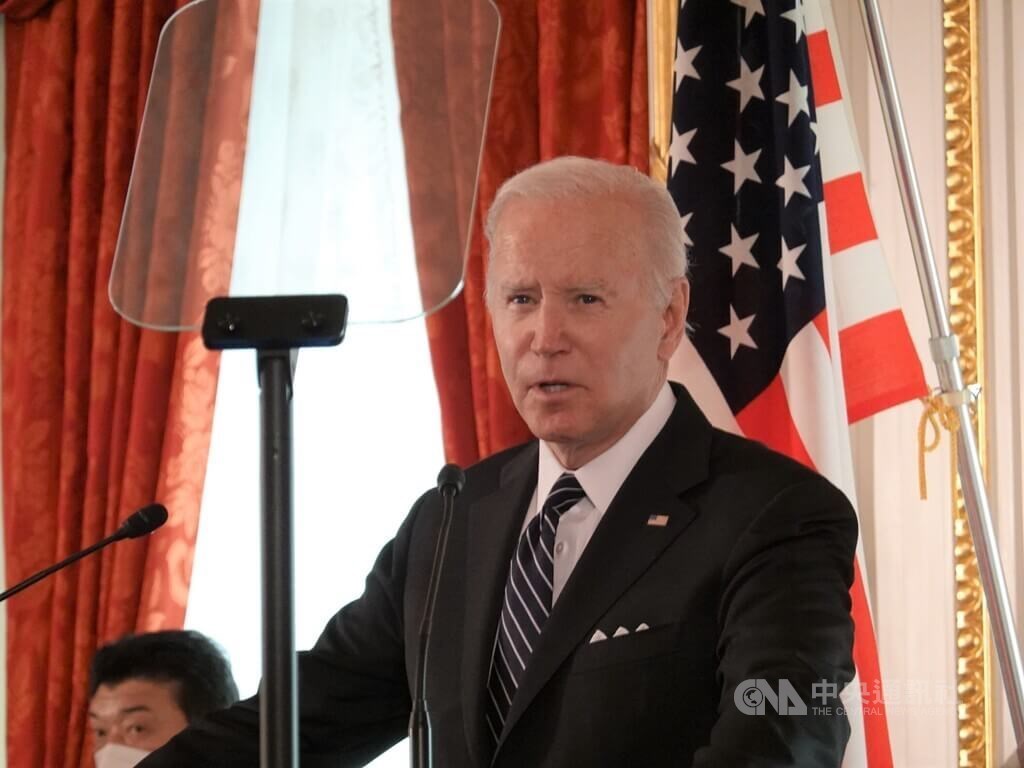 New York, Sept. 21 (CNA) United States President Joe Biden reiterated the U.S. government's stance on upholding peace and stability in the Taiwan Strait and opposing unilateral changes to the cross-strait status quo in his address to the United Nations General Assembly in New York on Wednesday.
"We seek to uphold peace and stability across the Taiwan Strait. We remain committed to our One-China policy, which has helped prevent conflict for four decades. And we continue to oppose unilateral changes in the status quo by either side," he noted.
According to Taiwan's foreign ministry, Biden's mentioning of Taiwan is rare for a U.S. president to do in a U.N. address and is likely to be the first "in recent years," though the ministry refused to give an exact timeframe.
According to local cable news channel TVBS, it is the first time since 1971 that a U.S. president has referred to cross-strait peace in his U.S. General Assembly address, citing information provided by Taiwan's representative office in Washington, D.C.
The Republic of China, the official name of Taiwan, left the U.N. in 1971 when the People's Republic of China took its place, and has since been excluded from its special agencies.
On China, the U.S. leader said Washington does not seek conflict with Beijing and does not ask other nations to choose between the two.
"As we manage shifting geopolitical trends, the United States will conduct itself as a reasonable leader. We do not seek conflict. We do not seek a cold war. We do not ask any nation to choose between the United States or any other partner," he said.
"But the United States will be unabashed and promoting our vision of a free, open, secure and prosperous world and what we have to offer communities of nations," he added.
Biden's latest remarks on cross-strait relations came three days after he reaffirmed that U.S. troops would defend Taiwan in the event of a Chinese invasion during a TV interview, the clearest statement he has made on this issue since taking office.
Over the past few decades, the U.S. has intentionally maintained a stance characterized as "strategic ambiguity" regarding whether it would come to Taiwan's defense in the event of an attack by China.
Under this stance, Washington leaves it unclear whether the U.S. would do more than just provide Taiwan weapons and would send American troops to help the island fight a war with China.
Since taking office in January 2021, however, Biden has repeatedly used language that appeared to diverge from this longstanding policy.
On each of these occasions, however, administration officials later walked back his comments and signaled that America's Taiwan policy had not changed, including for his most recent remarks in the interview which aired on Sunday.
In his half-hour address on the second day of the General Debate in the 77th session of the U.N. General Assembly, Biden criticized Russian President Vladimir Putin and his ongoing efforts to seize Ukrainian territory.
"A permanent member of the United Nations Security Council invaded its neighbors, tempted to erase the sovereign state from the map," Biden said. "Russia has shamelessly violated the core tenets of the United Nations charter."
Biden called plans for snap referendums in parts of occupied Ukraine on whether to join Russia a "sham," saying they were designed to try to annex more of Ukraine. He also criticized Putin's announcement to call up more troops to mobilize for the fighting in Ukraine.
"Ukraine has the same rights that belong to every sovereign nation. We will stand in solidarity with Ukraine. We will stand in solidarity against Russia's aggression, period," Biden said.
Meanwhile, two diplomatic allies of Taiwan, namely the African Kingdom of Eswatini and Pacific island nation Palau, voiced their support for the nation's inclusion in the U.N. system on Wednesday during the first in-person U.N. General Assembly since the COVID-19 pandemic began in 2020.