Taiwan to hold live-fire artillery drills to test combat readiness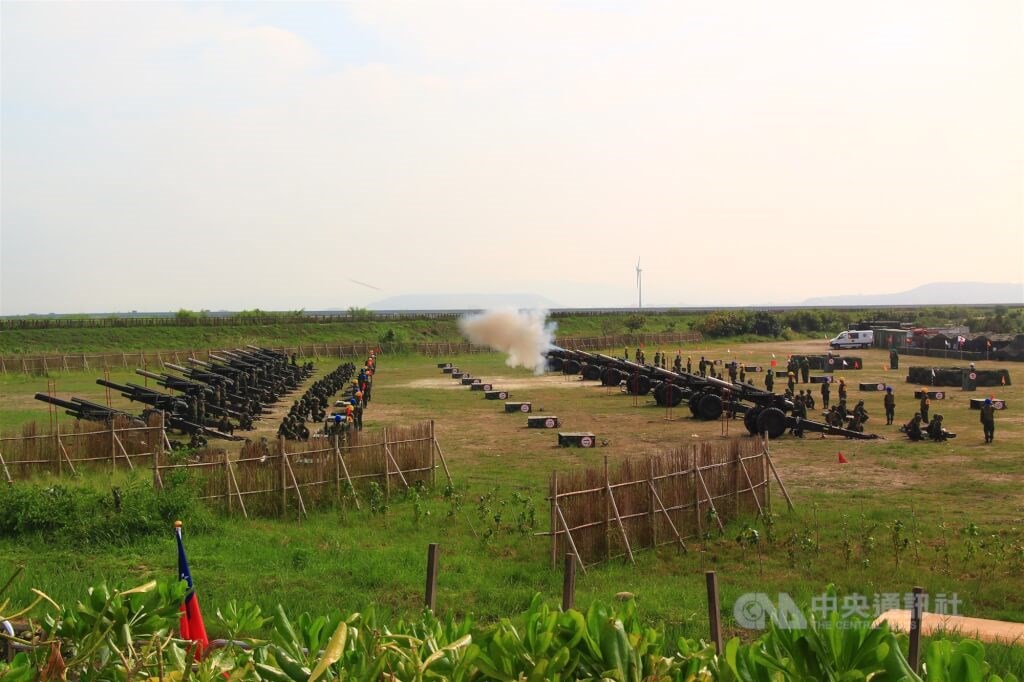 Taipei, Aug. 7 (CNA) Taiwan's Army will conduct live-fire artillery drills in Pingtung County on Tuesday and Thursday to test combat readiness in response to recent Chinese live-fire military exercises surrounding Taiwan, a source familiar with the matter said Sunday.
The planned drills at Fenggang in the southern Taiwan county will involve the firing of 78 155mm self-propelled howitzers and six 120mm mortars, and will be carried out by the 8th Army Corps' 43rd Artillery Command and 333rd Mechanized Infantry Brigade, the defense commands in Hualien and Taitung counties in eastern Taiwan, and the coast guard, according to the source.
In addition, the Army will conduct its annual exercise on Sept. 5, also in Pingtung, involving snipers from combined arms battalions, combat vehicles, Clouded Leopard armored vehicles, and mortars.
The Army's AH-1W Super Cobra and AH-64 Apache attack helicopters will also be deployed during the exercise, according to the source.
The Pingtung drills come after China's People's Liberation Army (PLA) began four days of live-fire drills in six maritime areas around Taiwan last Thursday.
That day the PLA fired 11 Dongfeng missiles into waters near the island, in apparent retaliation for a 19-hour visit to Taiwan by U.S. House of Representatives Speaker Nancy Pelosi early last week.
Pelosi arrived in Taiwan late last Tuesday, ignoring warnings and threats by China, which considers Taiwan part of its territory and opposes any official interactions that imply otherwise.
Pelosi's stopover, part of a wider tour of Asia, made the 82-year-old California Democrat the first sitting U.S. House speaker to visit Taiwan since 1997.
Update
Aug. 11: Government to spend NT$200 million on marketing food amid China bans
Aug. 10: MAC slams 'wishful thinking' and 'lies' in China's Taiwan white paper
Aug. 9: 45 warplanes, 10 warships spotted near Taiwan as PLA drills continue
Aug. 9: Taiwan's diplomatic ties stable amid possible China retaliation: FM
Aug. 8: Chinese drills aligned with plans for taking Taiwan by force: Expert
Related News
Aug. 7: China sends 66 warplanes, 14 warships around Taiwan Sunday
Aug. 7: Taiwan denies Chinese warship intrusion into its territorial waters
Aug. 7: Visiting SVG PM urges China to stop military exercises
Aug. 6: U.S., Japan, Australia urge China to stop military drills
Aug. 5: China's drills a 'new normal' aimed at changing status quo: Experts
Aug. 4: President Tsai calls China's live-fire drills 'irresponsible act'
Aug. 4: China fires 11 Dongfeng ballistic missiles into waters off Taiwan: MND
Aug. 4: China cannot stop world leaders from visiting Taiwan: Pelosi
Aug. 3: China's military exercises aimed at blockading Taiwan: defense ministry
Aug. 3: China imposes new trade restrictions on Taiwan as Pelosi visits
Aug. 2: Visit to honor 'unwavering' U.S. commitment to Taiwan: Pelosi
2022 Han Kuang military exercises
July 29: Han Kuang exercises end with airport anti-aircraft landing drill
July 28: Taiwan conducts psychological warfare drill with broadcasts, leaflets
July 28: Chinese drone detected near Taiwan-held island close to China: Army
July 27: Paratroopers stage airborne drills during Han Kuang exercises
July 26: Combat readiness drill showcases Taiwan's naval capabilities
July 26: President Tsai boards naval ship to observe combat readiness drill
July 25: Reservist-built defense positions on show as Han Kuang drills begin
July 25: Wanan air defense drill kicks off in northern Taiwan