U.S. planning Taiwan Strait transits, condemns China's missile launches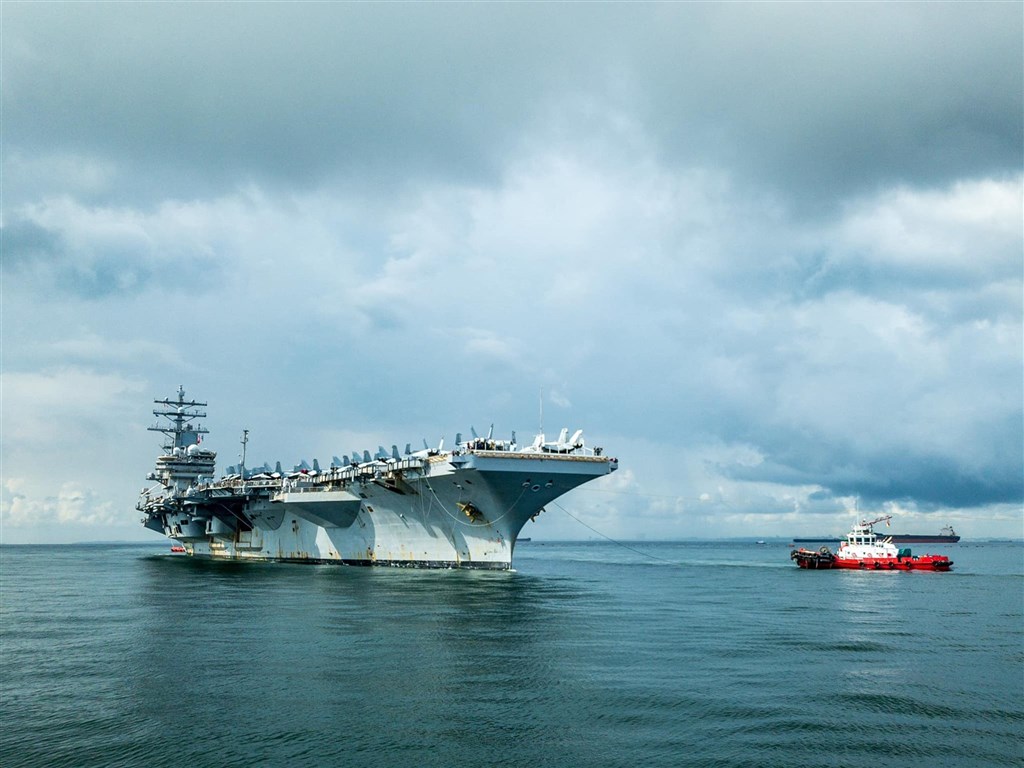 Washington, Aug. 4 (CNA) Washington on Thursday condemned Beijing for firing 11 ballistic missiles near Taiwan during live-fire military exercises earlier in the day, and said it will conduct air and maritime transits through the Taiwan Strait in the coming weeks, among other actions, to defend international law.
At a White House press briefing, National Security Coordinator for Strategic Communications John Kirby said China's missile launches near Taiwan on Thursday were "irresponsible" and "very aggressive."
China has "overreacted" to the visit to Taipei by U.S. House of Representative Speaker Nancy Pelosi by increasing "provocative military activity" in and around the Taiwan Strait, Kirby said.
Beijing was trying to use trip to Taipei by Pelosi -- the highest-level American official visit to Taiwan in 25 years -- as "a pretext to try to up the ante in tensions and to actually try to set a new status quo to get to a new normal" that China thinks it can maintain, Kirby said.
"We're not going to accept a new status quo" in cross-strait relations, Kirby said, "The world will reject it as well."
The Chinese People's Liberation Army (PLA) fired a total of 11 Dongfeng ballistic missiles into waters near northern, southern and eastern parts of Taiwan on Thursday afternoon (local time), according to Taiwan's Ministry of National Defense (MND).
The MND also confirmed that 22 PLA aircraft crossed the median line of the Taiwan Strait -- an unofficial buffer zone normally avoided by both Taiwanese and Chinese military aircraft -- on Thursday, when China began its live-fire military exercises in multiple locations near Taiwan.
The four-day military exercises, announced by Beijing shortly after Pelosi arrived in Taipei on Tuesday night as part of a wider Asia tour, are being held in six areas, parts of which overlap Taiwan's territorial waters, according to Chinese state media.
At Thursday's press briefing, Kirby said the U.S. plans to take actions that will include "standard air and maritime transits through the Taiwan Strait" in the next few weeks, as Beijing is expected to continue its military activities in the region.
Those transits will be consistent with the U.S.' longstanding approach to defending freedom of the seas and international law, he said.
Meanwhile, the American aircraft carrier USS Ronald Reagan and its strike group will "remain on station in the general area to monitor the situation" and will stay there "a little bit longer" than was planned, Kirby said.
The USS Ronald Reagan, a Nimitz-class nuclear-powered supercarrier, reentered the South China Sea on July 28 after a five-day port call in Singapore, according to the U.S. 7th Fleet. The aircraft carrier is now in the Philippine Sea conducting "routine operations," the 7th Fleet said in tweets over the past 24 hours.
Kirby said the U.S. is "prepared for what Beijing chooses to do" and will continue to support Taiwan, in accordance with the One China policy, while defending a free and open Indo-Pacific region.
On Friday, Pelosi said at a press conference in Japan that her trip to Taipei was consistent with the U.S.' policy towards Taiwan and that Beijing was "probably using our visit as an excuse" to conduct its live-fire exercises.
The Chinese have tried to prevent Taiwan from participating in international organizations, but "they will not isolate Taiwan by preventing us from traveling there," the 82-year-old lawmaker said.
"Our friendship with Taiwan is a strong one," Pelosi said, adding there is bipartisan support in the U.S. Congress for the maintenance of peace and the status quo in the Taiwan Strait.
Other members of the U.S. Congress have also condemned China's current actions as "yet another chapter in Beijing's unrelenting efforts to bully and coerce Taipei."
"Beijing should not be under any false illusion that these military drills will lessen resolve in the United States or elsewhere, or erode our commitment to stand with the people of Taiwan and their right to determine their own future. Just the opposite," Senators Bob Menendez and Jim Risch, chairman and ranking member of the U.S. Senate Foreign Relations Committee, respectively, said in a joint statement issued Thursday.
The U.S. business community has also joined the outcry, with President of the U.S.-Taiwan Business Council Rupert Hammond-Chambers telling CNN there was "a great deal of concern amongst the business community over heightened tensions in the [Taiwan] Strait."
In an interview with with Politico that was published Thursday, Hammond-Chambers said it would be in the interest of China to "maintain a high shrill tone with Taiwan to dampen the interest of companies to invest in Taiwan."
"That reduces the attractiveness of Taiwan as an investment location and raises the attractiveness of China as an economic partner to offset that," he said.
At the White House briefing, Kirby said in response to reporters' questions that there have been no discernible effects of the Taiwan Strait tensions on supply chains, but it "is something we're watching and are certainly concerned about."
Update
Aug. 7: China sends 66 warplanes, 14 warships around Taiwan Sunday
Aug. 6: 20 Chinese warplanes, 14 warships deployed around Taiwan: MND
Aug. 6: U.S., Japan, Australia urge China to stop military drills
Aug. 6: Taiwan companies told to abide by China's labeling rule: MOEA
Related News
Aug. 5: China's drills a 'new normal' aimed at changing status quo: Experts
Aug. 5: 68 Chinese warplane, 13 warship sorties recorded around Taiwan: MND
Aug. 5: International flights avoiding Taipei FIR due to China drills: Official
Aug. 5: Defense ministry stays quiet on PLA missiles flying over Taiwan
Aug. 4: Chinese drills could provide lessons on tackling future threats: Experts
Aug. 4: President Tsai calls China's live-fire drills 'irresponsible act'
Aug. 4: China fires 11 Dongfeng ballistic missiles into waters off Taiwan: MND
Aug. 4: China cannot stop world leaders from visiting Taiwan: Pelosi
Aug. 3: China's military exercises aimed at blockading Taiwan: defense ministry
Aug. 3: China imposes new trade restrictions on Taiwan as Pelosi visits
Aug. 2: Visit to honor 'unwavering' U.S. commitment to Taiwan: Pelosi