President Tsai calls China's live-fire drills 'irresponsible act'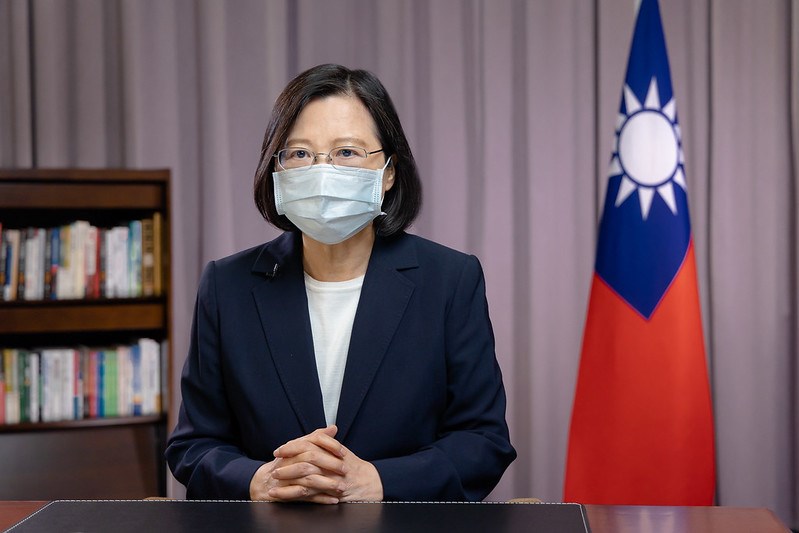 Taipei, Aug. 4 (CNA) President Tsai Ing-wen (蔡英文) said China firing missiles near busy international flight and sea routes around Taiwan on Thursday is an irresponsible act that stirs up tensions in the Indo-Pacific region, demanding Beijing act with greater self-restraint.
Taiwan will not escalate the tensions amid China's ongoing live-fire drills in maritime areas around the island that run through Aug. 7, but will defend the country's sovereignty, Tsai said in a speech of nearly four minutes posted on the Presidential Office website on Thursday evening.
The government is working to ensure safe and smooth operations at sea ports and airports around the country, as well as the stability of the financial markets, she added.
The president's speech came after the Ministry of National Defense (MND) confirmed the Chinese military fired 11 ballistic missiles into waters off northeastern and southwestern parts of Taiwan that afternoon.
According to the Japanese Defense Ministry, four of the missiles are believed to have flown over Taiwan before landing in Japan's exclusive economic zone.
However, the MND would not confirm whether the missiles were fired over Taiwan, saying only that the military is using various early-warning and monitoring mechanisms to track missiles fired by the PLA and has activated related defense systems.
Source: Presidential Office
Tsai urged the international community to support Taiwan's democracy and to jointly oppose China's unilateral and irrational military action, as Taiwan seeks to work with countries in the region and democratic partners around the world to maintain peace in the Indo-Pacific region.
The president also warned the Taiwanese public about the information warfare initiated by China through cyber attacks and the spreading of false information.
She thanked the Group of Seven leading industrial nations for calling on Beijing to refrain from "aggressive military activity" in the Taiwan Strait and reiterating their commitment to ensure stability across the strait.
"We strive to maintain the status quo across the Taiwan Strait, and always keep an open mind for constructive dialogues," Tsai said.
She ended the speech by calling for unity in Taiwan, noting the country has always overcome the challenges it faces.
China first announced its planned military drills around Taiwan from Thursday to Sunday shortly after United States House Representatives Speaker Nancy Pelosi's arrival in Taiwan Tuesday night for an unannounced visit during her ongoing trip in Asia.
During her 19-hour stay in Taipei, Pelosi met with Tsai, lawmakers, human right activists, as well as Taiwan Semiconductor Manufacturing Co. Chairman Mark Liu (劉德音).
Update
Aug. 8: China changes previously announced timetable, PLA drills continue
Aug. 8: China's Yellow Sea drills won't affect Taiwan int'l flights: MOTC
Aug. 7: China sends 66 warplanes, 14 warships around Taiwan Sunday
Aug. 6: 20 Chinese warplanes, 14 warships deployed around Taiwan: MND
Aug. 6: U.S., Japan, Australia urge China to stop military drills
Aug. 6: Taiwan companies told to abide by China's labeling rule: MOEA
 Aug. 5: MOFA reports continued cyberattacks seeking to crash its website
Aug. 5: International flights avoiding Taipei FIR due to China drills: Official
Aug. 5: 68 Chinese warplane, 13 warship sorties recorded around Taiwan: MND
Aug. 5: Controversial IC tycoon to donate NT$3 billion for Taiwan's security
Aug. 5: China's drills a 'new normal' aimed at changing status quo: Experts
Related News
Aug. 4: 22 Chinese aircraft cross Taiwan Strait median line as PLA launches military drills
Aug. 4: China fires 11 Dongfeng ballistic missiles into waters off Taiwan: MND
Aug. 4: Su'ao fishermen estimate NT$50m in losses due to China's military drills
Aug. 4: Army fires warning flares at Chinese drone spotted over Kinmen
Aug. 4: China cannot stop world leaders from visiting Taiwan: Pelosi
Aug. 3: China's military exercises aimed at blockading Taiwan: defense ministry
Aug. 3: China imposes new trade restrictions on Taiwan as Pelosi visits
Aug. 2: Visit to honor 'unwavering' U.S. commitment to Taiwan: Pelosi